Dunkin' Donuts Franchise Cost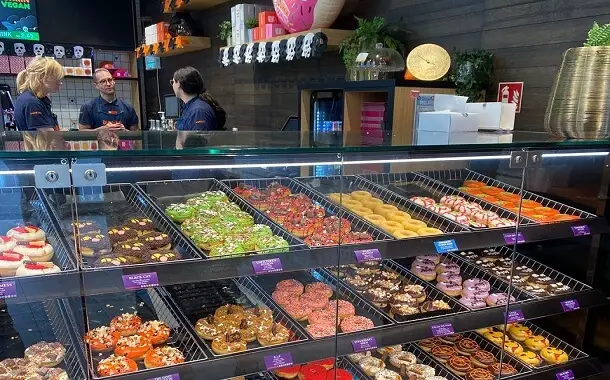 Dunkin' Donuts, part of the Dunkin brands, is one of the most recognized franchises in the world. Dunkin' Donuts sells hot, decaffeinated, flavored, and iced coffee, along with bagels, donuts, and muffins, making them a popular stop for many coffee lovers. Since the opening of the first franchise in 1950, more than 12,000 restaurants have been opened worldwide. In order to open your own Dunkin' Donuts franchise, there are certain financial requirements and qualifications that you must meet.
Dunkin' Donuts brand history
The Dunkin' Donuts story starts back in 1950 with William Rosenberg. That year he opened his first restaurant in Quincy, Massachusetts. Actually, he started selling donuts and coffee in 1948 at a restaurant called Open Kettle located in Quincy, Massachusetts. But in 1950 he changed the name of the restaurant to Dunkin' Donuts.
You might also like our articles on the cost of getting a franchise for Domino's, McDonald's, or Dutch Bros Coffee.
Thanks to the success and popularity of the restaurant, starting in 1955 Rosenberg sold Dunkin' Donuts franchises to other people interested in this kind of business opportunity.
In 1968 the Dunkin' Donuts company went public and in 1990 it was bought by Allied Lyons, the owner of Baskin-Robbins.
Now Dunkin' Donuts is a subsidiary of Dunkin' Brands Inc., which also owns Baskin-Robbins ice cream shops, and is headquartered in Canton, Massachusetts.
Dunkin' Donuts Franchise Initial Investment/Cost
If you want to open a Dunkin' Donuts franchise you are required to have a total liquid capital of $125,000, while the Dunkin' Donuts franchise fees would be anywhere between $40,000 and $90,000. But the costs will not stop there. You will also need to consider construction and real estate costs, cost of equipment and signs, cost of licenses and permits, cost of uniforms, cost of insurance, etc. Expect to spend between $135,000 and $1,7 million as an initial investment for a new restaurant. This does not include real estate costs.
A Dunkin' Donuts franchise has a minimum net worth of $250,000.
If you live in the US, determine if you qualify for the VetFran Incentive. The Veteran Transition Franchise Initiative offers a 20% discount on the initial franchise fee for qualified veterans who purchase a Store Development Agreement for five locations or less. Dunkin Donuts is ranked 4th on the list of the top ten popular franchises for military veterans and was ranked 15th on the "Franchise500" ranking of the most popular franchises.
Other information about Dunkin' Donuts Franchise
Dunkin' Donuts seeks franchisee candidates who have previous experience as restaurant managers or food service operators. In addition, it seeks candidates who demonstrate the ability to recruit, train, maintain and motivate a high-performing team, as well as experience in profit and loss operations management.
Dunkin Donuts expects its franchisees to be of superior character. They focus on several key qualities that are important to successful franchises. These qualities include responsibility, honesty, integrity, transparency, respect humility, and justice. Before submitting an application to open a Dunkin' Donuts franchise, it's important to evaluate your own interaction with these metrics to ensure you'll be a good fit with the brand and company.
Your business plan is an important part of demonstrating your ability to run a successful Dunkin Donuts franchise. You will be required to submit this business plan to the franchise manager. Your financial review will be based on the information included in this business plan. You will learn more about the detailed business plan requirements as you go through the application process, but you should include the following general information: details about the local market where you will open the franchise, information about competitors in the area, your financial model to manage your franchise, data about what you will bring to the company and your experience, including previous experience in the restaurant industry.
You will receive franchise approval once financial and background checks have been completed, you have received a financial review and you have completed and submitted your business plan. Approval will only be granted to applicants who meet all franchise owner requirements.
Before opening your first Dunkin' Donuts restaurant, you will be required to attend a training course. After completing this course, you must complete the Dunkin' Donuts Initial Training Program. This program takes place in a designated restaurant for training.
Enroll in additional Dunkin' Donuts training programs. These programs are designed to teach you about branding and restaurant management in general.
https://www.thepricer.org/wp-content/uploads/2022/11/Dunkin-Donuts-franchise-cost.jpeg
380
610
Alec Pow
https://www.thepricer.org/wp-content/uploads/2023/04/thepricerlogobig.png
Alec Pow
2022-11-22 08:38:20
2022-12-23 14:45:46
Dunkin' Donuts Franchise Cost