Electric Gate Installation Costs
Undoubtedly, morning exercises are useful. But when you're in a hurry to go to work, manually opening and closing heavy gates is a dubious pleasure. Coming back home after a tiring day, it is much more pleasant to go straight to the garage and not get out of the car to open the gate. You can eliminate the inconvenience associated with opening and closing the gate if you automate this process. Thanks to this you will save time and effort.
Electric gates can help ensure that your perimeter remains safe at all times and allows you to control who enters your space.
How much does it cost to install an electric gate?
The costs of Electric gate installation have many variables to be considered. First of all, you need to establish which is the size of your gate and what wiring or electrical work goes with it. Some other cost factors include the extra hardware, post-installation, and concrete.
Secondly, the type of electric gate will affect the overall costs as there are premium models that can be opened with a keypad, remote, or voice sensors. These are more expensive because they are made from more costly materials and need professional technical installation.
You might also like our articles about the cost of a garage door opener, an electric fence, and Acoustifence.
In the tables below you will find the average costs involved with the electric gate installation and the costs of the electric gate depending on the material.
| Item | Cost |
| --- | --- |
| Gate | $650-$3,300 |
| Posts ($30-$120 each) | $55-$500 |
| Concrete Work ($12-$55 per post) | $12-$230 |
| Opener Kit (includes motor and arm) | $1,200-$3,800 |
| Sensors, keypads, intercoms, remotes, etc. | $120-$2,400 |
| Labor | $35-$90 |
| Total Average Cost | $1,850-$10,000 |
Costs considerations
The price estimates presented above do not include the costs of permits and taxes. As this job is related to fence work, most cities and towns require a permit. Make sure you check with your local installation service.
The most expensive part of the project will be the electronic parts of your new electric gate. In order to save money on hardware, take into consideration purchasing gate opener kits and parts that include everything you need in only one package.
The cost of the project will also be affected by the size of your gate. For example, you will need a narrower gate if you have a single drive.
It is recommended to work with a professional gate installer because he will be able to choose the right hardware and model for your electric gate. This will not only help you to get a better installation and product but will also help you not spend more money than needed.
Regardless of the brand you choose, it is not advisable to buy cheap electric gates without a name. No one can know how long it will work without damage and what the cost of repairs will be.
DIY considerations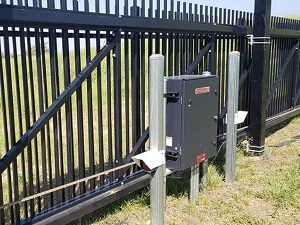 If the installation of a manual gate and fence can be done by almost any homeowner with a little bit of assistance, the installation of an electric gate should be left to the professionals. As this job involves a lot of electrical work may be dangerous for those without electric knowledge and should be done by a licensed professional.
The most important questions you should answer before installing an electric gate
Durability: How often will the gate be used?
The way you will use the gate dictates not only the type of electric gate equipment but also its degree of resistance. For example, the gates of a family household are usually used 4 to 10 times a day, when family members leave for work and when they return. On the other hand, the access gates of commercial spaces are much busier and, implicitly, require more robust equipment.
Traction force: What is the weight of the gates?
A second extremely important aspect is the actual weight of the gates. However, it is recommended to consider the material from which they are built, but also their size, in order to estimate the strength that the equipment should have.
Power supply: How will the electric gate equipment be powered?
Although all the electric gates equipment is electrically powered, the energy source can be of several types: connection to the house's electrical network, power supply with solar panels, power supply with batteries, etc. Therefore, the power of the equipment must be in relation to the energy source that you prefer or that you will have.
Electric or hydraulic motor?
The motor that operates the gates automatically can be of two types: electric or hydraulic. While electric motors are usually more affordable, hydraulic motors have a longer service life and also a higher traction force than electric ones.
https://www.thepricer.org/wp-content/uploads/2022/07/electric-gate-installation.jpg
380
610
Alec Pow
https://www.thepricer.org/wp-content/uploads/2023/04/thepricerlogobig.png
Alec Pow
2022-07-14 10:25:46
2022-07-14 10:25:46
Electric Gate Installation Costs