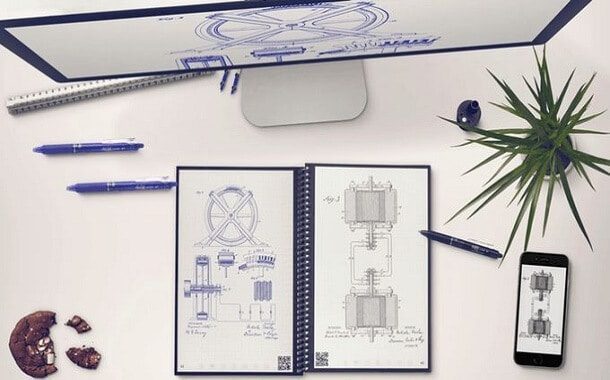 What Is the Everlast Notebook?
Whether for sketching or for taking notes, almost every person needs to keep a notebook at some point in their life. However, nowadays, some people recommend taking notes on their laptops, smartphone, or tablets rather than on paper because these gadgets provide many benefits. You can type your notes, which is faster than writing on paper, especially with a little bit of practice. They also allow you to save your documents conveniently.
Nevertheless, they have some downsides too, such as the absence of flexibility and freedom. You can't draw freely on your laptop and even if you can, your drawings won't be as accurate and natural as when drawn on paper. Even if all they do is write, some people still pick the good old paper and pencil over gadgets. That is why today, many people, especially artists, like to keep a notebook in their bag along with their mobile phone, tablet or laptop. The only problem with the traditional notebooks is the limited space. Once your notebook is full, you have to replace it with a new one.
That is why Rocketbook has come up with a unique idea and created an endlessly reusable notebook for everyone, especially students so that they don't have to buy notebooks again and again. It delivers the same feel of a paper notebook and has several practical features of cloud technology. Here are some of its qualities and features that make this notebook an outstanding product.
It Is Reusable
You can use this notebook without page number limitations. It is compatible with the Pilot Frixion pen, so once you write down your notes or draw something, the ink will dry in just fifteen seconds. This means that you can turn and touch the pages without smudging the ink. Also, the notes won't get removed unless users use a wet paper towel. Even if you try scrubbing the pages with a dry cloth, the ink won't come off. Just use a wet towel and then reuse that page again as many times as you like.
It Has the Feel of a Paper
You might be thinking that in place of paper, this notebook must have pages similar to whiteboards since it makes the ink wash off cleanly. However, it feels more like paper than anything else. It is just like a regular, day-to-day notebook that is designed with synthetic polyester, which makes the pages last long without giving any glossy feeling of a whiteboard.
Want to Turn Your Phone into a Laptop? Check Out The Price of SuperBook
It Has a Special App
This innovative notebook is compatible with a free Rocketbook app that allows users to take the images of the Everlast Notebook and convert them into digital files. The app has a unique image-capturing technology that permits it to capture the notes precisely and organize them by their page numbers, which means that if you take the pictures out of order, the app will organize them automatically.
It Is Convenient to Use
Apart from letting users capture, organize, and save their notes easily, this app can be connected to most common and well-liked programs such as Dropbox, Google Drive, and Evernote so that you don't even have to store your notes in your laptop or smartphone. Just save them on cloud storage, or create a backup of your notes there so that you can reuse them at any given moment. Moreover, the useful Rocketbook app automatically enhances documents once you save them. Hence, if you have a lower megapixel mobile camera or your words and drawings are vague, the app will improve them itself and make them clearer for the users.
Want to Use Your Gadgets Without Even Touching Them? Then You Need Bixi
The Cost of the Everlast Notebook
Apart from being unique and convenient, this fantastic notebook is affordable too. If you want the notebook at discounted prices, you will have to pre-order it today, as early buyers can get this notebook along with a black colored Pilot Frixion pen for just $34. As users won't need to buy this notebook again, this price sounds remarkably small.
Should the average working Joe get the Everlast Notebook?
If you're a student who works too, you should order it as soon as possible since you won't be able to get such an innovative notebook once it is sold out. Even for an average earner, this notebook is not expensive since it's a one-time purchase. Not only students but everyone who likes taking notes, sketching, or simply like traditional notebooks more than gadgets should buy the Everlast Notebook. The best part is, that in a short time span, this notebook will pay for itself, as you won't have to buy a new notebook ever again.
For Other Interesting Articles on Gadgets, Browse our Tech Category
https://www.thepricer.org/wp-content/uploads/2017/01/everlast-notebook-price.jpg
380
610
Alec Pow
https://www.thepricer.org/wp-content/uploads/2023/04/thepricerlogobig.png
Alec Pow
2017-01-02 07:34:34
2020-08-15 22:00:09
Everlast Notebook Cost