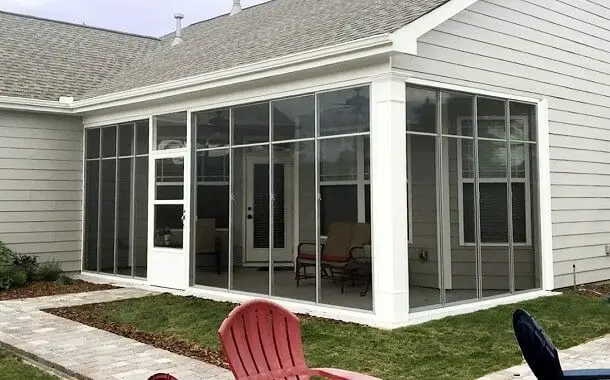 Eze-Breeze, a trusted porch and deck enclosure system for your home, is now an authorized distributor of the EZ3 season room windows. The fitted systems are customized to fit any size or shape window and you can buy their products and install them on your own.
Eze-Breeze has been helping homeowners create three-season rooms for decades. They are considered to be the first and "best" porch, patio, or deck enclosure window in North America with customers all across Canada and The United States putting their trust in them.
How much do Eze-Breeze windows cost?
The Eze-Breeze has a variety of windows that are available in many sizes. In order to determine the cost per square foot, you need to know both what size window is needed and how it will be mounted. According to their website, they noted: "the larger units are less expensive per square foot than smaller units." An average price, for example, is estimated between $2,700-$3,700 without taking into account installation costs.
You might also like our articles about the cost of stained glass windows, automatic roller shades, or storm doors.
According to a HandymanHowTo.com article, the price of windows will depend on style with very little variation in cost. The simple pricing sheet they did list showed that it could range from $55-$60 for trapezoid fixed lite Lip Frames and as much as $240 for vertical four-track panels – totaling about three thousand dollars for 19 windows and a cabana door.
The cost of a single-track venting window can range from $75 to $175, whereas a cabana door with a kickplate retails as high as $550.
One individual we found online talked about what they had paid for their Eze-Breeze windows, with an 11′ x 24′ screened-in porch. With 20 four-track screens on the top portion and another 20 fully glazed in the half; this cost them $4,000 including installation. At this price they also got two non-Eze metal doors installed.
Eze-Breeze product options
PGT Eze-Breeze™ sliding panel three-season window: this is a cost-effective solution for those looking to enclose their porch, deck, patio, or hot tub. The unique design of the rolling panels has been installed by professionals for more than 35 years. It is known as a great way to fill the disparity between screen enclosures and insulated rooms.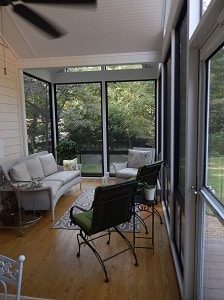 The sliding vents on this device are constructed to nest up or down over the attached screen, giving you a variety of different viewing options. When opened in its entirety, your surface area is reduced to 75% of the screen but when you remove the vents, you have access to 100 percent of the screen. You will have 100% protection from any outdoor elements like pollen, wind, and weather when they are closed.
Vertical four-track panels: these are custom-designed products that can be made to any size desired, allowing you the freedom of customization. The clean lines and proportions complement any home decor. You have the option to open 75% of your panel while still being able to keep the window closed. These easy-to-clean Panels also come with tinted colors which help reduce solar heat gain during summer days.
Slider panels: These sliding windows are available in a two- or four-track version, featuring full-length tracks that move back and forth with the touch of a button. The corrosion-free nylon rollers offer an easy slide for these sliders while also being easily removed when it comes time to store them away. Tinted colors are also available to provide optimal comfort control.
According to the official description, each two-track unit provides 50% ventilation while the four-track one will provide 75% ventilation.
Fixed windows: Eze-Breeze's versatile fixed window panel, designed for a transom over a door or even an opening in the gable end of the roof, can serve as either a complement to other products or as independent products. Custom shapes are available for specific porch and enclosure needs.
Wall of windows: You can create an entire wall filled with windows with the Eze-Breeze Wall of Windows. The company's description notes there are multiple configurations available to fit your needs and desires: all screen or vinyl panels alone, or a combination in between; it is up to you. Once installed on wheels these sliding partitions glide easily into place and they latch securely into their place.
Benefits
The company not only ensures that all windows are custom-made to fit in any space, but they also guarantee the frames themselves are lightweight and made of aluminum. The vinyl glazing is tough yet flexible and offers the look of glass without being as fragile or heavy as real glass would be. Furthermore, it cannot break even if punctured by something sharp.
The vents can be raised and lowered to allow for 75% airflow or removed completely. Closing all of the vents will help keep out rain, dust, pollen, or wind.
Tips to remember
Eze-Breeze is an investment that will last you for years to come with its 10-year warranty on the frames, vinyl, and screen. In general, when ordering from the factory directly, it can take anywhere from two to three weeks for your order to be delivered depending upon how busy they are at that time.
You can choose from a variety of colors for your window frames and doors. The frame color choices are white, beige, pebble khaki, or bronze. Most providers will not charge an additional cost to change the frame color either.
https://www.thepricer.org/wp-content/uploads/2021/05/EzeBreeze-products-cost.jpg
380
610
Alec Pow
https://www.thepricer.org/wp-content/uploads/2023/04/thepricerlogobig.png
Alec Pow
2021-05-11 06:58:29
2022-12-18 22:56:56
Eze-Breeze Windows Cost