Certain areas of the face can lose volume with age. Facial fat transfer for facial volumetry is an aesthetic procedure that involves extracting fat from certain areas of the body, and processing it until nano or micro fat is obtained, and injecting it into the face, in areas that need more volume, but also regeneration. Because your own fat cells are used, autologous fat injections offer natural results with minimal side effects. For the transfer of fat to the face, only local anesthesia is needed, the procedure being a minimally invasive one.
How Much Does Facial Fat Transfer Cost?
The average cost of facial fat transfer is $5,500, but the cost can go up to even $15,000. This cost would include the surgeon's fee, recovery supplies, like a compression garment (in case you had a great amount of liposuction), local anesthesia or sedative, any follow-up visits, facility fees for the surgery center or hospital, medical tests, and lab work.
In case any of these items are not included in your doctor's cost estimate, you still take them into account when you plan your budget.
Facial fat transfer overview
Used in facial rejuvenation cosmetic surgery, fat facial grafting allows for obtaining immediately visible rejuvenation effects, being a simple, less traumatic method that requires a minimal post-operative recovery period. It is generally addressed to patients between 45 and 60 years old, for the correction of deep wrinkles and the redrawing of facial contours (forehead, cheekbones, jawline, etc.).
The duration of this procedure varies depending on the size of the treated area, as well as other particularities of each case. In general, a facial fat transfer takes between 30 and 45 minutes. This time does not include the period required for the local anesthesia to take effect. You can expect the whole procedure to last 1-2 hours at most. The doctor will give you precise indications about the care after injections with your own fat so that you can enjoy an easier recovery. You may need a few days to a week for recovery.
At the level of the treated areas, edema (swelling) appears most of the time, which gradually subsides on days 3-5, disappearing completely up to two weeks after the intervention. Concomitantly, ecchymoses of variable intensity may appear, which generally disappear after 7-14 days.
Factors affecting the cost
Your doctor's expertise and qualifications
In contrast to non-invasive dermal filler injections, which are routinely performed by physician assistants and nurses, facial grafting is a surgery. So, this has to be done only by board-certified dermatologic surgeons, plastic surgeons, oculoplastic surgeons, or facial plastic surgeons.
Expect to pay much more for a surgeon with decades or years of experience, a large gallery of before and after photos, and impressive credentials.
The complexity of your procedure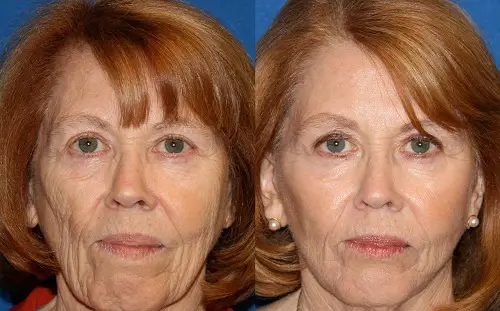 The cost for the fat transfer procedure will increase with the amount of harvested and transferred fat and the number of areas where is this injected. For instance, the cost of full facial rejuvenation is higher than the price of injections in one or two certain areas, just because it takes more time to complete a large procedure.
At a plastic surgery center in Chicago, they charge by the milliliter of fat that is transferred up to a certain amount. You should expect to pay around $90 for 1 mL of fat to be transferred, and a full facial rejuvenation needs 25 to 45 mL of fat so a cost of up to $4,500.
You might also like our articles on the cost of lip fillers, BeautiFill, or threading.
Also, surgeons use different tools and follow various processing protocols to filter and purify the fat, of which some are more sophisticated and expensive than others. According to plastic surgeons, the success of fat transfer depends on the technique of reinjection, the technique of harvest, and the purification of stem cells/fat cells. Usually, the fat that is simply harvested and reinjected without being purified does not last. The price is directly affected by the fat purification method.
The type of your anesthesia and who administers it
In general, the facial fat transfer is performed with local anesthesia, maybe with an oral sedative to relax you (for an extra cost), when done as an independent procedure. Both of these types of anesthesia can be administered by a staff member (which is the most cost-effective option) or your surgeon.
Usually, patients are given IV sedation or general anesthesia, if fat grafting is performed at the same time as facial plastic surgery procedures, such as eyelid surgery or facelift. Each of these options must be administered by a nurse anesthetist (CRNA) or an anesthesiologist (an MD), which will increase your costs of the anesthesia supplies and their services.
Whether you need more than one grafting procedure
As only around 50% of the transferred fat lasts, you may want an extra transfer to get your desired result.
Where your procedure is done
The cost of facial fat transfer surgery is affected by your geographical location as well. The costs will be higher at the medical practices located in areas with higher living costs. These costs may vary even by neighborhood, so you should ask for price offers from qualified doctors in various parts of the city (especially outside the central core of the city).
The fat transfer prices are affected by the type of surgical facility as well. Fat facial transfer and liposuction have to be done in an operating room, not in an exam room. This is another reason why this procedure is more expensive than the temporary injectable fillers, which can be performed in-office. Usually, the facility fee for your surgeon's private surgery center is lower than the hospital fee.
FAQs
Can you finance a facial fat transfer?
Yes, the majority of the practices accept financing options or offer payment plans.
For example, the CareCredit credit card is accepted by most providers all over the United States of America, for both nonsurgical procedures and plastic surgery.
In which areas of the face can fat be transferred?
Restoring facial volume through fat injection is usually done in areas where the resorption of adipose tissue deposits is more pronounced, such as the cheeks or lips. Also, the depressions that may appear in the temple area as a result of aging can be treated with the help of this procedure. Own fat can also be injected at the level of the forehead, dark circles, or chin.
Are facial fat grafting results worth the money?
Around 80% of the previous patients are satisfied with their facial fat transfer results. Those who are not happy with their investment are complaining about complications such as bumps and persistent lumps, distorted and uneven features, unanticipated outcomes, like fat growth with weight gain, and unanticipated side effects such as extreme swelling.
Approximately 50-65% of the fat graft will have permanent results, but this is variable because the fat can be resorbed unevenly, leaving room for asymmetry and requiring revision of the procedure.
The reason is that fat injections involve the transfer of live fat cells, which need blood flow to survive. Too many fat cells tend to overcrowd the blood vessels in the face so that some cells end up not getting adequate access to them. In this case, they are reabsorbed by the body, losing the vitamins, nutrients, and oxygen necessary for survival.
Patients who said that the procedure was worth the money reported restored confidence, long-lasting, natural-looking volume, a more youthful look, skin-rejuvenation benefits, and enhanced facial proportions.
https://www.thepricer.org/wp-content/uploads/2023/03/Facial-Fat-Transfer-cost.jpg
380
610
Alec Pow
https://www.thepricer.org/wp-content/uploads/2023/04/thepricerlogobig.png
Alec Pow
2023-03-18 06:26:17
2023-09-19 20:16:34
Facial Fat Transfer Cost