Fire Extinguisher Ball Cost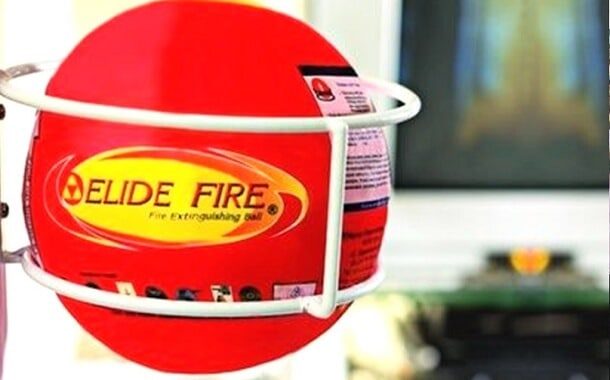 Unlike a regular fire extinguisher, the Elide fire extinguisher ball is not operated by a person, but it's self-activating when reaching the flames. The wick, the ball's surface, reacts to heat, activates the indoor mini-systems, and releases the fire extinguisher's substance.
The fire extinguisher ball doesn't require checks or maintenance for a period of 6 years. A classic fire extinguisher should be checked every 6 months, and a fire -extinguishing system daily.
Elide fire ball sets off in 3-7 seconds, a significantly shorter time than a person with an ordinary fire extinguisher would need. In less than 10 seconds the extinguishing substance covers an area of up to 4.25 square meters and extinguishes the fire.
Having a weight of 1.3 kg and a diameter of only 15 cm, the fire extinguisher ball is very simple to use, it requires no training and can be used even by children. If a fire breaks out, the fire ball can be easily removed from the holder and rolled or thrown into the fire.
The Elide fire extinguisher ball costs $120 and you'll only have to pay this amount of money once every 5 years, that's in case you don't use it.
The Elide fire extinguishing ball is easier, more logical, and natural to use when the fire starts. The coverage area is very large – one ball extinguishes flames from a volume of 15 m3. The fire is extinguished immediately, within seconds, after tripping the fire extinguisher ball.
It works automatically – without requiring human intervention. Thanks to the self-activation of the ball, the accidental activation is impossible because it triggers only in direct contact with flame.
When it's activated, the Elide fire extinguisher ball automatically disperses an extinguisher powder that insulates the fire and stops it from rekindle. The powder used for the Elide fire extinguisher ball is not harmful to humans or animals or for the environment.
When it is launched, the Elide fire extinguisher ball produces a warning sound of about 140dB, therefore, it is not harmful to hearing. In general, even if you are exposed to 100 extinguisher balls triggered daily, the warning sound does not cause hearing loss.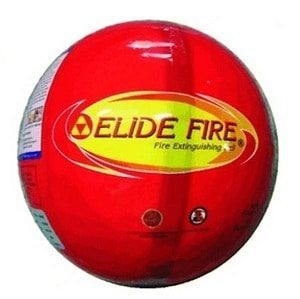 If the fire comes from the ceiling it is recommended that the Elide fire extinguisher ball is placed where the risk of fire is very high. This is the best way of protection regardless of the area where the fire starts. The fire extinguisher ball can be mounted on almost any surface, in any position, whether horizontal or vertical.
Elide fire extinguisher balls should be installed in strategic areas, near places of possible fire risk, such as kitchens, fireplaces or electric circuits. When the fire approaches, they are activated, emitting a loud sound, about 140 dB. This is a clear sign of a fire. After this, you must check if the fire was extinguished completely. The ball can also be used to create a way out of a fire when all the outputs are already blocked by fire or smoke.
Should the average working Joe get extinguisher balls to protect from fire outbursts?
It's always a great idea to have at least one fire extinguisher around the house, workplace, or any other area where people spend their time. As technology evolves, we find newer and easier ways of extinguishing fires. This particular invention isn't an expensive one, at just $120, and it will work for 5 years if it isn't used, so if you have enough money then we encourage you to get one. It might someday save your life.
https://www.thepricer.org/wp-content/uploads/2016/05/elide-fire-extinguisher-ball-price.jpg
380
610
Alec Pow
https://www.thepricer.org/wp-content/uploads/2023/04/thepricerlogobig.png
Alec Pow
2016-05-04 23:03:12
2020-08-01 22:29:05
Fire Extinguisher Ball Cost