Flame Broiler Menu Prices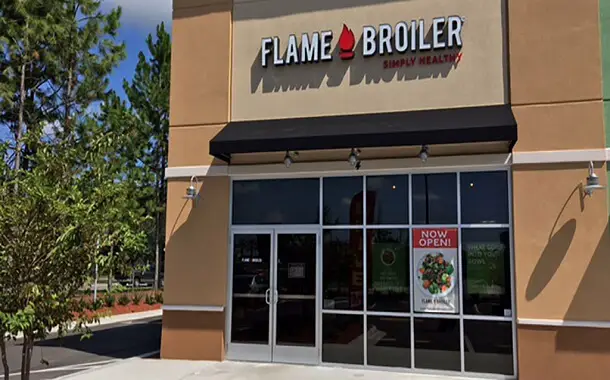 The Flame Broiler is an American fast-food restaurant chain promoted as being a quick service provider and a healthy food option. Their menu includes mainly bowls that are either with meats in them like chicken or beef, or veggie. A bowl consists of your choice of meat with brown or white rice and steamed veggies. Also, they offer plates that are similar, except for the fact that these include salads on the side and fruit.
As you would expect, the prices charged by the Flame Broiler are a little higher as this is typical for healthier fast-food restaurants. But you can get a better idea about it by taking a look at the table below, where you will find their latest menu prices.
Flame Broiler Menu Prices
Food
Size
Price

Plates

Angus Beef Plate
$11.44
Angus Rib Plate
$12.08
Chicken & Angus Beef Plate
$10.93
Chicken & Angus Beef Plate (White Meat)
$12.36
Chicken Plate
$9.78
Chicken Plate (White Meat)
$11.96
The Works Plate
$10.93
The Works Plate (White Meat)
$12.36

Bowls

Chicken White Meat Substitute for $1.25

Angus Beef Bowl
$8.8
Angus Beef Veggie Bowl
$8.8
Chicken Bowl
$7.65
Chicken Veggie Bowl
$7.65
Half & Half Bowl
$8.34
The Works Bowl
$8.34

Mini Bowls

Beef Mini Bowl
$6.33
Chicken Mini Bowl
$5.81
Half & Half Mini Bowl
$6.04

Sides

Side Angus Beef
$5.58
Side Angus Rib
$5.46
Side Chicken
$4.6
Side Rice (White or Brown)
$3.97
Side Veggies
$3.97
Side White Meat Chicken
$5.18

Extras

Only One Extra per Bowl or Plate

Extra Angus Beef
$3.74
Extra Angus Rib
$4.6
Extra Chicken
$3.16
Extra White Meat Chicken
$3.74

Beverages

Water
Bottle
$1.73
Fountain Drink
Regular
$2.13
Fountain Drink
Large
$2.42
Brand history
The story of The Flame Broiler starts back in the 1970s with Young Lee, an immigrant from South Korea to South Los Angeles. He moved to the United States of America in 1972 and enrolled at UCLA where he graduated with a degree in economics. After that, he joined the American workforce. There, because of the lack of alternative and efficient options, he found himself frequently eating unhealthy fast food. So, he decided to take this problem into his own hands.
In 1995, Young Lee and his wife, Sarah, opened their first restaurant in Orange County, California. They offered a one-of-a-kind menu with foods that combined the unique tastes of Los Angeles with the traditional flavors of South Korea. The restaurant quickly became a very popular choice, thanks to its emphasis on health and convenience. They promised that all of their products won't contain any trans-fats, dairy, high fructose corn syrup, or skin and will not be fried.
You might also like our articles on the prices you will find on the menus of Zoe's Kitchen, Jason's Deli, or Robeks.
In 1999, the Flame Broiler began to franchise and that was the moment when they started to expand at an impressive rate. The growing health-conscious generation was attracted by their tasty, simple, and healthy menu items. All of their locations offer the same tasty products and are run to the same high standards as the founder's original restaurant.
Currently, there are more than 180 Flame Broiler locations all over the United States of America and they continue to grow. Their success comes from their permanent search for solutions to increase convenience for their clients and from delivering the high standards set by Young Lee.
Our review
What lies at the base of the Flame Broiler restaurant's design is convenience. It provides many seating options in the form of breakfast bars and tables with chairs. Also, at some locations, you can find an outside seating area. The restaurants are inviting, clean, and decorated in bright colors. Moreover, their friendly staff is there to help you with anything you need.
The Flame Broiler menu consists of two main choices: a plate or a bowl. First, you have to choose your rice, which can be brown or white. After that you have to decide what filling you prefer: the works, chicken, veggie, Angus beef, Angus beef veggie, chicken veggie, or half & half. However, the most popular choice among the customers is the works. Also, it would be a great choice in case you can't decide on what meat to order.
As we mentioned in the beginning, the prices you will find at the Flame Broiler tend to be higher than those you can find at other fast-food restaurants, but they are still reasonable considering the fresh and healthy meals. You should plan on spending around $12 for a plate, while for a bowl you will have to get almost $9 out of your pocket.
In order to retain their full flavor during the cooking process, all of the Flame Broiler meats are marinated. But the flavor is topped up by their signature magic sauce. The plates are served along with a fruit salad and a small cabbage. Also, they offer extra meat options, mini bowls, drinks, and sides. No matter what you order, you will leave the Flame Broiler fully flavor satisfied and well-nourished.
Flame Broiler FAQs
At what time does Flame Broiler open?
Most Flame Broiler restaurants open are 10:30 a.m. Monday through Sunday. However, it may vary from one location to another. So, you should visit the restaurant's official website to see which are the opening hours of the location you are interested in.
At what time does Flame Broiler close?
In general, Flame Broiler closes at 09:00 p.m. Monday through Saturday, and at 08:00 p.m. on Sunday. But again, it depends on the location and the day of the week. You should check this information by visiting the restaurant's official website.
What type of beef does Flame Broiler use?
The Flame Broiler uses Angus beef that is prepared in Korean Bulgogi style.
Is Flame Broiler hot sauce gluten-free?
No, unfortunately, the Magic Sauce from Flame Broiler is not gluten-free. It is made with soy sauce, that contains gluten.
Does Flame Broiler use dairy?
No, the Flame Broiler prides itself on not using dairy and skin on meat, frying, or trans-fat.
https://www.thepricer.org/wp-content/uploads/2023/06/Flame-Broiler-menu-prices.jpg
380
610
Alec Pow
https://www.thepricer.org/wp-content/uploads/2023/04/thepricerlogobig.png
Alec Pow
2023-06-06 10:23:43
2023-09-17 08:31:04
Flame Broiler Menu Prices