Flat Roof Replacement Cost
Last Updated on March 26, 2022 | Written by CPA Alec Pow
First Published on May 21, 2021 | Content Reviewed by

CFA Alexander Popivker
Flat roof replacement can cost anywhere between $5,000 and $6,000, or up to as much as $10 per square foot on average. Flat roof repairs can cost anywhere from a few hundred dollars all the way up to about two thousand dollars if you have several leaks that need fixing.
Flat roofs, also known as low-slope roofing systems, are a popular choice for modern architecture because of their ability to encompass the long and flat lines of natural landscapes. Flat roofs come with an incline of about 1/8 inch which aids in rainwater drainage when it rains or snows. A cheaper alternative than installing pitched roofing material, a flat roof can be accessed more easily without needing to climb much higher up on your building's structure.
You might also like our articles about the cost of IKO roof shingles, roll roofing, or standing seam metal roofs.
Read this article in full to learn more about these types of roofs, including their price.
Types of Flat Roofs
Among the most common kinds of flat roofing are build-up roofs, single ply membrane roofs, spray polyurethane foam (SPF), asphalt roll roof coating, and metal. We have added below a short description of each of these types of roofs.
Built-up-roof: The built-up roof is a layered system that alternates plies of waterproof materials, such as fiberglass and hot tar. While resistant to fire and inexpensive in price, the installation process can be messy with unpleasant odors. A BUR has an average lifespan of 30 years or more.
Singly Ply Roof: Single-ply roofs, unlike other roofing materials such as built-up roofs, use only one layer of material. Single ply's durability and longevity make it a popular choice among homeowners for their homes' exterior needs; they will usually last for about 30 years. This roof is made from materials such as EPDM (ethylene propylene diene monomer), PVC (polyvinyl chloride), or thermoplastic polyolefin TPO. Modified bitumen is also used on these types of single-layered rooftops because they are prone to leaking.
Sprayed Polyurethane Foam: Sprayed polyurethane foam roofing is a liquid that can be sprayed over an existing old roof to create the new one. Long-lasting and lightweight, SPF has excellent insulation properties as well. Although it takes 30 years or more for most roofs that use this material to show their age, due to wear in heavy industrial areas some protective coating may need reapplying every 10-15 years.
Asphalt Roll: Asphalt roll roofing is the oldest flat roofing type and one of the cheapest. Made from layers of asphalt or fiberglass felts, it can be expected to last around 10 years before needing replacement.
Flat Metal: Flat metal roofing is durable, lightweight, and has a lifespan of 25-50 years. This type of roof can be made out of steel, aluminum, copper, or iron as well as other metals. Flat metal typically comes in panels that interlock together to form the exterior surface which makes it so strong and lightweight.
Flat Roof Average Costs
Flat roofs are typically one of the cheapest roofing options. However, depending on location and complexity, the flat roof price will differ. In general, an average size 1,500 square foot project will cost between $2,250 to $16,500, which is around $5-$11 per square foot.
There are many different types of roofing materials available for homeowners to choose from. The most inexpensive option is asphalt roll roofing, costing $4.00 per square foot installed ($3,250-$4,750). Built-up roofs cost a bit more at around $5-$6 per square foot, and single-ply rubber/plastic roofs can reach all the way to as much as 8 dollars or even higher.
Spray-on roofing could cost between $4.50 and $7 per square foot installed while standing-seam roofs are typically situated in a wider range of prices from $5 to $10 per square foot installed. If you already have an existing flat roof that needs removal or disposal before new installation can take place, this might add another $1 to $4 on average, average which would be about anywhere from $1,000 to $6,000 more than just installing with no prerequisites.
Can I Replace a Flat Roof Myself?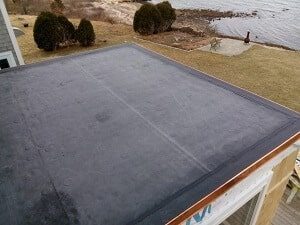 Do It Yourself roofing repair work or replacements are challenging. Although they look pretty simple from the outside, there are typically a number of hidden issues hiding beneath. The simple answer, however, is yes.
That being said, there is a strong case to be made for getting a specialist to look at the roofing system; especially since they are taught to see the little problems in the roof covering that you may miss on your own.
Usually, the very first sign of a damaged roof covering is if there are leakages, however, it is very much possible that this isn't caused by damage, but instead obstructed drains or guttering.
If you insist on going the Do It Yourself path, make sure you have the right tools and devices. This includes a shovel, crowbar, nail tool, hammer, warmth tool, and more. Additionally, we encourage you to only go on the Do It Yourself path if the repair work means a small job as this saves more money than involving an expert.
As stated previously, small repair jobs are typically troublesome as they can create more damage, and it is usually best to replace the roof if there are any issues.
While fixing the roofing system on your own is doable and more affordable, a bad job can bring about architectural issues which will only come back to haunt you in the future. A lot more so, it might also end up being a safety issue if left unchecked.
Do I Need to Replace My Flat Roofing System?
That depends. While flat roof repair work is typically discredited, there are scenarios where they may become necessary. In this area, we'll talk about several of the real reasons to change your roofing as well as the signs you should look for.
Leakage
This is among the most usual indications of a roof covering in need of repairs or replacement. Roof coverings are made to keep water out, as well as protect the house from the weather.
For that reason, if there is water leaking right into your house, this is a sure sign that there could be an issue with the roof.
Algae stains
Airborne algae could settle on your roofing system and with time can begin to discolor it. While it may not always impact the roof shingles, it does not make for a very pretty viewing. If you have actually had your roof covering for some time, this could be a great reason to replace it.
Moss
Moss often tends to expand in between little areas in the roofing system, specifically in cooler environments. Additionally, while they may not be a big threat, they typically do not look right. Eliminating moss isn't hard, yet you will have to be cautious to make sure that you do not damage various other parts of the roof covering at the same time.
https://www.thepricer.org/wp-content/uploads/2021/05/flat-roofing-replacement-cost.jpeg
380
610
Alec Pow
https://www.thepricer.org/wp-content/uploads/2023/04/thepricerlogobig.png
Alec Pow
2021-05-21 06:59:28
2022-03-26 01:45:55
Flat Roof Replacement Cost