Last Updated on February 19, 2022 | Written by CPA Alec Pow
First Published on February 19, 2022 | Content Reviewed by

CFA Alexander Popivker
Over the last six centuries, the evolution of horns has shifted from basic hunting and advertising instruments to more sophisticated musical versions designed to achieve the most melodious sounds.
The history of the horns begins with the use of horns of real animals, hollowed out of the marrow and blown to create loud sounds announcing the holidays and the beginning of different events, as well as to share warnings, such as approaching enemies and threats.
Moving from a method of communication to a way of creating music, horns were formally seen as being used as musical instruments during 16th-century opera. They were made of brass and mimicked the structure of the animal's horn.
In the 17th century, further changes to the horn were seen, including the improvement of the bell end (larger and flared bells) of the horn. After this change, the French horn was born.
This instrument is called a "French horn" only in the English language, while in other countries it is called just a horn.
How Much Does a French Horn Cost?
The price of a French horn is influenced by a few factors such as the place you buy it from, the brand, and the condition of the instrument. The average price of a new French horn is anywhere between $1,200 and more than $7,500. However, for a customized French horn, you will have to pay $11,000 to $16,000. Also, a name-branded triple horn will be more expensive than a student horn. Moreover, a used French horn can be 70% less expensive than these estimates.
You might also like our articles about the cost of a saxophone, a bassoon, or a trombone.
In the table below you will find the average prices of different brands of French horns.
| Brand | Expected Price |
| --- | --- |
| Hans Hoyer | $5,000 to $16,000 |
| Conn | $3,300 to $7,000 |
| Yamaha | $2,400 to $7,500 |
| Jupiter | $3,400 to $5,800 |
| Holton | $3,200 to $9,000 |
A popular online music retailer is Musician's Friend. It has a large selection of French horns with prices starting at around $1,700 for a double horn and going up to almost $9,500 for a triple horn.
The price range can be quite large according to Colin Dorman, with costs starting at only $250 and going up to even more than $19,000. He recommends to budget at least $3,700 for a double French horn and just $1,600 for a used French horn, but the more you budget the better quality you will get.
French horn details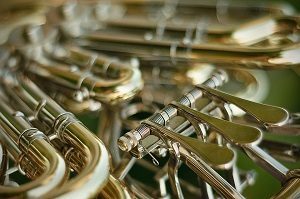 As most people know, the horn is made of a brass tube, twisted several times (so as not to take up too much space), with a mouthpiece at one end and the pavilion at the other.
When purchasing a French horn, it will come with a corresponding standard mouthpiece, and in some situations, a carrying case may also be included.
A manufacturer warranty should be included as well for the majority of the name brands.
French horns are of three different types:
single horns, which come with two keys Bb and F, and three rotary valves;
double horns, that comes with four valves that allow you to shift between the keys of Bb and F;
triple horns.
A French horn is composed of five parts such as a mouthpiece, the body, a mouth pipe, the valve system, and the bell.
The materials a French horn can be made of are nickel silver, yellow brass, and rose brass. The most common material is yellow brass and this is able to create a dark sound. Compared to the yellow brass, the rose brass is softer and creates a darker sound. The French horns made of nickel silver create a very bright sound.
When looking for a horn on the market, you will see the term "bore". This refers to a cylindric tubing with a diameter of .468 to .472 inches.
What are the extra costs?
In case you want to purchase a different mouthpiece than the one included, you should budget anywhere between $10 and more than $45 for this.
Also, you can purchase other accessories separately, such as a pair of gloves that cost around $15, a carrying hard case that costs more than $120, and a polishing cloth that is around $30.
If you need to learn how to play this instrument, then you should budget for the lessons as well.
Important things to consider
In the 2007 Guinness Book of Records, the French horn was one of the two most complex musical instruments. The second was the oboe.
Regardless of where you purchase it from, always try the horn beforehand. Any online reputable retailer will let you try the horn for around a week before committing to purchase. You should try it in many environments to see how it sounds and choose the one that suits you.
You have to oil the French horn's rotor valve periodically in order to keep it working properly. Also, you have to clean the mouth pipe and the mouthpiece after every performance because these parts will get filled with spit while playing.
How can I save money?
There are many music retailers and that is why you should compare the prices and choose the one that is the most advantageous for you. Also, pay attention to the promotions, discounts, and sales. However, do not choose the cheapest French horn as these may be of poor quality and create a poor sound.
Take into consideration purchasing a second-hand French horn. If it was well maintained and is still in a good condition it can play even better than a new instrument.
However, if you are not sure yet that you want to invest a large sum of money in a French horn, then you can rent one for only $25 to $80 per month. Check if the local music stores in your area offer this service.
https://www.thepricer.org/wp-content/uploads/2022/02/french-horn-cost.jpg
380
610
Alec Pow
https://www.thepricer.org/wp-content/uploads/2023/04/thepricerlogobig.png
Alec Pow
2022-02-19 06:53:18
2022-02-19 14:27:59
French Horn Cost