For those people that really want to own wild animals such as pheasants or deer, game fencing will be essential in order to keep them from running away.
Just how much does game fencing cost?
Usually, to have an expert set up game fencing, the expected costs will be anywhere between $4 and $9 per foot. For bigger jobs, some professionals might charge by the mile, and this can end up being as much as $15,000 to $22,000 per mile to set up a high, game-based fence taller than 8 feet. The expense will depend upon the surface, the geographical place, if the location will have to be cleared and if a contractor will be involved in the project.
You might also like our articles about the cost of the wooden stockade privacy fence, chain link fence, or wooden split rail fence.
Those who wish to try and get the job done by themselves should instead be prepared to spend about $500 to $800 for around 300 feet of galvanized wire. This will not include any other extra expenses such as the concrete that will be needed, any tools, and land cleaning equipment.
For instance, Walmart has a bundle made from 12 1/2 gauge galvanized wire and measures 8 feet high and 330 feet long. This will have a price of about $550 to $850 per 330 feet.
Deer fencing is going to cost anywhere from $400 to $790 per 330 feet. Deer game fencing will usually need to be as high as 96 inches to prevent them from jumping over it.
Coated hex netting-based fences will have prices anywhere from $200 to $275 per 100 feet.
Welded wires can have a price that ranges anywhere from $100 to $175 per 50 feet or $175 to $285 per 100 feet.
Different people on online forums have argued that they had to pay anywhere between $1.10 to $2.10 per straight foot.
Game fencing details
Game fencing normally comes pre-cut in product packaging when you acquire it from any local hardware shop. It will be found in lengths such as 50 feet, 100 feet, 330 feet, along with some other lengths as well.
This fencing, unlike the normal fencing that is usually placed in people's yards, is created to prevent any wild animals from running away. Many professionals will utilize wood or steel posts, and the fence will be made from a galvanized wire.
Some hardware shops and specialized businesses can cut the fence material to adjustable sizes if you want to go for a custom measurement.
A lot of fences will be 8 to 12 feet in height.
Any additional expenses to prepare for?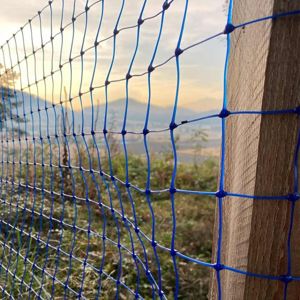 Clearing the land where the fence will be placed, if this job will have to be done, can contribute to the final expenses. The majority of contractors, nevertheless, will factor this into their project quote.
Rocky or irregular terrain that's difficult to go into and clean can increase the expenses by 3 times the full amount. It's not unusual for landowners to pay anywhere between $12 and $18 per foot if their land is rocky.
Depending upon your regional guidelines, permits will more than likely need to be released for this type of job.
Personalized gates, depending upon the size, will usually be an extra expense to consider.
Concrete expenses will usually be included in the initial quote, but you should ask about this before you give the job to a contractor.
Flood crossings, if required, can be an extra expense as well.
Here are some tips to remember:
If having a contractor carry out the project, you should be sure you ask for recommendations. These tasks tend to be rather time-extensive and you do not wish to work with someone that isn't going to get the task done right. A lot of businesses are going to be more than happy to come with recommendations along with photos of tasks they have actually completed in the past.
It's a good idea to hire a company that concentrates on gaming fencing.
Is there any way to save some money?
Talk to as many contractors as possible either by emailing them or by phone. It will be enough to explain your project in detail and most specialists will be able to offer you a quote.
https://www.thepricer.org/wp-content/uploads/2021/03/game-fencing-cost.jpg
380
610
Alec Pow
https://www.thepricer.org/wp-content/uploads/2023/04/thepricerlogobig.png
Alec Pow
2021-03-30 10:53:22
2021-03-30 10:53:22
Game Fencing Cost