Gravestone Engraving Cost
Gravestone inscription is the procedure of engraving a headstone with a message, day of birth, and day of passing away of a departed individual. The majority of engraving can be entirely customized to your standards: You will certainly be able to choose the wording, the font style, the size, and whether you want any type of picture or emblem on the gravestone. The price of inscribing a gravestone will widely differ depending on who is performing the engraving, the size of the gravestone, and also the size of engraving that has to be done.
Just how much does gravestone engraving cost?
Typically, plan on spending anywhere from $200 to as high as $1,500 for an average inscription job. The rates will widely vary depending on the kind of stone being engraved and the number of characters that are going to be inscribed. Most businesses will generally bill based upon the variety of letters that will be on the tombstone. Some shops might bill per word.
For instance, a 25-word engraving job on a granite tombstone can set you back $200 to $350 while a bigger job that has engravings on both the front and the back could cost upwards of $1,000. If you needed something easy such as, "In Loving Memory Of …," this can set you back around $350.
To play it safe with your spending plan, be prepared to invest at the very least $20 per letter. This ought to usually include the traveling costs, burial ground authorizations, and more.
Also read about the cost of cremation, pet cremation, and a will.
Monument Text, for example, starts their prices at $395 for up to 20 letters and/or numbers, with additional engraving setting you back $9 per character. Hand-carved or hand-drawn lettering, if you were to require this option, could be a surcharge also.
Gravestone engraving summary
Before the engraving even begins, the company will need to know information such as the size of the headstone, the type of material from which it is made, and also what ought to be placed on the stone. Once the purchasing info has been obtained, the tombstone will be inscribed. It will usually take up to 8 weeks for you to get it, however, this will all rely upon how busy the shop is.
As soon as the procedure has been done, a proof shot will be sent to your home, and from there, you can accept the inscribing shot, or not. As soon as it is accepted, the stone will be engraved and afterward, it will be sent to the specified cemetery for installment. A lot of businesses can also do the engraving on the spot if the stone has already been set up.
What are the additional expenses?
If a change needs to be performed in the future, a lot of companies will go straight to the burial ground. If this is the case, be ready to pay an additional charge for travel, aside from the regular engraving charges.
Apart from edits, repair work may be needed as well. This can include a split stone or a simple reconstruction. Repair services normally set you back anywhere from $100 to $300.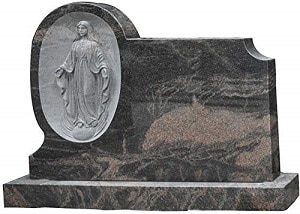 Some burial grounds may charge a fee to have an engraver come on-site and do the job. There are a lot of times when a permit might be needed for the engravers to come on the site. Typically, the cemetery might charge fees that vary from $100 to $300.
Photoengraving such as ceramic steel pictures and tri-tone pictures can be taken into consideration as an extra expense.
If you want the engraving done faster, this can cost a couple of hundreds more.
Tips to remember:
Some cemeteries have rigorous policies when it concerns the lettering that is used. See to it that the burial ground in which you are having the stone set up will approve the type of lettering that you intend to make use of. If a burial ground has rules such as the font type, they will possibly also have guidelines regarding the size.
Before an inscription job is done, make sure that you know what locations the business serves. If you pick a business that is too far away, it may cost you extra.
How can I save cash?
Given that engraving can get rather pricey, several firms offer a month-to-month payment plan. Ask about this kind of plan to see if it is something that you can afford. Since something like this is a requirement that happens in a time of crisis, a lot of companies will certainly be willing to deal with you.
There are lots of gravestones that you can purchase that are already inscribed with general statements such as "In Caring Memory." These stones would only require names and days added, saving you a great deal of money in the long run.
https://www.thepricer.org/wp-content/uploads/2020/08/gravestone-engrave-cost.png
380
610
Alec Pow
https://www.thepricer.org/wp-content/uploads/2022/01/thePricer.png
Alec Pow
2020-08-13 11:34:04
2020-08-15 23:10:15
Gravestone Engraving Cost