Last Updated on September 15, 2023 | Written by CPA Alec Pow
First Published on December 15, 2022 | Content Reviewed by

CFA Alexander Popivker
When you want to get in shape, you wonder whether you should get a gym membership. It's one of the wisest investments you can make, but there are several things to consider before deciding which gym to go to, especially if you're going on this path for the first time. Finding the right place is essential. You don't want to waste your money or time on a subscription that doesn't meet your needs.
How Much Does a Gym Membership Cost?
The cost of a gym membership is affected by factors such as the cost of living in your area, the types of amenities offered by the club, and the quality of the club. Most gyms will apply a one-time initiation fee, along with the monthly dues. This can be zero to as much as $220, depending on the gym and the promotional period.
From the Fat Wallet forum, we found that the average cost of a gym membership would be anywhere between $25 and $80. For instance, a member in New York paid $80 per month, while others in Pennsylvania paid $45 per month for a gym membership.
According to most Reddit members, the cost of a gym membership starts at around $20 per month and goes up to more than $135 per month.
In the table below you will find the average costs of gym membership for some common gyms in your area (without enrollment fees, the extras, and other additional costs).
Gym membership overview
Besides the obvious workout area, some gyms may offer a swimming pool, steam room, sauna, personal trainers, a basketball court, group exercise classes, a rock-climbing wall, café, 24-hour availability, and child care (sometimes extra, sometimes for free).
Also, some gym memberships may offer discounts to merchants outside of the gym, including discounts on your health insurance and at different grocery stores.
Which are the additional costs?
Most of the gyms will apply a one-time initiation fee that is less than $85. However, this fee may be waived during promotional periods. Also, some gyms may apply an additional fee for child care.
Plan on spending extra per hour for the sessions with a personal trainer. Depending on the personal trainer, these may cost around $80 per hour.
Depending on the type of class that is taken, extra classes and events may be an extra cost you need to consider. These classes may include strength training, cardio, or yoga.
Most gyms charge around $15 per month for holding or suspending your membership.
In case you want to end your contract earlier, you may have to pay an early termination fee. These can be around $55 or even more, depending on the club.
Important things to consider
Even though the gym may be opened 24 hours, this doesn't mean that all the amenities it has are available. In case you are interested in classes, in general, these are held from 08:00 a.m. until 08:00 p.m. The same is available for childcare.
If you have decided on the workouts you want to do at the gym, it is time to decide on the perfect gym for you. You have to consider a balanced and relevant tariff, in relation to the services offered and a relatively short distance between home/work and the gym. Through the comfort offered by these criteria, you will be able to maintain a routine that does not interfere with other obligations or unexpected situations in your life.
Also, if you do not have a stable home or are always on the move, whether for personal or business purposes, it would be recommended to subscribe to a network of gym clubs, present in your areas of interest, in order not to make excuses for stopping physical activity.
How can I save money?
Some gyms choose to promote their services through local newspapers. So, look for a coupon in your local newspaper to save some money on your gym membership.
Usually, Costco offers discount cards for gyms such as 24-Hour Fitness. Look at the discounted gift cardboard for more information, in case you have a Costco membership card.
Take into consideration going to a club that does not require a contract and so you will be able to break free anytime without having to pay anything.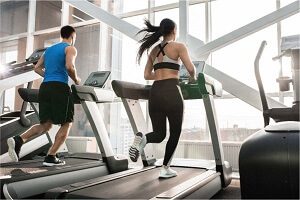 In general, it would be cheaper to join a community center like YMCA, but the facility would not offer as many benefits as health clubs such as Gold's Gym.
Most large employers offer fitness programs for their employees. Ask your local HR department if they have any gym programs you can take advantage of.
Also, you should check with your health insurance provider as many of them offer discounts at local gym chains.
Take into consideration paying in full and not month by month in order to get a discount.
See what restrictions your local high school has while using their gym. Most will allow you to use the gym for free during certain hours.
If you are a college student, you can take advantage of the gym on campus as this can be used for free.
Try to exercise at non-traditional gyms like those in hotels. Actually, some hotel chains will let you work out in exchange for a nominal fee.
If you go to the gym only from time to time, verify if it would be cheaper to pay every time you visit instead of purchasing a full month membership.
In case your city has a local recreational center, you may be able to work out there for a lower price, especially if you are a resident citizen.
If you want to bring down the costs, take into consideration negotiating a gym contract.
How to exercise for free?
Do gym membership or the costs of various fitness classes seem expensive to you and you often don't manage to make it to your training? Then the best alternative for you is practicing sports at home. Not to mention the fact that in the context of the pandemic, fitness practiced at home has become a real trend!
At home, you can try physical activities when you want, at what time you want, without it getting expensive and while using your favorite equipment. And you don't even have to exercise at home by yourself, especially when you can watch so many fitness videos online.
Ideally, you will need to reserve a space in your house to exercise at home and make sure it is large enough so that it does not interfere with your exercise activities. For example, if you want to opt for fitness machines at home, but you don't have enough space, you can choose foldable machines, and then free up the space after the home sports sessions. You should budget around $550 for a simple at-home gym.
https://www.thepricer.org/wp-content/uploads/2022/12/gym-membership-cost.jpg
380
610
Alec Pow
https://www.thepricer.org/wp-content/uploads/2023/04/thepricerlogobig.png
Alec Pow
2022-12-15 06:34:16
2023-09-15 12:17:08
Gym Membership Cost