How Much Does the Hacienda Golf Club Membership Cost?
Last Updated on October 19, 2023 | Written by CPA Alec Pow
First Published on March 2, 2022 | Content Reviewed by

CFA Alexander Popivker
If you are looking for a select place to play golf in La Habra Heights, California then the Hacienda Golf Club is the place to go. This is a premier, private golf club.
The origins of this club are in the Golden Age of golf and owe everything to Alphonso Bell, who was a venture entrepreneur involved in the oil business. In the year 1920, the first nine holes course was opened and in 1923 the second one was made available to the public. It took a few years, but in 1927 the real clubhouse was built. The layout and the design have remained the same for more than eighty years.
Nowadays the club has more than 400 golf members and there are no starting times.
How Much Does the Hacienda Golf Club Membership Cost?
The cost of a Hacienda Golf Club membership starts from $8,000 up to $65,000 just for the initiation fee.
As with the majority of golf clubs, the costs to become a member of the Hacienda Golf Club will be greatly influenced by the type of membership you choose.
According to our online and offline research, the cost of a Regular Golf membership at this private club would be around $26,000 just to join. The initiation fee for a Platinum Membership is $50,000, with monthly dues of $1,100. Meanwhile, for a social membership, you will have to pay only around $700 per year, without additional expenses.
You might also like our articles about the cost of membership at the Sand Hills Golf Club, Druid Hills Golf Club, or Valhalla Golf Club.
In order to become a golfer of the Hacienda Golf Club, you will need sponsorship and an introduction from an actual Hacienda Member. Also, you will have to fill out a candidate information form and go through a personal interview. All American citizens who are older than 21 years of age can apply for any type of membership.
Types of Hacienda Golf Club Memberships
Social Membership
This type of membership is a social one, designed only as a non-equity activity. With this membership option, you won't get any golf activity.
Regular Golfing Membership
This type of membership is an equity one, that offers full privileges to its members.
Junior Membership
If you are between the ages of 21 and 35 years old then this non-equity membership may be for you. With this type of membership, you will have full privileges.
Hacienda Golf Club details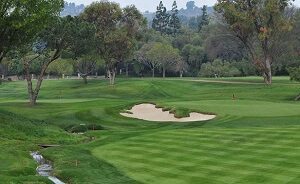 Willian Watson was the one who designed the club's 18-hole golf course. This has a size of 6660 yards, a 72.7-course rating, and a 133 slope rating, according to the Golf Now website.
In 2005, under the architectural supervision of John Harbottle III, Hacienda Golf Club started a complex restoration project. Most of the Hacienda's "push-up" greens have been replaced with new greens that meet the current standards of the United States Golf Association. Also, many of the bunkers have been deepened and enlarged, and all of them are contoured and re-shaped so they reflect the appearance of classic architecture design of golf courses from the early 20th century.
The restoration plan includes the increase of the play from the tournament's tees to more than 7,000 yards as well.
Golf practice facilities include a driving range, chipping area, and putting greens. PGA and LPGA golf professionals are available for private and group lessons.
The golf club also has a tennis center with 4 lighted courts, a pro shop, and round-robin events.
Besides the golf course, the club offers its members The Lounge Restaurant and a swimming complex. The outdoor resort-style pool is designed for its members to relax and dine poolside. The club offers indoor and outdoor banquet facilities for hosting larger weddings, private events, and holiday parties.
What are the extra costs?
You should expect to spend some extra money on the private lessons, programs, outings, clinics, and tournaments offered by the club.
During the year all kinds of social events are organized and, if you would like to participate in any of them, you will have to pay a fee.
In addition to membership dues, Edina Country Club typically charges other fees, including a monthly $30 capital improvement fund fee. Golfers may incur cart fees of $20 for 18 holes. Locker and bag storage fees may apply.
For guests of members, there are guest fees of $60 on weekdays and $75 on weekends. These additional fees contribute to the maintenance and enhancement of club facilities and services.
Golf Tournaments, Dining Options and Dress Code
The designer of Hacienda Golf Club's 18-hole golf course, William Watson, has emigrated from Scotland. He was considered one of the first golf professionals in California at that time.
Hacienda Golf Club was the host of the Southern California Golf Association Amateur Championship three times.
Also, this club has been the home of some of the biggest names and outstanding golf professionals such as Perry Gail, Bill Parker, Harold Pressler, Bobby Jones, and Howard Smith. Moreover, George Von Elm, one of the best golf players, considered Hacienda Golf Club one of the greatest courses he had ever played on.
The Hacienda Golf Club provides formal and informal dining venues to suit any occasion along with world-class service and Mediterranean-inspired cuisine.
The club has a strict dress code and you should get informed about this beforehand. For example, both members and guests must not change their shoes in the parking lot. They have to change the shoes in the locker rooms. You can find all the necessary information on their official website.
Ceramic spikes and metals are prohibited on the golf course. However, soft spikes are allowed for general use. These are available in both ladies' and men's locker rooms.
https://www.thepricer.org/wp-content/uploads/2022/02/hacienda-golf-club.jpeg
380
610
Alec Pow
https://www.thepricer.org/wp-content/uploads/2023/04/thepricerlogobig.png
Alec Pow
2022-03-02 08:50:28
2023-10-19 13:02:11
How Much Does the Hacienda Golf Club Membership Cost?