Last Updated on September 19, 2023 | Written by CPA Alec Pow
First Published on May 19, 2022 | Content Reviewed by

CFA Alexander Popivker
You may need to rent a hall when you want to organize a large retirement party, birthday party, or, why not, a wedding, so you can accommodate all your guests. You will avoid messing up your home and enjoy the party more if you choose to rent a hall.
How Much Does a Hall Rental Cost?
Hall renting costs are variable and the majority of the hall owners are going to charge for basic setups such as access to a bar or kitchen, chairs, tables, and electricity. You should expect to pay anywhere between $60 and $650 per hour, depending on your demands, geographical location, facilities, the type of the hall being rented, time of the week, and time of the year. In the table below you will find the average costs charged by some of the most popular halls in the United States of America.
Venue
Price
St Lawrence Hall Rental
$2,750~ depending on the season
San Marco Preservation Hall
$120 per hour
James P. Davis Hall Rental
$475 to residents
Fort Langley Community Hall Rental
$800
Crown Point Indiana Hall
$2,400 to $5,900
Copley Symphony Hall
$550
Cedar Lake
$430
Carnegie Hall

Isaac Stern Auditorium: base rate of $15,000
Zankel Hall: base rate of $4,750
Weill Recital Hall: base rate of $2,000

Brazos Hall Rental
starting at $1,750 to $3,400 (depends on day)
If you want to hold your party at the Veterans of Foreign Wars of the U.S. Hall, you will have to pay anywhere between $60 and $320 per hour, depending on the location. There is a greater demand for most of the halls on weekends, so during this period, the costs will be higher. Also, you should keep in mind that if you want to book the hall you will have to do it for a minimum of two to four hours.
You might also like our articles about the cost of stage rental, live band hiring, or DJ hiring.
There are some halls that will not charge per hour but per person. For instance, hotels with conference centers may apply a fee of $25 to $65 per individual. Be prepared to spend around $6,500 for a four to six hours party with 100 guests in a hotel conference room. Some hotels will include open bars, catering, and many more.
Another type of hall people use to rent are those offered by churches. The costs may vary from just a little donation of your choice to more than $850 for a night, depending on the church and its size. According to the members of the catholicforum.com, their church used to require a donation.
What is going to be included in these estimates?
In general, chairs, tables, and kitchen use are included in these estimates. But there are some hall owners that will ask you to set the hall up by yourself, while other halls may include the use of lighting and audio equipment, a screen, and a projector.
Depending on the location, the majority of the smaller Veterans of Foreign Wars of the U.S. Halls can accommodate anywhere between 100 and 200 guests.
There are halls that will create packages designed for themed events like graduation parties or weddings. These will include the food, bartender, and waiting staff.
What are the extra costs?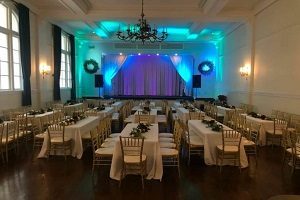 You will have to pay a security deposit at all the halls in order to protect the hall from any damage that may be done. Usually, this deposit is anywhere between 50% and 100% of the total cost.
In case the hall includes the food and beverages, these will come at an additional cost. If these are not offered by the hall, you will have to be responsible for purchasing them from a local caterer. It should be said that there are some cities/counties that will not allow alcohol consumption in the hall.
Also, you need to budget for the entertainment and music.
There are halls that have bartenders, security guards, and DJs you can hire at a cost starting at around $30 per hour. Also, you can hire the wait staff for your event.
Be prepared to pay some extra fees on top of the hourly rate.
Important things to consider
Before signing the contract read it carefully as this may hide certain fees.
Ask about the time restrictions because the majority of the halls will ask you to leave before a fixed hour.
In case the hall includes a bar, you will be asked for a minimum purchase.
How can I save money?
Make sure you receive at least three price offers from the halls in your area. Check with your local churches, hotels, and Veterans of Foreign Wars of the U.S. Halls.
If the time of the year is not that busy and you haggle, some halls may reduce the renting cost.
You may be able to save up to 50% if you hold your party on a weekday and during the time of the year when not so many people are booking.
Another way to save money with a hall renting is to check with your local churches. These are cheaper than most of the halls but will require you to be a member of the church or to know someone who is.
https://www.thepricer.org/wp-content/uploads/2022/05/hall-rental-cost.jpg
380
610
Alec Pow
https://www.thepricer.org/wp-content/uploads/2023/04/thepricerlogobig.png
Alec Pow
2022-05-19 06:14:43
2023-09-19 21:48:47
Hall Rental Cost