Hard Rock Cafe Menu Prices
Hard Rock Café is a famous restaurant chain with locations all over the world. The story of the Hard Rock Cafe, so legendary in so many countries, especially because of the collectibles belonging to rock bands and singers, is simple: when Eric Clapton often went to a still unknown restaurant, he thought of permanently reserving a table, and the owners suggested him to hang his guitar above. That's what he did, and since then the walls of Hard Rock cafes all over the world are like rock museums.
In order to get an idea of how much you should budget for dining in such a "rock museum", you will find in the table below the latest Hard Rock Café menu prices.
Entrees

New York Strip Steak
$27.59
New York Strip Steak (add a shrimp skewer)
$7.79
Famous Fajitas grilled chicken
$19.49
Famous Fajitas grilled beef
$20.99
Famous Fajitas grilled shrimp
$20.99
Famous Fajitas duo combo
$20.99
Famous Fajitas trio combo
$23.99
Grilled Sirloin Steak
$21.99
Grilled Sirloin Steak add a shrimp skewer
$7.79
Twisted Mac, Chicken & Cheese
$18.59
Grilled Wild Alaskan Sockeye Salmon
$20.99
Grilled Chicken Marsala
$19.99
Grilled Mediterranean Shrimp Pasta
$21.59
Grilled Lemon Caper Chicken
$19.99
Open-Faced Sirloin Sandwich
$21.99

Starters

Jumbo Combo
$20.99
Hickory-Smoked Chicken Wings
$10.99
Hard Rock Nachos
$12.99
Hard Rock Nachos (Add Chicken)
$4.99
Hard Rock Nachos (Add fajita beef)
$6.59
Hard Rock Nachos (Add add bar-b-que pulled pork)
$4.99
Potato Skins
$10.99
HRC Chicken Lettuce Wraps
$15.59
Balsamic Tomato Bruschetta
$12.29

Sandwiches

Hickory-Smoked Pulled-Pork Sandwich
$14.79
BBQ Pulled Chicken Sandwich
$14.79
Grilled Veggie Sandwich
$14.99
Honey-Mustard Grilled Chicken Sandwich
$14.59
Blackened Fish Of The Day Sandwich
$17.29
California Chicken Club Sandwich
$14.69
Substitute Onion Rings
$3.99
Add A Side Caesar Or House Salad
$3.99

Smokehouse

Hickory-Smoked Bar-B-Que Combo
$23.89 – $27.99
Hickory-Smoked Bar-B-Que Ribs
$25.99
Hickory-Smoked Bar-B-Que Chicken
$19.99
Add A Side Caesar Or House Salad
$3.99

Burgers

Classic 6oz. Burger
$12.59
Classic 6oz. Burger (add american, jack, cheddar or swiss cheese)
$3.99
Classic 6oz. Burger (add crisp seasoned bacon)
$1.79
Hickory BBQ Bacon Cheeseburger
$16.79
Legendary 10oz. Burger
$16.79
Mushroom & Swiss Burger
$16.79
Red, White & Blue Burger
$16.79
S.O.B. Burger
$16.79
The Big Cheese Burger
$16.79

Legendary Beef Burgers

California Burger
$16.79
Turkey Burger
$16.79
Veggie Leggie
$16.79
Local Legendary
$16.79
Substitute Onion Rings
$3.99
Add A Side Caesar Or House Salad
$3.99
Add Caramelized Onions
$2.99
Add Mushrooms
$2.39
Add Thick Shake
$5,99

Salads

Honey-Citrus Grilled Chicken Salad
$13.99
Caesar Salad
$12.99
Caesar Salad (add grilled shrimp)
$7.79
Caesar Salad (add grilled chicken)
$4.99
Caesar Salad (add grilled salmon)
$9.99
Cobb Salad
$14.39
Greek Salad
$12.99
Greek Salad (add grilled shrimp)
$7.79
Greek Salad (add grilled chicken)
$4.99
Greek Salad (add grilled salmon)
$9.79
The "Anti-Cobb" Salad
$14.39
Haystack Chicken Salad
$14.39

Sides

Twisted Mac & Cheese
$6.99
French Fries
$4.99
Grilled Ratatouille
$4.99
Garlic Toast
$4.99
Side House Salad
$6.59
Hand-Breaded Onion Rings
$6.59
Seasonal Veggie
$4.89
Grilled Shrimp Skewer
$7.79
White Cheddar Smashed Potatoes
$4.99
Confetti Rice
$4.99
Side Caesar Salad
$6.59
Romano Parsley Pasta
$4.99

Selections

Served With Your Choice Of Seasoned Fries, Confetti Rice, Or Side Salad

Buffalo Chicken Sandwich
$8.99
California Turkey Burger
$8.99
Bleu Burger Trio
$8.99
Chicken Parmesan Sandwich
$8.99
A.J. Burger Trio
$8.99
Rock Chop Salad
$9.99
Fettuccini Romano Parma
$9.99
French Dip
$9.99
The Big Soup & Salad
$9.99
Baked Fire Roasted Tomato Ziti
$9.99
Chicken Scaloppini Parmesan
$10.99
Grilled VLT Sandwich
$10.99
Mixed Mushroom Ravioli
$10.99

Desserts

Sinful Hot Fudge Sundae
$7.99
Ben & Jerry's Ice Cream
 $5.99 – $6.99
Thick Shakes
$7.59
Fresh Seasonal Berries
$6.59
Fresh Apple Cobbler
$7.99
Hrc Baker's Choice (Dessert Special)
Price varies
Hot Fudge Brownie
$8.99
Chocolate Mousse
$4.49
Creme Brulee
$4.49
Strawberry Cheesecake
$4.49
Chocolate Peanut Butter Pie
$4.49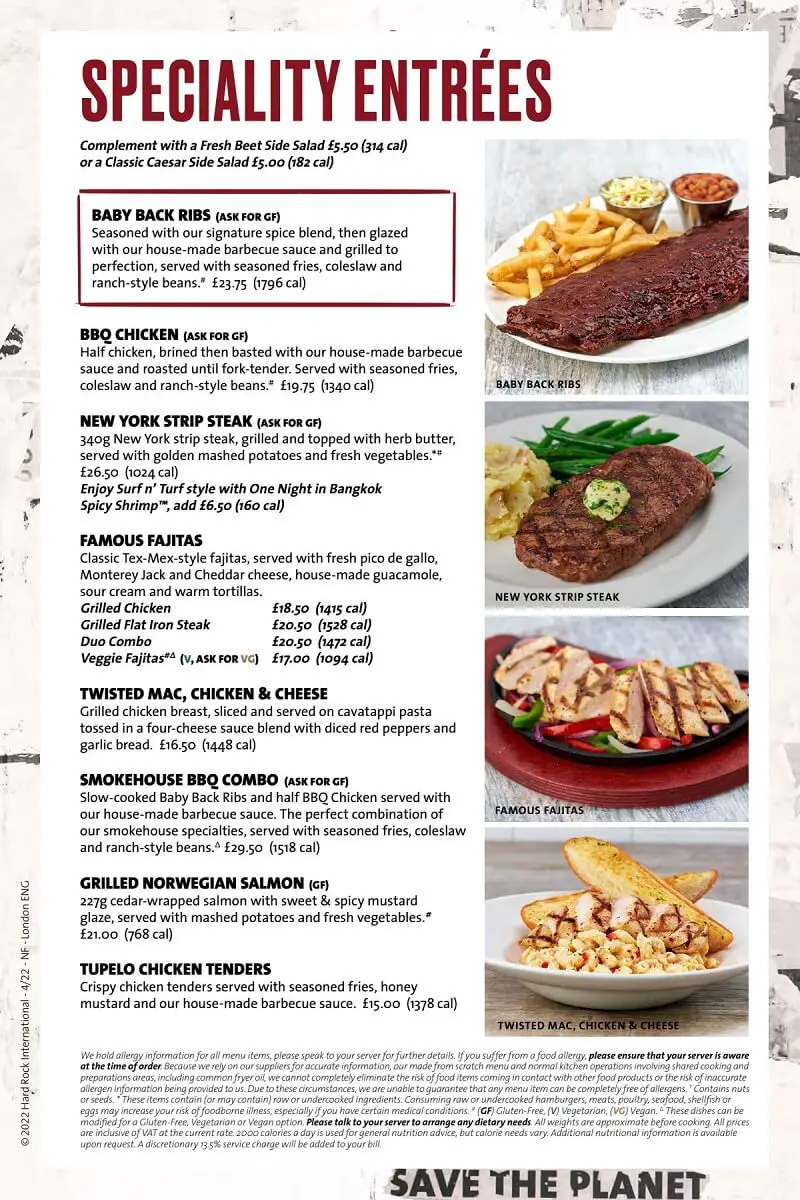 Brand history
The story of this brand starts back in 1971 with two Americans in London, Isaac Tigrett, and Peter Morton, in search of the perfect, "homemade" burger. And, as in the history of many other businesses, because they couldn't find it, the solution was to produce it themselves.
If Peter Morton caught the business "germ" in the HoReCa industry from his family, being the son of Arnie Morton, founder of the American restaurant chain Morton's Steakhouse, Isaac Tigrett also had the chance to come from a business family: his grandfather is the one who built America's first railroad for steam locomotives, and his father had been a partner with British industrialist Jean Paul Getty, founder of the Getty Oil Company.
The two met in London, through mutual friends. The idea of starting a business together came to them after they had tried, without success, to eat a burger in the British metropolis like in the States. With a hefty loan from Isaac Tigrett's father, $190,000, and another $10,000 from the bank, they rented a car showroom and set it up in their trademark rebellious style.
They got a short contract, for just six months, and although neither they nor the owner of the space thought they would last much longer, now "I don't think it's ever going to close," Tigrett said in an interview granted to the New York Times. On June 14, 1971, the first Hard Rock Café restaurant was inaugurated, in Mayfair, one of the best areas in the capital of the United Kingdom.
Shortly after the opening, Eric Clapton, who frequented the place, donated a guitar to them. So did Peter Townshend. These donations were followed by others and others until the Hard Rock Cafe became a kind of rock mausoleum. Currently, there are more than 86 thousand collectibles in more than 210 locations in more than 74 countries around the world.
Our review
Hard Rock Cafe is the location that combines the energetic atmosphere with aromatic dishes, the place where you experience unique sensations and where you can enjoy the most delicious American burgers. The locally inspired menu, but also the specific cocktails are waiting for you to satisfy your appetite, and the music will tempt you to come back more and more often.
The main dish can be anything from grilled sirloin steak to twisted mac, chicken & cheese, and classic burgers. The customers who will try the products from the Hard Rock Cafe menu will definitely have a top gastronomic experience. All of the foods can be complemented by a selection of seasonal cocktails.
At the Hard Rock Cafe, you can find a remarkable collection of memorabilia, such as Tina Turner's coat, Prince's pants, Iommi's guitar from Black Sabbath, but also Beatles items and countless other boots, hats, posters, and photographs or gold and platinum discs. You can also find televisions mounted on the walls, so you will never get bored in their locations.
The decor is very friendly, lit by original lamps, a warm red light, as well as transparent lampshades. Although the name may mislead you, here you can also listen to pop-rock, classic rock, or oldies music, and not just hard rock music.
The service is impeccable, and the waiters are extremely sociable and smiling so the atmosphere created is very friendly.
If you want to end your evening on a high note, but also enjoy the entire Hard Rock Cafe experience, you have the opportunity to visit their Rock Shop, where you can buy everything from leather jackets, t-shirts, and hoodies, to souvenirs and glasses.
Whether you want to enjoy a delicious meal, or whether you want to spend an evening with friends in a wonderful atmosphere and enjoy good music, Hard Rock Cafe is exactly the place you are looking for.
Hard Rock Cafe FAQs
At what time does Hard Rock Café open?
Hard Rock Café opens every day at 11:00 a.m. However, it may vary from one location to another and it is recommended to check the café's official website to see which are the opening hours of the location you are interested in.
At what time does Hard Rock Café close?
Hard Rock Café closes at 11:00 p.m. Sunday through Thursday and at 12:00 a.m. on Friday and Saturday. But again, it depends on the location and you should visit the café's official website to check this information.
Why are Hard Rock Cafés so popular around the world?
Hard Rock Cafés are famous for their collection of rock-and-roll memorabilia.
Which is the most famous Hard Rock Café location?
The most famous Hard Rock Café is the one from Hollywood, which is located on Hollywood Boulevard. This offers a world-class menu and high-energy entertainment.
Are the things presented in Hard Rock Café real?
Yes, all of the memorabilia displayed in Hard Rock Café locations are real and authentic.
https://www.thepricer.org/wp-content/uploads/2022/11/Hard-Rock-Cafe-menu-prices.jpg
380
610
Alec Pow
https://www.thepricer.org/wp-content/uploads/2023/04/thepricerlogobig.png
Alec Pow
2022-11-20 06:11:03
2022-12-30 00:36:37
Hard Rock Cafe Menu Prices