Harley Davidson Extended Warranty Cost
A Harley Davidson extended warranty is a contract between the owner and the company. This type of coverage continues to provide protection for your motorcycle, excluding parts due to wear and tear after the normal manufacturer's warranty has expired.
How much does Harley Davidson's extended warranty cost?
A Harley Davidson extended warranty may cost as little as $1,200 or almost double that at up to $2,000 for a five-year coverage. The price will vary depending on the duration of the plan and where it is purchased from.
| Length of Warranty | Average Dealer Quote |
| --- | --- |
| 3 years/unlimited miles | $1,000 |
| 4 years/unlimited miles | $1,100 |
| 5 years/unlimited miles | $1,250 |
| 6 years/unlimited miles | $1,450 |
| 7 years/unlimited miles | $1,750 |
We found out how much Harley owners paid for their extended warranty online. We searched on Google, and we were able to find a lot of people who shared the prices they had paid for their extended warranty in forums all over the internet. The table below has our findings from those forums:
| Geographical Location | Price Paid | Length of Warranty |
| --- | --- | --- |
| Louisville, KY | $1,700 for a $50 deductible with no tire coverage | 5 years |
| Nashville, TN | $1850 for a $50 deductible | 5 years |
| Des Moines, IA | $2,100 for a $50 deductible with tire coverage | 5 years |
| Detroit, MI | $1850 for a $50 deductible | 5 years |
| Dallas, TX | $1,799 for a $50 deductible, no tire coverage | 5 years |
| Tampa Bay, FL | $1,344 for a $50 deductible with no tires | 2 years |
| Atlanta, GA | $1,984 for a $50 deductible with no tire | 3 years |
There are many dealers who offer the Harley-Davidson Road King, and they usually have a wide range of prices. Forum members on Harley-DavidsonForums.com researched the price and found that it could cost anywhere from $774 to more than $2,000 depending on where you get it from. If you were to get a $50 deductible plan from your local credit union it might just cost around $770, for example.
You might also like our articles about the cost of a motorcycle engine rebuild, SR22 insurance, or car insurance.
According to one forum post on HD Talking website, it costs between $964 and $1,644 for a Harley Davidson product's extended warranty ranging from 2-5 years in length.
What should be included in this cost?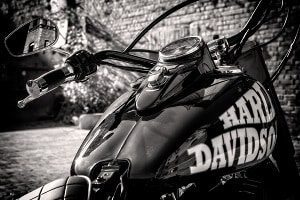 Stonewall Harley-Davidson argues that a typical plan offered by the company will include coverage for five years and provide $50 deductible plans with parts such as drivetrain, motor, and transmission being covered. This type of policy does not cover everyday wear and tear items like tires or brake pads so be sure to keep those up-to-date when they need replacing. You should always replace all of the parts at Harley Davidson dealerships and always have original parts installed to avoid voiding the insurance.
Other benefits include compensation for tows ($200 or less) as well as reimbursements for lodging ($150/day max.) And if you need it they provide Roadside Assistance 24 hours a day and car rentals (a maximum of $750).
If you sell your motorcycle in the future and it is still covered by a Harley Davidson warranty, then you will be able to transfer that coverage as long as it's an official one. Coverage begins immediately after your factory warranty will expire.
Any additional expenses to consider?
For a few hundred dollars more, you can have the peace of mind that comes with tires and wheel coverage. This option is designed to replace your tire if it's been damaged by something like an unexpected pothole or nail on the road.
Is there any way to spend less?
Do not forget to check local third parties for warranties before purchasing a coverage plan from the dealer. These companies are reputable and can offer similar coverage at a much cheaper price, but always research their reviews online first.
It is always important to haggle when you are looking for the perfect coverage plan. Dealers are very much interested in getting more clients, and they might be willing to lower the price if it will help them land you as a client. Some people that have paid for this insurance plan before had success at negotiating up to 10%.
https://www.thepricer.org/wp-content/uploads/2021/07/harley-davidson-extended-warranty-cost.jpg
380
610
Alec Pow
https://www.thepricer.org/wp-content/uploads/2023/04/thepricerlogobig.png
Alec Pow
2021-07-25 13:01:11
2022-09-29 06:59:27
Harley Davidson Extended Warranty Cost