Hennessey Venom GT Spyder Cost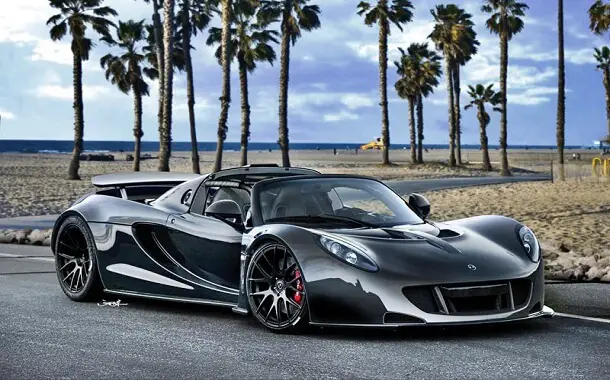 There are some cars that manage to leave you speechless right from the moment you set your eyes on them. The new Hennessey Venom GT Spyder is a great example of such a car. This is one of those cars that can easily be deemed as one of the most electrifying cars in the world. It has a lot to offer. One of the most appealing features of this car is that it is the fastest convertible in the world. It is powered by a 7-liter twin-turbo V8, and with the impressive speed that it can reach, you will find it quite hard not to fall in love with this particular model.
Holder of a world record
Hennessey made an official announcement regarding the new world record that they landed on 11th April. This coincides with the day when Bugatti announced its convertible world speed record. It does appear that Hennessey was striving to make history on the same day, and that is why they delayed the announcement for their world record, which they broke in late March.
Check Out This Other Road Monster, Aston Martin Vanquish Zagato
The recently upgraded engine of the Hennessey Venom GT Spyder has the ability to reach a speed of 265.5 mph as it is powered by a 1451 hp engine. It's not just speed that this car has to offer you. You will find that it is equipped with quite a few impressive features that make it very desirable. For one thing, it has a new and beautiful design. Its sleek and stylish look will make any owner drive the car with pride. It has a luxurious and premium feel to it. Exquisite attention has been paid to ensure that the interior and exterior of the car do not leave any room for complaint. Thus, not only does the car provide you with a powerful engine and impressive speed, but it also manages to add to your style due to its looks.
Convertibles, as a whole, are known to be quite stylish and the Hennessey Venom GT Spyder does not disappoint in this area. Since the car has been manufactured to keep up with the competition and have the edge over other big brands, you will find that it does not lack anything. Meticulous attention is paid to every aspect associated with the car so as to ensure that you do not get a reason to complain and get a car that would be your money's worth.
The cost of the car
When so much attention is paid to every aspect associated with the car, it is natural that the price would be high. Furthermore, a fact worth noticing is that it is a world record holder. Therefore, this is not the kind of car that you will be able to acquire at a low rate. Hennessey will manufacture only three Hennessey Venom GT Spyder world record editions, so if this is a car that you want to get your hands on, you will need to move fast to get one of the limited editions. As far as costs are concerned, the car would cost you around $1.3 million excluding taxes.
Here's How Much The New Plug-in Hybrids by BMW Cost
It is not just a world-record-holding car that you will get. You will get much more with this model. With the 7-liter twin-turbo V8 engine that it is provided with and the specifications like 1,451 bhp and 1,287 lb-ft of torque, this car is one that will prove to be worth every cent you pay. It can also go 0-60 mph under 2.4 seconds. All in all, while there is no denying that this car is expensive, the point to focus on is that it has a lot to offer and has the ability to provide you with results that would leave you impressed.
But would this car be suitable for the average working Joe?
This type of car wouldn't be something a normal person working on an average wage would be able to buy. You had to be a millionaire to be able to get one of the three limited edition cars released by Hennessey. We wouldn't advise you to spend that much on a car unless you are one of the very few rich people around the world.
https://www.thepricer.org/wp-content/uploads/2016/11/2013-Hennessey-Venom-GT-Spyder-price.jpg
380
610
Alec Pow
https://www.thepricer.org/wp-content/uploads/2023/04/thepricerlogobig.png
Alec Pow
2016-11-30 20:58:17
2020-08-15 21:51:29
Hennessey Venom GT Spyder Cost