Hockey is a fast-moving contact sport played on ice, which means it also comes with a lot of physical contact. This makes hockey a sport with a high risk of injury. Due to the aggressiveness of this sport, it is important to wear protective equipment when practicing it. This equipment includes helmets, shoulder pads, elbow pads, dental protection, protective gloves, hockey pants, and shin guards. In addition to protective equipment, hockey skates and hockey sticks are an essential part of the equipment.
How Much Does Hockey Equipment Cost?
The cost of hockey equipment greatly depends on your preferences, its brand, and the place you buy it from. However, you should expect to spend around $1,200 for a brand-new set that includes all the essential hockey equipment necessary to play the game properly. In the table below you will find the average costs for each item of hockey equipment.
| | |
| --- | --- |
| Equipment | Price Range |
| Cup | $15 to $50 |
| Bag | $60 to $150 |
| Gloves | $60 to $150 |
| Elbow Pads | $50 to $110 |
| Hockey Bag | $40 to $90 |
| Helmet | $60 to $230 |
| Jersey | $20 to $130 |
| Ice Skates | $120 to $600 |
| Pants | $60 to $200 |
| Mouthpiece | $20 to $50 |
| Should Pads | $40 to $100 |
| Shinguards | $40 to $140 |
| Stick | $34 to $270 |
| Socks | $10 to $40 |
| Tape | $3 to $7 per roll |
| Water bottle | $1 to $10 |
According to the My Next Buck website, the average cost of hockey equipment for an adult is around $1,200.
Also, the New to Hockey website says that you should plan on spending anywhere between $550 and $1,200 for brand-new hockey equipment, depending on the promotions available at that moment. However, the costs may drop to anywhere between $330 and $550, if you were to mix some used items and some new ones.
You might also like our articles on the price of ski equipment, football helmets, or soccer goals.
In case you play as a goalie, you will need a different type of pads and these would double the costs of the hockey equipment to the size of the pads. Also, a goalie, in contrast to a regular player, will need a goalie-designed cup, a different mask, a different stick, arm pads, and chest pads.
In general, the hockey equipment is not sold in sets, but individually and the estimated prices presented in the table above are per item. The costs of each item may greatly vary, depending on the store you purchase it from and the brand.
Hockey equipment details
If you want to have full hockey equipment, you should know that this includes a bag for the equipment, a helmet, socks, a cage, a jock, the neck guard, a practice jersey, shoulder pads, a mouthguard, elbow pads, skates, gloves, shin pads, pants, and a stick.
Collisions between players, ice rink, and ice are common, but wearing the proper safety equipment and gear can reduce the severity and incidence of many of the most common hockey injuries.
You can purchase all of the hockey equipment items from a local sporting goods store like Dick's Sporting Goods or from an online specialty retailer, or you can buy used equipment from eBay and Craigslist.
What are the extra costs?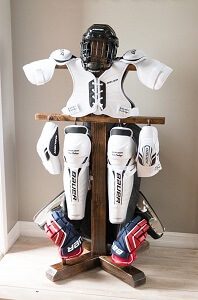 In case you are planning on playing hockey in a professional league, you should budget for the league dues, travel costs, and ice time as well, and not only for the equipment cost. These expenses are highly influenced by the league you are joining and the ice rink. Expect to pay anywhere between $330 and $650 for the league fees. According to a post that a parent made on the espn.com website, the total expenses in case you want to play hockey would be around $48,500.
Take into consideration the fact that after you buy the hockey equipment for your child, it has to be upgraded every season until they stop growing up.
If you want to take professional lessons to improve your games, you will have to spend anywhere between $35 and $60 per hour.
Expect to pay anywhere between $7 and $18 for a one-time fee for the public open skate time.
The costs of the pick-up games for a night are anywhere between $15 and $30.
You should have your skates sharpened every few games and this costs anywhere between $7 and $17.
How can I save money?
You are able to save some money by purchasing used hockey equipment, but make sure the items are still in good condition. If you are just starting, you will not have to buy brand new skates, pants, and shin pads. Look online for used equipment on websites like eBay and Craigslist.
Also, you may be able to save money on the hockey equipment by taking advantage of the local hockey programs offered by some communities. These offer equipment grants and rent the equipment to you for one season. Moreover, they can sponsor you by letting you use the equipment without paying anything.
https://www.thepricer.org/wp-content/uploads/2022/04/hockey-equipment-cost.jpg
380
610
Alec Pow
https://www.thepricer.org/wp-content/uploads/2023/04/thepricerlogobig.png
Alec Pow
2022-04-26 06:13:39
2022-04-21 05:31:31
Hockey Equipment Cost