Honey Baked Ham Menu Prices
HoneyBaked Ham is an American company specialized in selling, obviously hams, turkey products, side dishes prepared with their signature ham, salads, sandwiches, desserts, and other pre-cooked entrees.
They have locations all over the United States, where you can also place an online order for your favorite meats or sandwiches.
In the table below you will find the latest HoneyBaked Ham menu prices.
Item
Price

Popular Items

BBQ Smoked Stacker
$8.39
Turkey Bacon Ranch
$8.39
Tavern Club
$8.39
Turkey Classic
$7.99
Roasted Tomato & Cheddar
$7.59
Ham Classic
$7.99

Handcrafted Sandwiches

Turkey Classic Sandwich
$7.99
Ham Classic Sandwich
$8.49
Ham Salad Sandwich
$8.39
Roasted Tomato & Cheddar Sandwich
$8.49
Tavern Club Sandwich
$7.69
The Honeybaked
$7.69
Turkey Bacon Ranch Sandwich
$7.99
Chicken Salad Sandwich
$7.99

Desserts

Cookie
$2.19

Drinks

Canned Soda
$2.39
Bottled Water
$2.39
Sprite
$2.19
Diet Coke
$2.19
Coke
$2.19

Specialty Boxed Lunches

BBQ Smoked Stacker Sandwich
$8.59
Brand History
Honey Baked Ham appeared because Harry J. Hoenselaar believed in an idea of a bone-in spiral slicer that cooked and smoked a ham. This idea came into his dreams while sleeping. So, he created his prototype spiral slicer using a knife, a tire jack, a washing machine motor, and a pie tin.
The first Honey Baked Ham store was opened in 1957, in Detroit, Michigan. Harry has patented the spiral-slicing process and so Honey Baked Ham has become an easy-to-serve centerpiece at holiday dinners, important meals shared with friends and family or at Christmas celebrations.
You might also like our articles on the menu prices of Bahama Buck's, Sizzler, or Jason's Deli.
As the company expanded all over the country, Harry J. Hoenselaar divided its presence into four territories, each for one of his four daughters.
Nowadays the company is privately owned by the Hoenselaar family and the CEO is Hoenselaar's granddaughter, Linda van Rees. In 2015 she moved to Alpharetta the Honey Baked Ham headquarters. Nowadays there are more than 490 Honey Baked Ham locations all over the United States of America.
Our review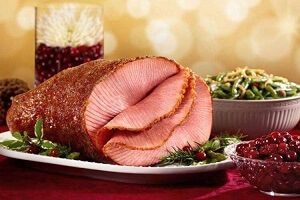 Honey Baked Ham attracts many customers thanks to their sweet-smelling and delicious meat. The taste of the meat has remained the same, of premium quality, for decades. The sweetness of the turkey products and ham is indeed mouthwatering.
If you are going for the first time to Honey Baked Ham and you don't know what to order, you should know that the Garden Salad and the Ham and Turkey Specialty Sandwich are highly recommended. On the other hand, if you like experimenting with the food, you should try their Build-Your-Own Sandwich promo.
The business concept of Honey Baked Ham is traditional, with an average store size and enough seats to comfortably accommodate a medium number of guests. Also, some of the stores have a café seating area where you can relax.
The service from Honey Baked Ham is satisfactory and the staff is friendly and kind. Plus, you will not have to wait too long for your order. However, the food here is worth every penny and every minute.
HoneyBaked Ham FAQs
At what time does Honey Baked Ham open?
Most of the Honey Baked Ham stores open every day at 09:00 a.m., but it depends on the day of the week and location. It is recommended to check the schedule of the location you are interested in on their official website.
At what time does Honey Baked Ham close?
In general, the Honey Baked Ham stores close at 08:00 p.m. from Monday until Saturday. However, it depends on the day of the week and location. Again, it is recommended to verify this information on the official website of the company.
How long can I store a Honey Baked Ham in the fridge?
In case you want to store the products bought from Honey Baked Ham in the fridge, you should know that the Honey Turkey Breast can be refrigerated for five to seven days, while the Honey Baked Ham can be refrigerated for seven to ten days.
How should I heat up a precooked Honey Baked Ham?
The Honey Baked hams don't need to be cooked further and all you need to do is reheat them for consuming. It is recommended to reheat them mildly in a 325-to-350 degrees Fahrenheit oven until the internal temperature reaches 135 degrees Fahrenheit.
Can I refreeze a Honey Baked Ham?
Yes, you can refreeze the ham from the Honey Baked Ham, both uncooked or cooked, as long as it has been thawed in the refrigerator.
How long does it take to defrost a Honey Baked Ham?
It would take 24 hours to thaw your ham in the refrigerator. It will be very tasty served both warmed for 45 to 60 minutes at 250 degrees Fahrenheit and cold, at room temperature.
Should I cover the ham with foil when baking?
In order to make sure the ham will not dry out when baking, it is recommended to cover it with foil.
https://www.thepricer.org/wp-content/uploads/2022/07/HoneyBakedHam-menu-prices.jpg
380
610
Alec Pow
https://www.thepricer.org/wp-content/uploads/2023/04/thepricerlogobig.png
Alec Pow
2022-07-10 10:26:41
2022-07-10 10:27:15
Honey Baked Ham Menu Prices