How Much do Charcuterie Boards Cost?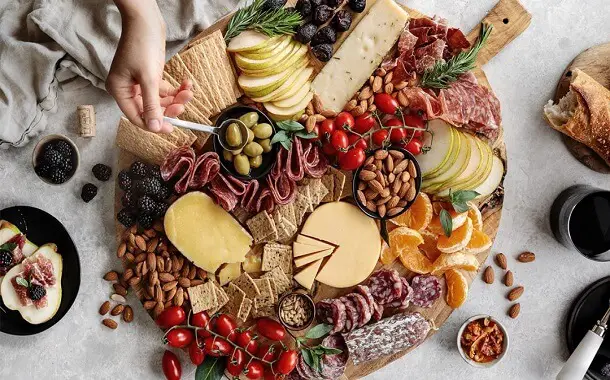 So-called charcuterie boards have gained popularity recently, although the term is not exactly new. "Charcuterie" comes from the French "chair" (meaning meat) and "cuit" (meaning cooking). This word is said to have been used in 15th-century France to describe pig butchers.
When we refer to a charcuterie platter, traditional French charcuterie consists of a platter of ham, sausage, bacon, or other pork products. Today, however, appetizer platters don't just contain pork sausages, but a wide array of foods that include different meats, cheeses, nuts, fruits, and vegetables.
The charming arrangements of such platters have caught the attention of many and gained popularity with the help of social media. Versatile and easily customizable, charcuterie boards are a delicious and almost artistic way to prepare an appetizer. Assorted meats and cheeses, along with other complementary foods, pair beautifully with a glass of wine for a simple yet refined snack.
 How Much Does a Charcuterie Board Cost?
The cost of a charcuterie board depends on what ingredients are served and the number of people that are being served. But let's see what is the cost of the wooden board alone, which is the central piece of a charcuterie board.
The price of just the board depends on the material it is made of, its size, and its shape as this can be square, round, or rectangular. In general, round boards are used because every guest has optimal reach, especially if the main course is placed on it in the middle of the table.
The usual charcuterie board with no products on it costs between just $5 and $50, while a charcuterie board ready to be served to your guests will cost somewhere between $15 and $160 or more, depending on the ingredients you choose to add, as the biggest part of the price will be represented by the cost of ingredients.
Small charcuterie board cost
If you have only a few guests or you want to prepare a nice meal just for you, the individual cheeseboards are a great idea. The main ingredients include nuts, crackers, artisan cheeses, dried and fresh fruits, and cured meats.
In order to save money on cheese you should take a look at your local grocery store's cheese section because they may have a basket or bin of leftover cheeses. These portions are good to consume but are too small to be cut. You can find these bins both at The Fresh Market and Whole Foods.
Expect to spend anywhere between $15 and $25 for this option.
Medium charcuterie board cost
A medium charcuterie board is large enough to feed ten to twelve guests for an appetizer. The best cheese option for a medium board would be a full wheel of brie as this is cheaper than a variety of cheeses.
You might also like our articles on the cost of fruit trays, Chick-Fil-A catering prices, or SaladWorks menu prices.
But to be sure that your guests will like the food you should buy some hard cheeses such as gouda and cheddar. Also, you can add other alpine cheese or Emmental.
For a fancier plateau, you can choose a block of blue cheese, but this is more expensive.
Depending on what you purchase, these boards would cost anywhere between $35 and $160.
How to build a charcuterie board?
Regardless of the choice of ingredients, the first step is to select a wooden board or tray. A specific type of plate is not required, but the flat surface on which the food is presented can determine the amount of ingredients that fit on it and the style of the plate. Wooden choppers are appreciated for their rustic look, while a serving tray may be the more practical choice for a picnic.
Before choosing the ingredients for the platter, it can be helpful to consider how the food should look visually. Such appetizers are about variety – not just in flavor, but also in appearance. The choice of items should provide a nice balance of foods of different sizes, textures, shapes, and colors. Small sauce bowls can help fit the size of the platter.
When deciding on the ingredients on the table, remember that there are several options. In general, the platter can be filled with different types of cheese, meats, salami, prosciutto, spreads, crackers and breads, fruits, vegetables, or side dishes. The purpose of arranging the tray is not to carefully place the items next to each other but to group the elements in the most aesthetic way.
Grazing table and grazing board ideas
A grazing table or a grazing board is another great idea to entertain at home. These boards are ideal for larger parties where you want to serve different appetizers. A big grazing board can include a green onion chip dip in the middle and different snacks like crispy chips, chicken wings, and veggies around it.
Also, you can choose a big baked potato bar for a grazing board. Fill it with all types of toppings and let people serve themselves with what they want.
What are the charcuterie platter essentials?
It is not absolutely essential to have a good set of cheese knives for a charcuterie board, but they can be useful as they are small. These can be purchased from stores such as Marshalls, Target, or Home Goods.
It would be a good idea to cover your platters with parchment paper in order to create a barrier between the food and the board. Also, you will not have so much to clean.
The small ramekins are great for jams and other spreadable foods like olives, honey, preserves, dark chocolate bites, Marcon almonds, etc.
It would be helpful to purchase cheese storage paper to keep your cheeses fresher for a longer time.           
Also, you should invest in wooden utensils like spreaders, honeycomb, and tongs to make your charcuterie board look complete and let guests serve themselves.
Some chose to even use disposable plates to be easier to clean everything when the party is over. You can use bamboo plates because these look nice and are compostable.
Final words
As you can see, the cost of a charcuterie board depends greatly on what ingredients you choose. There are always ways to save money on such a platter. For instance, stores like Aldi and Traders Joe always have good prices on cheeses. If you make a budget and stick to it, you shouldn't spend more than $160 on a cheese board. To make sure you don't overspend, make a budget per person you invite and not per platter.
The charm of charcuterie platters lies in the ability to customize the ingredients for each occasion. You can always add your favorite foods and constantly experience new tastes!
https://www.thepricer.org/wp-content/uploads/2023/04/Charcuterie-Board-cost.jpg
380
610
Alec Pow
https://www.thepricer.org/wp-content/uploads/2023/04/thepricerlogobig.png
Alec Pow
2023-04-27 08:33:34
2023-04-24 12:04:06
How Much do Charcuterie Boards Cost?