How Much Do Easter Decorations Cost?
Last Updated on April 11, 2023 | Written by CPA Alec Pow
First Published on April 10, 2023 | Content Reviewed by

CFA Alexander Popivker
Easter is one of the most famous holidays in the Christian religion. It retained its spiritual value and importance more than Christmas, which became more and more commercial as time passed. Decorating the house on this occasion becomes a concern of those who want to create a special atmosphere in the house, not just to enjoy delicious food.
Many housewives compete in creating abundant meals but let's not forget to use Easter decorations. Although everything looks very good on the carefully dished table, the holiday may look dull if there is a lack of Easter decor.
The whole house should be dressed in festive garments, because they will bring a more joyful atmosphere, and the guests will feel even more welcomed.
The embellishment of the interior of the house is guaranteed by using well-made ornaments with modern or classic designs, in line with current trends, or keeping the tradition deeply rooted. In addition, the spring that made its appearance awakened the whole nature to life, to complement the decor.
Easter remains a family holiday, an occasion for joy and bonding. For this reason, the house and the table of the hosts must look spectacular, and the atmosphere must be in accordance with this important moment from a religious point of view.
How much do Easter decorations cost?
The average price for Easter decorations goes from less than $10 to $100+. The price for Easter decorations greatly depends on what type of items you choose to buy and from where you buy them. People around the USA are planning to spend this Easter around $156 per person, from which $10 will be for buying Easter decorations.
What are the symbols we often encounter in Easter decorations?
Different spectacular arrangements can be placed on the Easter table, which can be customized according to the guests who will come to visit. Children are attracted to such things and sometimes even want to take them home. For example, next to the place on which the little one will sit you could add chocolate figurines shaped like bunnies or eggs.
Types of Easter Ornaments
The most appreciated ornaments will be those with flowers, butterflies, bunnies, chickens, or eggs, but more efficient and impressive ones can also be used to impress your guests, such as decorative pillows, spring covers, buckets with plants, colored bed linens, mirror stickers with hearts, blooming branches or holders for candles.
Not only the living room can be decorated on Easter, but also the other rooms, and even the entrance door or the green space from the yard to the gate through which the guests will enter. In front of the house or in the garden a fairytale atmosphere can be created with the help of different installations, large inflatable bunnies, or huge balloons. Everything can be completed with the presence of solar lamps and lanterns hanging in nearby trees.
Decorations for the Easter table
The Easter meal must be arranged as for the holiday with different items, not just with the delicious food, which will delight the eyes of the guests. The decorations are meant to cheer the ambiance and bring the festive spirit into the interior.
You might also like our articles on the cost of Easter baskets, Easter dinners, or Christmas decorations.
Apart from plates, bowls, or soup dishes, cutlery set, and wine or water glasses, other things that bring beauty can also be present:
dishes with floral motifs or in one color;
Easter dishes, usually with Peter the Bunny, can also be a good idea, but keep in mind that you will buy them to only use them once a year;
a vase with seasonal flowers, cut short to allow guests to see each other;
next to the plate of each guest, a small gift can be placed, which they can take home;
scented candles.
Before all the decorations are arranged, the host will choose a tablecloth with an Easter pattern or a white one.
Here are some other ideas for Easter decoration items you can find for your home:
Colored flowers. They have the almost magical power to give charm to Easter decorations, transmitting the joy and tenderness with which nature has endowed them.
Colored eggs. We cannot imagine Easter without painted eggs. These can be represented by the Easter accessories and decorations that include eggs.
Chickens with yellowish puff or cute ducks. Like rabbits, they transmit tenderness and gentleness, feelings that fill our souls around this holiday.
Always pay attention to the napkins. Funny models are appreciated, which include interesting messages but are also related to the event.
Festive pillows for chairs. We could not complete the recommendations for the Easter table without talking about seat cushions. They ensure comfort and dress nicely with chair support.
Curtains are designed to change the appearance of the entire room. Thus, interior design experts recommend that we include them among Easter decorations. A curtain with colorful bunnies or chicks can be a great choice for children's rooms, while the living room and adult bedrooms can remain decorated in a simpler floral version.
In accordance with the Easter decorations we mentioned above, here is a list of some of them and their cost:
Pottery Barn Peter Rabbit Entertaining Collection at $99 on Pottery Barn;
Egg Hunt Truck Yard Stake, 36″ at $9.99 on Athome;
KatelynsCollective Hand-Painted Wooden Easter Eggs at $18 on Etsy;
Easter wreath with colorful eggs, Easter arrangement with Easter eggs, door wreath, a decorative wreath for Easter at €26.99 on Amazon;
Easter Flower Wreath Decoration, Acrylic Easter Decoration, Rabbit Door Wreath Decoration, Front Door at €9.99 on Amazon;
Sur La Table Sur La Table Easter Bunny Taper Holder at $5,96 on Surlatable;
Peter Rabbit Peter Rabbit™ Organic Sheet Set at $71 on Pottery Barn Kids;
The Madelaine Chocolate Company Milk Chocolate Easter Bunnies at $15 on Amazon;
18 x decorative hangers Easter – plastic Easter eggs for hanging – Easter eggs in many colorful patterns at €11.99 on Amazon;
5 stems Easter Eggs Stem Easter Tree Easter Ornaments at $13,42 on Etsy;
Qunkun Pack of 4 Easter Cushion Covers, Easter Bunny Cushion Cover at €14.99 on Amazon;
Easter Table Runner at $31,7 on Etsy;
Goitruas Easter Decoration Rabbit, Micro Landscape Ornament at €14.99 on Amazon;
Hatching Chick Decoration at $15,49 on Etsy.
Factors that affect the cost of Easter decorations
Here are some factors that affect the cost of Easter decorations:
The type of Easter décor item;
The quality of the Easter decoration;
The place from where you purchase it. There are many shops or websites where that sell the exact product but at different prices. If you buy it online take into account the shipping cost;
Whether you buy a handmade or mass production Easter decoration;
Whether you buy it or you DIY;
The time of the year you buy them. You will certainly pay more for these decorations when the Easter holiday is approaching.
How to save money on Easter decorations
Reuse or repurpose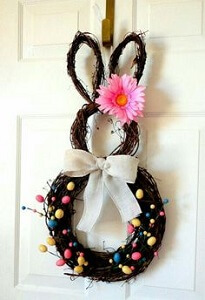 You surely have Easter items from the past years, so why not reuse or repurpose them to save some money on décor? This can apply to clothes, baskets, curtains, vessels, plastic eggs, wreaths, etc.
Handmade Easter decorations
An interesting idea of cheap decor for Easter can be easily put into practice only with just the help of objects already existing in the house. It will only take time, a little will, and imagination. If creativity does not exist, a lot of useful ideas and tips can be found on the Internet.
Handmade floral arrangements
A few pieces of spring flowers can be used in decorating the table or interior of a house on the occasion of Easter. There is no need to pay a lot of money for natural flower arrangements from a florist. You can buy the flowers and make yourself a great arrangement for the Easter dinner.
Elegant and colorful, they can be combined in different ways with tree twigs or can be put in transparent vases simply to be admired and smelled.
Another idea would be to buy plastic flowers and reuse them in the following years too.
Use Coupons
With the help of coupons, you can find great discounts on Easter decorations as well, and not only on food.
Buy them after the holiday
If you set your eyes on something, you can wait for the Easter holiday to pass and buy it at a discounted price. You may not be using it that year, but see the good side; you did buy it, you saved some money, and you can use it the next years.
In conclusion, sensational Easter decorations, whether floral ornaments, decorated eggs, bunnies, or candles, can easily be bought or created, with skill and creativity. It all depends on each person's budget. The right atmosphere for this holiday is the time spent with family and relatives, and this must be a pleasant, quality one for everyone.
https://www.thepricer.org/wp-content/uploads/2023/04/easter-home-decor-cost.jpg
380
610
Alec Pow
https://www.thepricer.org/wp-content/uploads/2023/04/thepricerlogobig.png
Alec Pow
2023-04-10 11:43:57
2023-04-11 12:18:16
How Much Do Easter Decorations Cost?