Cost of The Most Expensive Watches
Last Updated on May 24, 2021 | Written by CPA Alec Pow
First Published on October 3, 2014 | Content Reviewed by

CFA Alexander Popivker
It is said that "time means money", but for the luxury watch buyers', you can apply the opposite saying, "money means time". With 700,000 dollars, some people would buy a spacious luxury car, while others buy a watch.
If you feel like you need something to make you feel unique and you have a few million dollars just lying around, then maybe you should think about buying one of these pieces.
These are the most expensive watches in the world, worn only by renowned businessmen. They fit perfectly with the ownership or management of a multinational, a yacht or a Rolls Royce.
Some of these watches are one-piece editions, others were made in just a few copies, and only two of them are valued at under $ 1 million. The most expensive of them would be a big hit to the budget of many successful businessmen.
These Are The Most Expensive Materials in The World
Which are the clocks that if you had and sold them, would ensure the welfare of your family for three generations, and what is their actual price?
Breguet pocket watch 1907BA 10/12: $ 734,000
Breguet Company was found 225 years ago, being one of the oldest manufacturers of watches in the world. Breguet is now part of the Swatch Group Company. Pocket watch 1907BA / 12 is a luxury mechanical watch made ​​of 18-carat gold.
Blancpain 1735, Grande Complication: $ 800,000
1735 Blancpain's watch casing is made ​​of platinum. The watchband is made of crocodile skin and the mechanism is built-up of 740 handcrafted pieces. This watch is considered one of the most complex ones in the world.
Louis Moinet Magistralis: $ 860,000
It looks ordinary. Why is it so expensive? First of all, because a part of the clock is made from a lunar meteorite piece, 2,000 years old and scientifically recognized by University of California researchers. In the world, there is only one such watch.
Hublot Black Caviar Bang 7: $ 1 million
Same question: Why so expensive? Because it is the result of 2000 hours of meticulous labor, it has an 18-carat white gold casing, a watchband encrusted with 322 black stones (which turns it into a 25-carat watch) and there is a single piece in the world.
Check Out The Prices Of The Most Expensive Furs
The Chopard Super Ice Cube: $ 1.1 million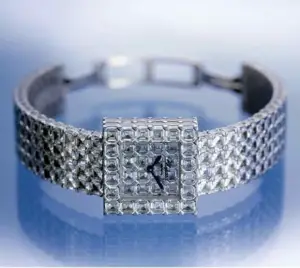 It's called Chopard Super Ice Cube because it has the shape of aside ice cubes. For the clock manufacturer were used several packages of 66-carat valuables. Sounds like a good reason to be priced at over 200 thousand dollars more than the watch that contains a piece of the moon.
Patek Philippe Sky Moon Tourbillon: $ 1.3 million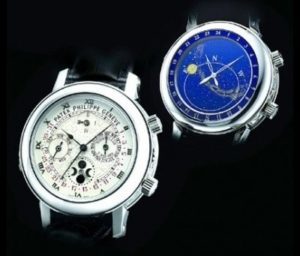 The watch is made of 688 pieces, some of which have almost microscopic sizes. The case is made ​​of platinum. There are only two copies produced per year: one in platinum and the other one in rose gold.
Vacheron Constantin Tour de l'Ile: $ 1.5 million
It is one of the most complex watches ever made. It consists of 834 pieces and its production takes over 10,000 hours (more than one year). The clock has two faces, and the casing is made ​​of gold. So far, the watch was produced in only 7 copies.
Patek Philippe's Platinum World Time: $ 4 million
In 2002, this watch became the most expensive in the world, when it was sold at an auction for $ 4 million. The clock shows the time depending on time zone.
Patek Philippe's Supercomplication: $ 11 million
It is a pocket watch produced in 1932 and for its accomplishment, it took four years. The watch was bought in 1999 for $11 million, at an auction, by the banker Henry Graves from New York, becoming the most expensive pocket watch in the world.
201-carat Chopard: $ 25 million
This is the most expensive watch in the world. It is made ​​of 15-carat pink diamond, 12-carat blue diamond and 11-carat white diamond. In addition, it contains a 163-carat diamond surrounded by yellow and white diamonds. The watch has a total of 201 carats and a value of 25 million dollars!
https://www.thepricer.org/wp-content/uploads/2014/10/what-are-the-most-expensive-watch-brands-in-the-world.jpg
380
615
Alec Pow
https://www.thepricer.org/wp-content/uploads/2023/04/thepricerlogobig.png
Alec Pow
2014-10-03 17:21:40
2021-05-24 15:00:55
Cost of The Most Expensive Watches