Perfect Fall Ankle Boots Cost
Last Updated on June 17, 2021 | Written by CPA Alec Pow
First Published on October 1, 2014 | Content Reviewed by

CFA Alexander Popivker
If there's one thing a woman really needs to have in her wardrobe at the beginning of fall, it's a great pair of boots. Whether you choose models with fur, laces, or wedges, it is essential to have them and find as many combinations of clothing as you can, that fit you. No matter what the trends are, these types of boots will help you get past any stylistic difficulties.
Ankle boots with thick heel
Once summer ends, stores rekindle their inventory with a variety of boots and booties of all shapes and sizes. Among all these, the most versatile is, in our opinion, a pair of black ankle boots. It works with everything from skinny jeans to a pair of toile pants or even a short black dress.
The cowboy-inspired boots (with sharper tip, imitating wood frame) will bring a boho-chic air to your outfit, while those with a more rounded tip and thick heel can complete a minimalist outfit.
Stella McCartney Iselin Faux Leather Ankle Boots
Price: 720$
Stiletto heel boots
For special occasions, a pair of stiletto heels combines the cool air of booties with the femininity of stiletto shoes. Wear them with everything, from jeans to pencil skirts. The best part of these boots is that you can wear them from morning to evening, from office to cocktails.
Bottega Veneta Suede Ankle Boot
Price: 970$
Peep toe boots
Ok, these boots are not necessarily essential to a woman's wardrobe but are extremely appealing. They are probably the most paradoxical shoes: a fall boot that leaves your fingers exposed. It may not make sense at first, but just because they expose your pedicure it makes them so appealing and look great both with a pair of boyfriend jeans and a trouser suit, to a cocktail.
In winter, peep-toe boots can be worn with socks and tights in contrasting colors. A pair of colored high heels boots can create a spectacular outfit if you combine them with a full skirt with traditional designs or a silk shirt. A flat purse, with the British flag as design, is another cool accessory, worth taking into account, but the attitude matters immensely when you dress so nonconformist.
The secret to wearing them successfully on cold days: look for boots that are cut as little as possible in front, nothing to bear more than three fingers.
Check Out The Price of UGGs
Burberry Prorsum Bateman Ankle Boots
Price: 750$
Fur boots
They have applications of artificial fur, lovely shape, heel or wedges, and their length stops, obviously, at the ankle. Fur boots look very interesting if you wear a skirt, on top of which you can apply another long tulle skirt. A biker jacket, black leather with zippers, and some statement accessories (necklace and bracelet) will contribute to the special gothic look.
Isabel Marant Neta Boots
Price: $1,435
Biker boots
They are women's best friends on the weekend days when they won't wear heels, but they want something with attitude. A pair of biker boots will look cool with any pair of jeans, and bring a grunge touch to a feminine dress.
If you want to be a special appearance, wear these boots with an elegant and precious outfit. Wear biker boots with a black mini dress, black fur coat, black tights, and a brown XXL bag, for a sophisticated look.
Michael Kors Viva Booties
Price: $295
Lace-up boots
Lace-up boots are inspired by the 1800s when the high society ladies had a small obsession with shoes. The more wrapped are the laces, the better. Lace-up boots can be worn with almost any outfit, but if you wear them with jeans, they have to be skinny and their length to stop exactly above the boots. A men's shirt, tuck in jeans, will give you a relaxed and nonchalant look.
Balenciaga Suede Brogue Ankle Boots
Price: $925
This is The Pair of Boots That Will Help You To Lose Weight, The Kangoo Jumps
Reptile print boots
Reptile print is one of the latest trends and you can wear it in the form of bags, boots, and belts. The boots from the image can be worn with the right skirt, short, a black jacket, with folded cuffs.
Gucci Python Horsebit Ankle Boots
Price: $2,100
Wedge boots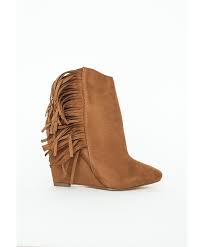 If they are black or beige, made of suede leather, wedge boots can sit next to you for several seasons from now on cause they won't go out of style too soon.
Misguided Patrycia Tan Fringed Ankle Boots
Price: $76
Lace boots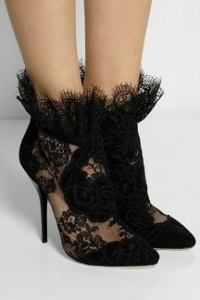 It's true that your feet will freeze in them, but on special occasions, you really need to wear lace boots. If silhouette lets you, wear them with white skinny jeans and a denim shirt, as Emmanuelle Alt, editor in chief of the French edition of Vogue magazine.
JIMMY CHOO Kamaris suede and lace ankle boots
Price: $1,255
https://www.thepricer.org/wp-content/uploads/2014/10/Ankle-Boot1231.jpg
380
615
Alec Pow
https://www.thepricer.org/wp-content/uploads/2023/04/thepricerlogobig.png
Alec Pow
2014-10-01 15:59:50
2021-06-17 20:47:43
Perfect Fall Ankle Boots Cost