How Much Does A Cigar Cost?
When you think of cigars, the word opulence automatically comes to mind. You think of something expensive and extravagant, which only people with high material possibilities use, especially businessmen, celebrities, etc. It may seem strange to you, but in the past cigars were not the representation of luxury or opulence. And they were consumed quite often, in quite large quantities, and their costs were not so high.
Once they were discovered by people with high financial possibilities and the embargoes had their say, prices began to rise, slowly becoming less accessible to anyone, thus entering the luxury zone. When you say luxury, you will instantly think of high prices, and it is no wonder that cigars fall into this category too, although not all of them. The fact that they are made of materials of a net higher quality, and the high prices that are charged for them, are in theory justified.
How much does a cigar cost?
The average price of a cigar is between $14 and $20, but it can also go from as low as $2 up to $50 per cigar. There are also some luxury cigars that were sold at exorbitant prices from a few hundred dollars up to thousands of dollars, and even a million dollars.
The price tag of most of the handmade cigars goes from $5 to $25 and more.
There are different types of cigars for all budgets and this article is intended to will clarify this aspect:
| Category | Price Range | Best Cigar Brands |
| --- | --- | --- |
| Budget Cigars | Under $2 | Manufactured bundles |
| Best Deals Cigars | $2-$5 | Arturo Fuente, La Aroma de Cuba, Oliva, Punch, Padron |
| Classic Cigars | $5-$10 | Ashton, CAO, Macanudo, Fuente, Partagas, Padron, Montecristo |
| Top-Shelf Cigars | $10-$20 | Ashton VSG, Padron 1964 Anniversary, Arturo Fuente Hemingway |
| Limited Edition Cigars | $20 and up | Cohiba, Davidoff, Ashton ESG, Fuente Opus |
Which are the most expensive cigars in the world?
| Cigar | Price |
| --- | --- |
| Arturo Fuente Anniverxario | $78 |
| Arturo Fuente Opus X | $300 |
| Cohiba Behike | $450 |
| Gurkha His Majesty's Reserves | $750 |
| Gurkha Black Dragon | $1,150 |
| King of Denmark | $4,500 |
| Regius Double Corona | $52,785 |
| Gran Habano No 5 | $185,000 |
| Mayan Sicars | $507,000 |
| Gurka Royal Courtesan | $1,000,000 |
Additional costs
Accessories for cigars cannot be considered trivial, because for smokers their passion goes much further. Cigars are the tools that allow smokers to enjoy the pleasure of smoking in a luxurious way. Accessories for cigar smokers are a must and are some that facilitate smoking and can be a perfect gift for a cigar lover. Here are some of the accessories you can find on Etsy:
Cigar Tube Leather Covered Black Case Cedar – $54,16
Personalized Cigar Humidor – $81.00+
Cigar Band Art Ashtray Kit with Cutter and Punch – $107.89
Leather Cigar Case with Removable Lid, XiKar X8 Cutter Case On Lid – $99,72+
Personalized Cigar Accessory Kit- Humidor- Cigar Cutter- Cigar Lighter- Cedar Cigar Box – $161,98
Factors that affect the cost of cigars
The cost of a cigar depends on numerous factors like the cost of the raw materials, whether it is handmade or manufactured, labor, climate, marketing, rarity, taxes, and so on.
Country of origin
Some of the best-known countries in the world for making cigars include Cuba, Honduras, and the Dominican Republic. Depending on this criterion, the cigars produced have different flavors, based on tobacco grown in different weather conditions and processing processes that may differ even from region to region. Usually, the Cuban cigars are the most expensive.
You might also like our articles on the cost of vapes and weed.
Note: As many may know, in the United States it is illegal to purchase Cuban cigars, even if they are sold in many other countries.
Type of tobacco used in cigars
Long-filler tobacco is used for premium cigars, making them more expensive than the ones with shorter-filler tobacco. A difference in price can also be seen in cigars with a single type of tobacco and cigars with mixed types of tobacco, these ones being cheaper.
Size of the cigar
In general, larger cigars are more expensive than smaller ones. Larger cigars are made with more tobacco, and it is harder to roll them. In this case, an experienced roller is needed, which will charge more, and from here you get the higher cost for a cigar.
Climate
Usually, cigar producers have enough tobacco to last for some years in case of a natural disaster. Even so, in the eventual case of a drought or a hurricane, the length of the growing season can be affected, so the tobacco, and from here you can see a rise in the cost of a cigar.
Handmade or manufactured cigars
Whether a cigar is handmade or manufactured can really affect its cost. As you may guess, a hand-rolled cigar will most likely be more expensive than a manufactured cigar.
Packaging
Proud cigar producers will always want beautiful packaging, with fancy bands and boxes. They will never risk their reputation by putting the family's name on the band of poor-quality cigars.
Retail
The cost of a cigar is determined by the owner or distributor. Federal taxes are included in the retail price, but the state or local taxes, or even the sales taxes are not included. That is why you may find the same type of cigar in different stores but at different prices.
Taxes
Some states have more tolerant tobacco taxes than others, and this can be seen in the final cost of a cigar.
These factors are all reflected in the price. To what extent it is reflected in the taste of cigars, the enthusiasts have to decide personally.
Price vs quality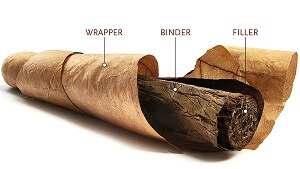 Price is not always an indicator of quality. At the same time, it is important to understand that the best materials, the best build, and the highest quality control will cost money. As is the case of all raw materials, not all tobacco has equal quality. Some cultures are better than others.
Quality standards are determined by appearance, burning, aroma, and flavor. A highly flavorful, savory tobacco that is clean in appearance and elastic to the touch will definitely be more expensive than a thick leaf that does not have too much smell or taste. Some types of tobacco take longer to age and ferment for maximum performance. This process will also rise the price of your cigar, because the longer the cycles, the more tobacco must be stored in a warehouse, and it costs money.
Tobacco could be a low-yield variety, meaning that the crop was not large in the field, but the small quantities produced were remarkable. This could also make tobacco a little more expensive. Sometimes it's just a question of supply and demand. Occasionally, a cigar is expensive for arbitrary or marketing reasons that have nothing to do with quality or availability. These unfortunate exceptions are not normal in the premium cigarette industry. If a cigar is expensive, the cost is usually justified.
Final Thoughts
That being said, there is no guarantee that you will love an expensive cigar. The flavor profile and the level of strength, either high or low, of a top smoke may not be to your taste. The best way to know is to try it. If you spend the extra money and find that the experience does not justify the cost, stay within the comfortable price range. If you find extraordinary levels of flavor, refinement, and complexity, you will know that the cigar is worth smoking.
https://www.thepricer.org/wp-content/uploads/2023/04/cigar-cost.jpg
380
610
Alec Pow
https://www.thepricer.org/wp-content/uploads/2023/04/thepricerlogobig.png
Alec Pow
2023-04-21 07:07:47
2023-04-21 07:57:50
How Much Does A Cigar Cost?