How Much Does a ClearChoice Dental Implant Cost?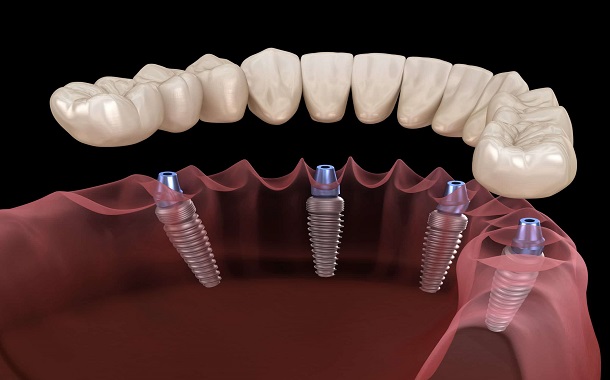 ClearChoice is one of the most popular dental implants on the market. It uses a medical-grade titanium implant fixture. It has to be fixed to the jaw bone using permanent bridges and crowns, where needed. These can be fused directly on the implants. This company has a lot of implant centers all around the United States and offers several types of implant procedures at the moment.
How Much Does a ClearChoice Dental Implant Cost?
The cost of a complete set of dentures by ClearChoice Dental Implants in the United States is anywhere between $44,000 and $56,000. Keep in mind that you will get a full-mouth teeth replacement in this price range, as well as a fusion or bone graft when needed to strengthen the area.
Of course, when it comes to dental implant procedures, the costs will ultimately depend on the complexity of your personal situation. There are several factors that will influence the price, including the geographical region, surgeon, the density of the bone, the number of implants you will get, their type, and whether crowns and bridges are needed.
You can replace a full mouth of missing teeth or a single tooth with dental implants. If you only need a ClearChoice implant for one tooth, expect a price of $1,700 to $6,000, depending on the placement and size of the tooth, as well as the material to be used.
Clear Choice also offers All-on-4 implants that are designed for patients needing to replace all of the upper and/or lower teeth. For this procedure, a full arch will be attached to just four dental implants.
The table below should give you a better idea of what to expect in terms of costs in the United States. The prices below are based on the experiences shared by people online.
| Geographical Location | Updated Price |
| --- | --- |
| New York, NY | $46,200 |
| Los Angeles, CA | $42,000 |
| Chicago, IL | $56,400 |
| Houston, TX | $30,000 |
| Phoenix, AZ | $48,000 |
| Philadelphia, PA | $67,200 |
| San Francisco, CA | $52,800 |
| Seattle, WA | $55,200 |
| Boston, MA | $54,000 |
| Miami, FL | $48,000 |
At the time this article was written, over 96% of the members on RealSelf.com claimed they were charged as low as $22,000 for a partial set, and as high as $50,000 for a full set. These prices are based on over 75 reviews.
What does the price include?
Most ClearChoice procedures involve adding prosthetic teeth in place of missing teeth. With the help of abutments, which are a type of connectors, titanium implants will be placed in the jawbone and attached to prosthetic dental crowns.
You might also like our articles about the cost of dental crowns, dental bonding, or dental implants.
The ClearChoice team will use the free consultation to take a full 3D CT scan to see the dental care plan that suits you best.
When you get the all-inclusive cost quote, it should include all of the aspects of the dental implant treatment plan:
The CT scan and pre-procedure exam
The set of temporary teeth as well as their placement and the dental implant surgery
The creation of your new permanent teeth and their fitting in your mouth
Any needed post-procedure checkups
Ask for a written estimate so that you have a clear idea of what the costs are and what they cover.
You should also ask whether you will need oral surgery in advance of the procedure or if any additional dental work would be needed, like a dental bone graft, for example. It often happens that the initial cost estimate won't include these.
If they aren't included in the estimate, expect a price of $350 to $3,200 for bone grafts alone. The cost will depend on whether the bone is harvested from your own body to be used or if the dentist will install a cheaper synthetic material.
Clear Choice dental implant details
ClearChoice representatives state on their official website that they can perform everything with just one fixed cost, under one roof, in as much as a day. This happens in each of their 40,000 dental implant treatment centers. For their procedures, patients will be fully sedated, unlike traditional dental implant centers that will only use local anesthesia most of the time.
Being a complex process it has some crucial steps that have to be followed, beginning with an initial pre-procedure examination. This consultation is when you will have to decide whether you move forward with the procedure. If you choose to do so, the prosthodontist will help finalize a treatment plan and guide you through the procedure steps.
After this consultation, you will get back to the clinic on the day of your scheduled procedure. This is the day in which you will get the dental implants put in place, although you will go home with a temporary set of teeth, very similar to the natural ones you have.
With time passing by, you will be asked to come in for several post-operative visits. This is to ensure that your teeth are healing properly. You will also be restricted to a soft food diet for the next few months to ensure a faster recovery. The temporary set will be replaced by a new, permanent set, but only after the implants have stabilized and the mouth has recovered completely.
Important things about the ClearChoice Dental Implant centers
If you need to check out the services or create a customized plan for your needs, the company states that you can request a free consultation in any of their local dentistry centers.
On the official ClearChoice website, you will find a search tool that enables you to find a location near you.
ClearChoice dental implant cost compared to other types of dental implants
When it comes to their average cost, ClearChoice dental implants are considered above the average.
This is because, as ClearChoice states, you aren't paying for a dental implant, but the full ClearCoice experience. These centers have on-site labs and in-house teams and will function as branded franchises.
Keep in mind that there have been instances of centers that would upsell their services. For example, for just one or two missing natural teeth, the oral surgeon might recommend extracting surrounding ones as well, so that a full-arch implant can be added instead of a single-tooth dental implant. Before you commit to what seems to be a very expensive implant surgery, it wouldn't hurt to get a second opinion as well.
How can I save money on dentistry services?
Some people choose to go to a country with a low cost of living like Mexico and have this procedure done for a fraction of the cost. Based on the research available online, patients choosing to get their implants done in Mexico will spend as little as $10,000 to $15,000, including travel and airfare expenses.
ClearChoice isn't the only brand to offer dental implants in the US. Shop around and get in contact with at least three centers before deciding where to go, as the prices will differ greatly. Most dental centers that are specialized in dental implant procedures offer a free initial consultation where you can find out the costs.
The company also offers financing plans even though they don't accept dental insurance. Financing options will only be available for people that qualify.
There is also the option of going to a dental school where this procedure is performed by supervised students. These places have really low prices compared to private practices.
https://www.thepricer.org/wp-content/uploads/2023/08/ClearChoice-Dental-Implant-Cost.jpeg
380
610
Alec Pow
https://www.thepricer.org/wp-content/uploads/2023/04/thepricerlogobig.png
Alec Pow
2023-08-17 10:25:59
2023-08-17 11:46:47
How Much Does a ClearChoice Dental Implant Cost?