How Much Does a DGS Monster Boat Cost?
When looking for a military-grade vessel on the market, it will be pretty hard to find one, and you must know the right person to help you with this acquisition. One of the military-grade vessels is the DGS monster boat. This comes with many customization options to fit your needs and preferences. Also, these boats are known for being durable and solid, providing safe performance, so you will not have to spend a lot on maintenance.
In the following lines, we are going to talk about the cost of a DGS monster boat and give you other useful information for this purchase.
How Much Does a DGS Monster Boat Cost?
Before talking about the prices, you should know that a military-grade vessel is not cheap. If you are able to find a military boat at a very affordable cost, then probably this is a scam.
The price of a DGS monster boat would start at around $76,000 and go up to more than $276,000. However, most prices range anywhere between $150,000 and $250,000. It is a high-quality grade military boat designed for durability and comfort.
The cost will be greatly affected by the model number of the boat. Expect to pay much more for a newer model than for an older one. There is a wide selection of DGS boats for sale on the market with models numbered from 22 to 30 and each of these comes with its own features and limitations. For instance, the DGS monster model 30 was launched in 2020 and includes more options and higher engine power than an older model like the DGS monster 28.
But an older boat comes at a more affordable price. However, don't expect to pay less than $26,000 to $51,000 for a DGS monster boat regardless of its condition as these boats are in high demand thanks to their quality.
Why is the DGS monster boat popular?
The DGS monster boats come at a high price, but compared to other brands these offer a unique service. Usually, when buyers are looking to purchase a boat, they want a vessel that offers reliable performance and requires low effort from the owner. Well, the DGS monster boats have these aspects covered. They require less maintenance from the owner, are very resistant, and are of high quality.
You might also like our articles on the cost of a tuna boat, a submarine, or a battle tank.
A DGS monster boat has low fouling surfaces, high durability, light hull density, high impact resistance, high damping capability, no crack, and a military-grade non-skid deck. All of these make DGS Monsters a safe and high-performance boat.
Do I have to spend extra money on the polish or repair?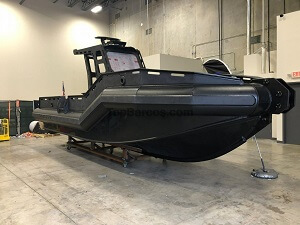 In order to make them look good and run well, some boats may need to be polished and repaired.
But you don't have to worry about spending extra money for the repairing and polishing of a DGS monster boat as this comes with a high-impact resistant hull, that does not crack. These boats are made from military-grade materials, which are very good at protecting the outer layer of the vessel from different environmental factors.
Despite its rugged exterior, the military-grade DGS monster boat is very comfortable. This boat is equipped with two helm seats, hull tubes, two aft seats, a windscreen, and a T-top for shade.
Do I get any warranty on the DGS boat?
Yes, you might get a warranty on the boat you purchased, depending on the place you buy it from. DGS offers a structural warranty of ten years on their monster boats.
It is recommended to contact the seller directly and ask about the provided warranty and what is covered.
Yes, the DGS monster boat is equipped with everything it needs to not get damaged very easily, but if it breaks and needs repairs in the future, a warranty should have all the costs covered.
Should I purchase a used DGS monster boat?
If you are thinking about purchasing a used DGS monster boat, as this may be a more affordable option, you should do a lot of research beforehand. You may find many listings on the market for a boat like this, but not all of them will be authentic and some of them will not come with the right paperwork.
The average price of a used DGS monster boat would be anywhere between $70,000 and $120,000, so you could save quite a few thousand of dollars by choosing this route.
Final words
The DGS monster boats are probably the best military-grade vessels on the market. You should budget around $200,000 for getting a brand-new boat. But you can find also more affordable options and not spend all your life savings for a vessel.
Analyze the pros and cons of each DGS monster boat model before making your purchase as each of them have different features and prices.
https://www.thepricer.org/wp-content/uploads/2023/05/dgs-monster-boat-cost.jpg
380
610
Alec Pow
https://www.thepricer.org/wp-content/uploads/2023/04/thepricerlogobig.png
Alec Pow
2023-05-24 08:31:10
2023-05-19 07:17:48
How Much Does a DGS Monster Boat Cost?