How Much Does a Footlong Cost at Subway?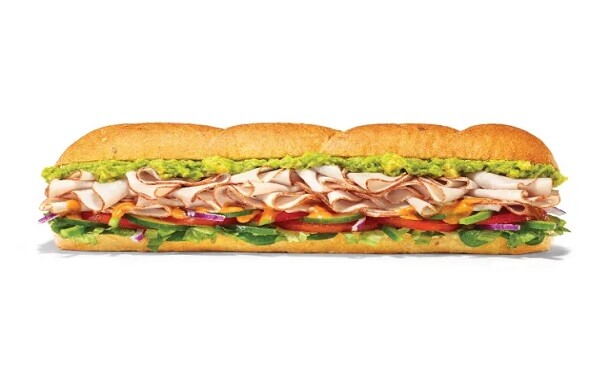 When talking about the Subway sandwiches, one of the most asked questions is how much would you have to pay for their most popular sandwich, the Footlong. As there are many different options and sizes you can choose from, it may be pretty difficult to give an exact price. In this article, we are going to talk about the Subway Footlong sandwich prices.
How Much Does a Footlong Cost at Subway?
The price of a Footlong from Subway would start at around $6.50, and depending on the toppings and the type of bread you choose, it will only go up from there. For instance, additional toppings like avocado or bacon will come at an extra cost. The exact amount of money you are going to pay for a Footlong will depend on the Subway location and the extra toppings you opt for.
Also, the cost may depend on the number of sandwiches you purchase at once, as discounts may be applied to the clients who purchase in bulk. It is recommended to check with your local Subway store to know exactly how much to budget for a Footlong from Subway.
Here are the average prices for different types of Footlong sandwiches from Subway:
Chicken Teriyaki: $10
Veggie Delite: $6.5
Roast Beef: $9
Tuna Sub: $7.5
Turkey Breast: $8
Spicy Italian: $8.5
Cod Cut Combo: $8
Black Forest Ham: $8.5
Steak & Cheese: $10
Meatball Marinara: $9.5
These costs are all for Footlong sandwiches with no extra toppings, but you can add different additional toppings for an extra cost. Some of your options may include jalapenos, bacon, olives, avocado, and many more.
Subway History and the Secret of Success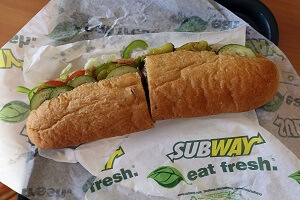 The story of the Subway brand began more than 50 years ago, when Dr. Peter Buck, a physicist in nuclear research, changed a student's life with a few simple words: "Let's open a sandwich shop."
Peter Buck came up with the idea of opening a sandwich shop to help Fred DeLuca pay his school fees. Peter came with an initial investment of $1,000. The partners opened their first restaurant in Bridgeport, Connecticut, in 1965 where they served fresh sandwiches at affordable prices. The popularity of sandwiches and the brand continued to grow in the following decades, but one thing remained unchanged, namely their principles and values:
they always offer the best services to their valuable customers;
they create the dishes on the menu of the best quality, but to which everyone has access;
they keep operating costs low and ensure that they have the best services ensuring that the business will always prosper.
Today, the Subway brand is the largest sandwich chain with more than 41,000 locations worldwide. They have become the first choice for people who are looking for something to eat quickly and for families who want to enjoy a healthy meal.
Ordering a Footlong sub from Subway
The most popular sandwich option available at Subway is the Footlong. This is a 12 inches long sandwich that comes in multiple varieties.
You might also like our articles on the cost of Taco Bell's $5 box, the McDonald's McChicken, and the Burger King Whooper.
Depending on their own culinary preferences, Subway customers always have the opportunity to customize their basic sandwich (Ham, Turkey and Ham, Roast Beef, Beef with cheese, Spicy Italian, Veggie Delite, Subway Club or Melt, Grilled Chicken Breast, Veggie Patty, Chicken Teriyaki, Tuna, etc.), opting for their favorite type of bread (black, white, with oats and honey, with Parmesan and oregano, with sesame), adding sauces (honey mustard, red wine vinegar, barbeque, ranch, olive oil, sweet onion, mayonnaise, etc.) or other ingredients such as vegetables (tomatoes, lettuce, green pepper, cucumbers, red onion), extra bacon, cheese (Monterey Jack, cheddar or American), etc.
The nutritional information for a typical Footlong
A typical Footlong from Subway contains:
| Nutrient | Amount |
| --- | --- |
| Protein | 37g |
| Calories | 790 |
| Carbohydrates | 119g |
| Total Fat | 25g |
| Saturated Fat | 5g |
The different types of Footlongs you can order at Subway
Subway offers its clients the possibility to customize their own Footlong sandwich by choosing from a wide variety of ingredients, as follows:
meats: tuna, beef, bacon, chicken, turkey, ham, and others;
vegetables: peppers, cucumbers, lettuce, onions, tomatoes, and many more;
breads: wheat, white, low-carb flatbreads, wraps, and others;
cheeses: cheddar, Swiss, provolone, and American;
extras: pickles, olives, jalapenos, avocado, and others.
Compare the costs of Footlongs from different subway locations
The cost of a Footlong sandwich may vary from one location to another because the cost of ingredients will depend on location and the taxes will affect the overall costs as well.
Before making a purchase, it is important to compare the Footlong from Subway costs at multiple locations in order to get an accurate evaluation of the prices. In this way, you are sure that you get the best deal on your Subway sandwich.
Can I get a Footlong at Subway for less than $6.50?
Yes, in some situations you may be able to buy a Footlong sandwich from Subway for less than $6.50. Usually, it will be possible by taking advantage of their deals and promotions to reduce the Subway menu prices, like their "$5 Footlong sub" promotion, where any Footlong sandwich cost only $5.
Also, some locations may offer discounts on specific menu items and sandwiches, depending on the day of the week and the time of the day. You should always check with your local Subway restaurant to see what discounts they offer.
How to order a custom Footlong of 12 Inches at Subway?
It is very easy to customize your Footlong sandwich the way you prefer it. All you have to do is to tell the Subway employee what type of toppings and bread you want. Also, you can ask for extra dressing or sauces for your sandwich.
You should ask the server how much each sauce or topping costs to get an idea of how much you would have to pay for your customized order.
Check out how Subway sandwiches like the Footlong are made:
Tips for saving money on a Footlong from Subway
If you take into account the following tips you would not have to spend your whole life saving for enjoying a Footlong sandwich from Subway.
Look for deals on gift cards because some retailers may offer discounts when you buy Subway gift cards.
Take advantage of discounts and promotions. Usually, Subway offers deals and promotions and you will be able to get a sandwich at a more affordable cost.
Ask the Subway server about how you can customize your sandwich without having to pay more money.
Take into consideration buying in bulk because you may get a better price if you purchase more sandwiches at once.
Check on deals on delivery services as many delivery services offer promotions and discounts which may help you save some money on your Subway order.
Are there any healthy options available at Subway?
Yes, Subway's menu includes a wide variety of healthy options. For instance, their Veggie Delite Footlong sandwich has no added sugar and only 790 calories.
Also, Subway offers wraps, salads, and low-calorie sides such as cookies and apples. Moreover, they offer healthier alternatives to regular cheese sauces and regular mayo on the offer like reduced-fat cheese sauce, fat-free honey mustard dressing, and light mayonnaise.
How to enjoy the full Subway experience
Available in so many varieties, either with cookies, apples, a bag of chips, and a soft drink, or served simply, Subway Footlong sandwiches are delicious, suitable for a culinary break at any time of the day. It is recommended to take advantage of their special "SUB of the Day" offer, enjoying a different type of sandwich every day of the week (Subway Melt – Monday, Grilled Chicken – Tuesday, Italian B.M.T – Wednesday, Turkey and ham – Thursday, Spicy Italian – Friday, Ham – Saturday and Turkey – Sunday).
Also, you can take advantage of the free WiFi and stay connected with your friends and family while you are enjoying a delicious sandwich.
FAQs
Is a Footlong from Subway customizable?
Yes, you can customize your Footlong sandwich from Subway according to your own preferences. Also, you can ask the server about the price of each extra topping so you can adjust it to your budget.
Does Subway offer any healthier options for their Footlongs?
Subway offers multiple healthy options for health-conscious sandwich lovers, from reduced-fat cheese sauces to salads and gluten-free bread.
Why choose Subway Footlongs?
Subway Footlongs are the perfect choice for those who want to enjoy a delicious sandwich made from the exact ingredients they want. There is always something for everyone.
How long did the $5 Subway footlong promotion last?
The chain introduced the "$5 for a footlong sandwich" promotion in 2008 when the US entered a recession and continued to offer this popular product even after the economic recovery.    
Is Subway's footlong really 12"?
In 2013, a man from Australia named Matt Corby posted a photo on Facebook, in which he measures the "12-inch" sandwich (footlong sandwich) and finds that it is only 11 inches. The New York Post conducted an investigation, which resulted in the fact that 4 out of 7 "12-inch" sandwiches are shorter than the official length.
Subway said that the length of its sandwiches can vary when the bread, which is baked at Subway locations, does not meet the material specifications of the restaurant chain.
"We will reorganize our procedures to ensure that the sandwiches will be the same length, regardless of the Subway restaurant you enter.", the company stated in an official email. However, Footlong does not represent a unit of measure, but a registered brand, argued Subway representatives at the time.
https://www.thepricer.org/wp-content/uploads/2023/05/subway-footlong-cost.jpg
380
610
Alec Pow
https://www.thepricer.org/wp-content/uploads/2023/04/thepricerlogobig.png
Alec Pow
2023-05-27 08:50:15
2023-05-27 20:51:22
How Much Does a Footlong Cost at Subway?