How Much Does A Mommy Makeover Cost?
Pregnancy can leave lasting, and often undesirable effects on a woman's appearance, such as saggy breasts, squishy abdominal muscles, and loose skin. Many women are discouraged when their breasts and body do not return to their pre-pregnancy form, and they may consider cosmetic surgery to shape their bodies.
Mommy Makeover is a specialized combination of cosmetic body contouring procedures to solve common problems faced by women going through pregnancy and breastfeeding. The concept of Mommy Makeover started in the United States. In fact, it refers to the interventions that new mothers use to recover quickly after birth.
Mommy Makeover is best explained as a package of surgery services customized according to each woman's goals. Most of them choose to combine the following procedures in order to achieve the desired appearance: Breast augmentation technique or on the contrary, breast reduction, abdominoplasty to regain the pleasant appearance and firmness in the abdomen, liposuction or vag rejuvenation method.
What is the cost of a mommy makeover?
The average price for the whole mommy makeover package can go from $9,000 up to $20,000. In this amount you will get the following;
At least an overnight stay;
Surgeon's fee;
Anesthesia fees;
Operating room fees;
Surgical garments worn during recovery.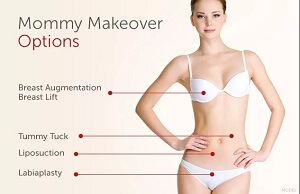 Each body is unique and has its own peculiarities, so for the right decision and to have the desired results, a careful examination from your doctor is required, before estimating a price.
In addition, there are certain conditions that you will need to take into account before using this intervention. But don't worry; during the consultation, doctors will make sure to keep you informed of all the necessary information in terms of pricing.
Mommy makeover surgery is customized to meet the needs of each patient, but the most common surgical procedures are breast augmentation, breast lift with or without breast augmentation, and sometimes breast reduction. The next ones on the list are liposuction of the abdomen, liposuction of the thighs, and abdominoplasty. Here are the average prices for each mommy makeover procedure:
Breast augmentation with an average price of $3,700;
Breast augmentation with lift with an average price of $6,200;
Breast lift with an average price of $4,650;
Breast Reduction with an average price of $5,600;
Tummy tuck with an average price of $5,800;
Liposuction with an average price of $3,200.
Will insurance cover a mommy makeover?
In the United States, mommy makeovers are considered optional cosmetic procedures and they are not covered by insurance. However, there are many plastic surgery clinics that offer attractive packages, and different options for you to pay.
What affects the cost of a mommy makeover?
The costs vary according to the needs of each mother. Depending on the surgeon's recommendation and the desired set of procedures, body modeling may be performed during a single operation or, for safety reasons, may be distributed in several surgical sessions. Mommy makeover surgery varies depending on the patient's particularities, but also on the hospital and clinic days where the intervention is performed. Due to the mix of possible procedures, the price ranges vary greatly.
Mommy Makeover is based on the needs of each mother, and the surgeon ensures that the procedures are appropriate, applying the latest technologies, products, and techniques to achieve safe and effective results.
The anesthesia fee is another determinant factor that affects the final cost. A board-certified anesthesiologist will charge much more than a nurse anesthetist. The anesthesia fee is priced by the hour, so depending on what procedures you choose with your doctor, and his surgery techniques, the costs will vary greatly.
How to make the most of your investment in yourself
Before you use mommy makeover, you should take into account some important aspects:
Choosing a doctor is the first and most important step. Often, in search for this type of intervention, many patients focus on the cost of procedures, but for the safety and success of the interventions, the important aspect is the experience of the aesthetician and his degree of training.
1. The right interventions
There is no standard set of interventions for a mommy makeover. Therefore, it is important to establish with your esthetician surgeon what interventions are right for you, depending on your body and desires.
2. Future pregnancies
It is possible that some of the surgeries performed will not have long effects in case of a new pregnancy or even have a negative impact if you are planning a future pregnancy, it is good to inform the doctor. Depending on the necessary procedures and desired results, they will guide you and provide you with the best solutions.
3. A healthy lifestyle
Mommy makeover leads to remarkable results, but in order to maintain these results and enjoy them for a long time, it is good to consider a healthy lifestyle.
Mommy Makeover is not a single procedure, but a mix of procedures tailored to the needs and desires of the patient, with the aim of solving the aesthetic problems faced by most women who have gone through pregnancy and breastfeeding. Thus, most of the time, aesthetic surgery is certainly an excellent option to regain the desired appearance.
https://www.thepricer.org/wp-content/uploads/2023/02/mommy-makeover-cost.jpg
380
610
Alec Pow
https://www.thepricer.org/wp-content/uploads/2023/04/thepricerlogobig.png
Alec Pow
2023-02-15 12:36:46
2023-03-02 20:51:20
How Much Does A Mommy Makeover Cost?