How Much Does a Sunsetter Awning Cost?
With a history of more than thirty years, SunSetter is an American company that produces and sells sunshades and awnings. They pride themselves on having almost a third of the USA's awning market share.
This company sells most of its products directly through its own stores, but also uses different third-party dealers.
How Much Does a SunSetter Awning Cost?
There are several factors that affect the price of a SunSetter, such as the place you buy it from, the size, whether you need a contractor to help you with the installation, and if it is automatic or manual. The average cost of a motorized version would be anywhere between $2,500 and $3,400, while for a manual awning, you will have to pay $1,800 to $2,200.
This cost range includes only the awning, without any professional installation. You should add another $320 to $550 to this price range if you were to hire a contractor to help you to install the owning.
On the other hand, for a freestanding SunSetter awning you will have to get around 20% less out of your pocket than the price estimates presented above.
In the table below you will find the average price for some of the most popular sizes of SunSetter awnings. Remember that these costs may vary depending on the location.
| Size | Motorized Awning | VISTA | 900XT | 1000XT |
| --- | --- | --- | --- | --- |
| 8′ | $1,600 | $1,400 | $800 | $950 |
| 10′ | $1,800 | $1,600 | $1,000 | $1,100 |
| 11′ | $2,000 | $1,700 | $1,100 | $1,300 |
| 12′ | $2,100 | $1,800 | $1,200 | $1,300 |
| 13′ | $2,200 | $1,900 | $1,300 | $1,400 |
| 14′ | $2,300 | $2,000 | $1,400 | $1,500 |
| 15′ | $2,400 | $2,100 | $1,500 | $1,600 |
| 16′ | $2,500 | $2,200 | $1,500 | $1,700 |
| 17′ | $2,600 | $2,200 | $1,600 | $1,800 |
| 18′ | $2,600 | $2,300 | $1,700 | $1,900 |
Note: These are costs just for the awning and don't include professional installation.
According to most reviews on ConsumerAffairs.com, the price of a SunSetter awning complete setup would be anywhere between $2,800 and $3,600.
SunSetter awning – short presentation
SunSetter awnings can be opened automatically by simply pushing a button, or manually by using a hand crank.
The SunSetter awning comes in standard sizes, which means that these can not be customized. Though, they offer a large variety of colors and sizes for anyone's taste. You can choose between 28 different fabrics and 4 projection sizes. All SunSetter awnings are assembled in the United States.
You might also like our articles about the cost of a retractable awning, enclosing a porch, or installing Bright Covers.
Also, the company offers a five-year warranty that covers the frame, fabric, and electronic components. However, according to online reviews, this warranty is pro-rated. This means that the longer you have it, the less you will get for your repair.
Which are the additional expenses?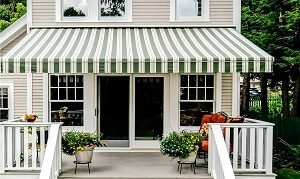 If you choose to have a wireless wind sensor, that can automatically close your awning on a windy day, you will have to pay around $210 for it. This sensor may be included in some cases. You can also buy LED lights to create a nice atmosphere during the night. Some other optional accessories include an awning hood, a mat, weather breaker panels, a cleaning kit, and an awning cover.
According to some online reviews, you will have to replace the awning's fabric every five to seven years, depending on the geographical area where you are living. Though, if you strictly follow the manufacturer's recommendations, you can extend your fabric's life.
For instance, you should retract the awning during a windstorm or rain because the wind can simply rip the awning away from the house, and the rain can stay on the top of the awning, creating too much weight. But if you have to replace the fabric for a SunSetter awning, you will have to pay anywhere between $360 and $580 just for the fabric, depending on the size of the awning.
You may have to pay a delivery fee at some sellers, that, in general, of around $110.
Important things to consider
You can install a SunSetter awning on bricks, stucco, wood, vinyl siding, or aluminum. Also, if you have the right mounting equipment, you can install it directly on eaves and overhangs.
Tips for saving money
In order to get a free awning kit, you should sign up on the official SunSetter website. By doing it you will also receive a $200 savings certificate.
You may be able to save up to 30% if you don't have a problem opening your awning by hand.
Craigslist and eBay are websites where you can find a slightly used SunSetter awning and save money. For instance, at the time this article was written, we found slightly used awnings on eBay at the price of around $810.
SunSetter is only one of the many companies that offer awning solutions for your house. Make sure you compare the costs and offers of other brands and choose the one that works the best for you.
https://www.thepricer.org/wp-content/uploads/2023/05/SunSetter-awning-cost.jpg
380
610
Alec Pow
https://www.thepricer.org/wp-content/uploads/2023/04/thepricerlogobig.png
Alec Pow
2023-05-15 06:30:20
2023-05-10 09:22:01
How Much Does a Sunsetter Awning Cost?