How Much Does a Tattoo Party Cost?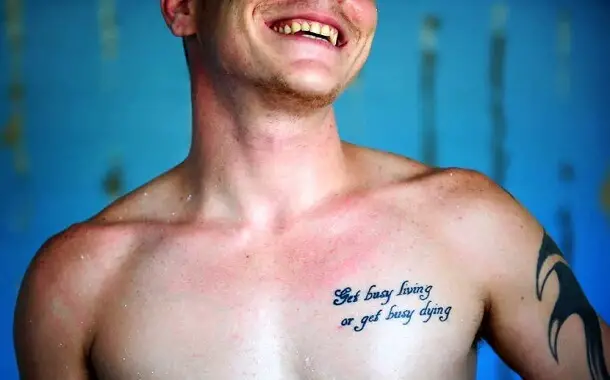 Tattooing is an art form found among people since the Neolithic. In Europe and the United States, tattoos were characteristic, especially for sailors and soldiers, but their popularity has increased and nowadays many people have their first tattoo at the age of 16-20.
How much does a tattoo party cost?
You may be surprised, but tattoo parties are not that expensive and the cost of such entertainment depends on the size of the tattoos and the number of guests.
Plan on spending anywhere between $60 and $550 on a tattoo party, depending on the artist(s) who does the tattoos, the number of people getting tattooed, the location of the part, and the length of the party.
Is it rude to ask how much a tattoo costs?
Actually, it is recommended to ask about the tattoo price to know if you can afford it. Also, don't assume that if a tattoo is small it costs less. Some tattoo artists charge per hour, with a minimum fee close to the price of 1 hour.
It takes two to three hours to make a medium-sized tattoo. Though a complex and colorful tattoo may take up to five hours. Also, tattoos which are the size of a palm are large and take more time.
How much should you tip for a $150 tattoo?
As a rule of thumb, you should tip your tattoo artist 20% to 30% of the total cost of the service, if you are content with the result. So, if your tattoo costs $100, at the end of your session you should tip anywhere between $20 and $30.
Even though the tattoo artist will use single-use needles, this doesn't mean that there is no risk of you getting contaminated with body fluids and blood. During the tattooing process, microscopic body fluids and blood are sprayed all around. This is why it is very important to get a tattoo in a safe and clean setup.
How much should you tip for a $600 tattoo?
If your tattoo costs $600, you should bring another $120 in cash to tip your tattoo artist. Depending on how much you like the tattoo, you can give more or less, but 20% of the total cost is where you should start from.
Plan to tip $75 to $100 for a $500 tattoo.
How much should you tip for a $3,000 tattoo?
We already mentioned above that it is customary to tip a tattoo artist anywhere between 20% and 30% of the total cost of your tattoo. This helps them to offer you the best possible service and maintain high-quality standards.
Expect to pay in cash at a tattoo shop, especially in places that try to avoid taxes by reporting less income, as cash income is harder to track than credit card transactions.
Tattoo party overview
Tattoo parties are gaining more and more popularity, especially among teenagers. The atmosphere at these events is relaxed and fun, plus the guests can get a tattoo in a controlled and safe place. If you want to organize a tattoo party, try to find a tattoo artist with a good reputation who can offer a comfortable and clean setting for you and your friends.
Here are some things you need to consider when you are planning to throw a tattoo party:
The most important step is to find a tattoo artist that your guests are comfortable with.
Write and send invitations that contain all the relevant information like party location, time, and date.
Tell your guests to send you their desired designs so the tattoo artist can plan ahead and make sure that everyone is tattooed as wished.
In order to secure the services of a tattoo artist pay him/her a deposit.
Establish a provisional party schedule to make sure that every guest has the chance to get the tattoo they want.
Configure a tattoo salon at your party location. This should include a space where the artist can work in and has all the necessary supplies.
Be prepared for any situation. This means being aware of any allergies that your guest may have and having a first aid kit.
Breaks must be part of your party plan in order to avoid complications and keep everyone comfortable.
How does a tattoo party work?
In many states, tattoo parties are not legal as they are not supervised or regulated. Such a party comes with some health risks such as the transmission of diseases or infections. If you really want a tattoo, you should go to a licensed and reputable tattoo artist.
When talking about tipping a tattoo artist, a general rule thumb is to tip twenty percent of the total cost of your tattoo. This way you will make sure that you will get the best service in the future and show your appreciation for the artist's work.
How much can you be tattooed in one session?
There is no exact number on how much it would take to get a new tattoo. It depends on the complexity and size of the tattoo, and on the artist's skills. For instance, it may take even more than one year for a new tattoo to get completed.
Do you pay after each tattoo session?
You will have to pay for your tattoo when the session is finished. In the case of a large tattoo, you will have to get multiple sessions to complete it. You don't have to pay upfront for the entire tattoo but you will have to do it after each session.
The price of a tattoo depends on its size, type, and location. In general, you will have to pay anywhere between $60 and $130 for a small tattoo, around $220 for a medium tattoo, and more than $280 for a large tattoo.
Things to consider when getting a tattoo
It is recommended to consider the following things when getting a tattoo:
You need parental consent in case you are under 18.
Inform your tattoo artist ahead of time about any allergies you have.
You might also like our articles on the cost of a tattoo machine, a spine tattoo, or a koi fish tattoo.
You will have to pay for your tattoo at the time you get it. Be aware that some shops accept only cash, while others accept only credit cards.
In case you want to take a friend with you for offering moral support, inform the tattoo artist ahead of time.
Know exactly how you would like your tattoo to look. But you shouldn't ask your tattoo artist to copy someone else's work as this is unfair.
Avoid drinking alcohol before getting a tattoo
Is it rude to wear headphones while getting a tattoo?
It is highly recommended to wear headphones while getting a tattoo if it helps you to relax. Actually, tattoo artists may choose to wear their own headphones on some projects for better focus. Also, you can bring a movie to watch or a book to read, as long as you can do it without moving.
Though, it is important to follow the artist's rules and be respectful. Some may want to talk with you during the process, while others want you to be silent.
What are the risks of tattooing?
Currently, the risks and complications arising from a tattoo can be divided into transient acute inflammatory reactions, caused by traumatizing the skin with needles, and medical complications such as superficial and deep local infections, systemic infections, allergic contact dermatitis, granulomatous and lichenoid reactions, but also skin conditions in the tattoo area, such as eczema, or psoriasis.
These reactions occur mainly because of the non-sterile pigments inserted into the skin, but also the non-sterile conditions in which the tattoo is made. The risk of complications increases for people who choose to get their tattoos done in unauthorized salons.
Where should you not put a tattoo?
The tattoo should not be visible to everyone and all the time. Show it to whoever deserves it and when you think it's the right time and place. When you choose to get a tattoo, you must first think of a model and the place where you would like to have it on your body.
Be smart and avoid tattooing in visible areas of the body. Get tattoos in places that can be easily covered by clothes as there are still jobs "incompatible" with visible tattoos.
Also, there are very sensitive areas, where the pain is more pronounced, such as the neck, belly, thighs, hips, and lumbar area. When you get a tattoo for the first time, it is good to choose a less sensitive area such as the shoulder blades (upper back), upper arms, or calves.
At what age can I get a tattoo?
You must be 18 years old to get a tattoo. In some states, the first tattoo is allowed at a younger age, but only with the consent of a parent.
The reason behind this rule is that a minor cannot enter into a legal contract or give informed consent for a procedure. So, the minor can not sue the artist in case something goes wrong. Also, during adolescence and childhood, the skin is still developing, which makes it harder to place a tattoo and have it heal properly.
Final thoughts
Plan on spending anywhere between $60 and $550 per guest for a tattoo party, including the venue, the supplies, and the artist. The cost depends on the type of tattoo, the location, and the number of people. Though, the average cost of a tattoo party is $250 per guest.
A tattoo party is a party to remember and a great way to have fun with your friends.
https://www.thepricer.org/wp-content/uploads/2023/02/tattoo-party-cost.jpg
380
610
Alec Pow
https://www.thepricer.org/wp-content/uploads/2023/04/thepricerlogobig.png
Alec Pow
2023-02-16 06:46:42
2023-02-13 08:13:45
How Much Does a Tattoo Party Cost?