How Much Does a Wedding Dress Cost?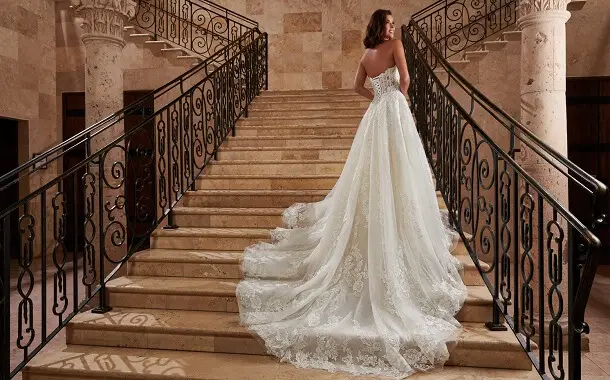 The perfect wedding dress represents, for brides, the ultimate search for that outfit that will valorize their body and personality on the wedding day. However, around the right wedding dress revolve many factors like time, budget, prejudices, different tastes, etc., which is why the decision may not be an easy one.
Seeing that it is the most important accessory, you should look for the wedding dress well in advance. Whether you choose to buy it from a store or do it at a workshop tailor, you must first find out all the details about this year's trends – if themed weddings are still on-trend and which they are, depending on the place you will organize the wedding and the guests you will have. These are just a few aspects that you must take into account when choosing a wedding dress that, above all, must be impeccable and must fit you like a glove.
Try on as many models as you can and do not be embarrassed to tell the shop assistant that you can't decide, and if you choose the services of a fashion house, ask the tailor for all the necessary changes. Do not forget, however, to consider their advice, given that most brides want their dresses with a molded corset. Start looking for your wedding dress at least two months before the wedding.
How Much Does a Wedding Dress Cost?
The average cost of a wedding dress is anywhere between $1,500 and $3,000 and will depend on several important factors like the style of the dress, its material, and the designer behind it, among others.

Cost Breakdown

Low costs: $200 or less
The average price of a wedding dress: from $1,500 to $3,000
High price range: from $2000 to $5000 or even more.
A cheap off-the-rack wedding dress bought from a department store or from a chain bridal retailer may cost around $200 or less.
For a medium cost, somewhere from $1,500 to $3,000, you can buy a custom-made or off-the-rack gown with some lace detail, either from a bridal boutique or a chain bridal retailer.
If you are willing to pay a high dress price, somewhere from $2,000 to $5,000 or maybe more, you can have a designer custom-made silk dress from a well-known wedding boutique.
The Bridal Association of America states that the average cost is $1505 per wedding dress.
Inexpensive Wedding Dresses
Yes, even though it sounds weird, not all wedding dresses are expensive and outside of a normal personțs reach. Searching enough might enable you to find that perfect dress that also fits your budget. A great tip for finding affordable wedding gowns is to start the search and planning process as early as possible. Here are just some ways of snatching that wedding gown you're dreaming about for cheap.
You can find a section on David's Bridal website that features all kinds of wedding dresses for $100 or less. This is as cheap as they get, as it represents around 10% of the cost of your average wedding dress available on the market. These dresses are very affordable, although you will find only several full-length dresses in this section. So keep an eye on this sale section as well as on other sale sections on other popular wedding and bridal stores for big discounts.
Dresses that are out of season or under an old trend will usually be discounted. And even if a dress is from the previous season, if you really love it, there's no reason not to wear it to your big event. Keep in mind that it is still your big wedding day, so enjoy your time and wear whatever you like.
Another cheap alternative is a used wedding dress, as these are also inexpensive, although they might not be in their prime condition. There are professional stores that sell used wedding dresses like Borrowing Magnolia, although there might be smaller shops in your area as well. These dresses shouldn't cost more than $1,000. The dresses that reach Borrowing Magnolia are inspected and will only be listed on the website after they are brought to their highest quality.
Going for a basic gown and skipping ornate embellishments is another great way of saving on your wedding gown. You can even try to wear accessories and jewelry along with a simple white dress to create a more intricate outfit, if sparkles, beads, and lace are your cup of tea.
Most Expensive Wedding Dress
If you're deep into your wedding planning or are a fan of the 'Say Yes to the Dress' show, you might have heard about Kleinfeld wedding dresses. Some of their prices are surely going to surprise you.
For example, a Pnina Tornai wedding gown was once sold by Kleinfeld for $80,000. Although this dress wasn't made by Kleinfeld, one wedding dress was even sold for $12 million, although the sale made sense considering that it was full of diamonds. Both of these are prices that are outside the budget of an average person.
Of course, when it comes to spending on your wedding, there are really no limits, as celebrities are known to spend a few millions of dollars on their custom-made wedding dresses alone. You don't have to spend that much to be just as glamorous. Going for the right bargains will help you find a dress for a small fraction of that price.
Factors that Affect the Average Wedding Dress Cost
Yes, wedding dresses are priced in a very big range and this range depends on several very important factors. Here's what to consider when you're budgeting for your dream wedding dress:
Designer
A high-end designer will also have more expensive dresses. Vera Wang gowns for example, or any other dresses made by a big name in fashion will cost considerably more than a no-name dress taken off the rack.
Although any bride would just love to wear a designer-made dress, you can also find nice gowns that have no designer name behind them. If you do want to wear a big name for your big day, be sure you do proper research so you know exactly what to expect.
Fabric
The price of your dress will also be influenced by the fabric it is made of. On the high end, we have premium lace, tulle, and silk, which are considerably more expensive. So expect an impressive increase in price if you really want a full silk dress.
If the budget is very important for you, then you can opt for polyester, which has seen a big increase in quality over the years. Regardless of the fabric you're going for, there are many beautiful dress designs.
Details and Embellishments
Depending on your tastes, your dream dress can be bedazzled, lace-covered, beaded, or with any other type of details and embellishments. These and their composition will take their toll on the cost of the wedding gown. As they take more time to be created, intricate details will also cost more.
A simple dress that doesn't come with a lot of extra accessories will usually be cheaper. If instead, your dream gown is full of details and additions, then consider taking a simple dress to your seamstress and ask her to add details like appliques or buttons.
Alterations
The dress itself, although expensive, won't be the only cost you should consider. You should also consider any needed wedding dress alterations like adding sleeves or reducing the waist, and their costs so that you won't be surprised.
Wedding dress alterations don't have a fixed price. Instead, these will cost more or less depending on what needs to be modified. The price of the alteration will also depend on the material of the gown, as lace and beads are usually more expensive to alter as they are also more delicate and difficult to alter.
This is why the average cost of wedding dress alterations is not definitive until the seamstress has done all of the jobs and you're satisfied with the result. Leave room for alterations of at least a few hundred dollars in your dress budget just to be safe.
Preservation
Another cost you should know about is the fee you will be charged for storing and preserving your wedding dress. If you want to store your wedding dress yourself, then you should ensure it is kept looking great up until the wedding venue.
Can You Rent a Wedding Dress?
Even though most people don't know this, wedding dress rental is an actual thing and it can help you save a significant amount of money. The bad part is that renting the dress will make it unable for you to keep it as a way of remembering your big day, but if the budget is very important for you, this will help you keep the costs significantly lower while still enabling you to wear that beautiful wedding dress you always wanted. You might even be able to find a designer dress available for rental.
A website that promises to find steals on wedding dresses and all kinds of other designer clothes is Rent the Runway. Using this site will also give you access to their concierge service, which can provide consultation to brides and bridesmaids along with great designer dresses. You will find all kinds of styles for dresses, along with some nontraditional options.
You might also be able to find rental options inside some of the local stores in your area, although this might require some extensive searching.
Wedding Dress Sales
A retailer's sale is one of the best times to buy the wedding dress you always wanted. Most sales happen in summer and winter. Look for sample sales when possible. Although they are called sample sales, they will offer you quite a few types of wedding dresses to pick from and if you have the money, you might get a gown at a huge discount.
Additional costs
Don't forget to take into account the dress alteration cost because the price tag will be from around $20 for a small adjustment to $200 for more labor-intensive work. When you buy your dress ask if alterations are included and if not how much will they cost, in case you have a budget plan.
Try to look for your dream wedding dress and order it at least 2 to 5 months before the big moment because many shops charge from 10% to 25% extra for urgent orders.
You should also consider the cost of any needed accessories when making your wedding budget. You can add them in the wedding dress section or as a standalone expense but don't forget to put money aside for them. And when talking about accessories, don't just consider jewelry. Undergarments, veil, and shoes are also an important part of the budget.
Tips:
You should know that wedding dresses usually are easy to take in, but difficult to let out and you should also know that they run 1 size or 2 smaller than your usual size.
If you dream to have a designer dress but can't afford one you can buy a worn-once dress from online stores for a price of up to 70% off.
Nobody likes impulsive people and it is not necessary for a bride to have the sellers' indulgence.
The most essential aspect that you must not forget is to … "remember to breathe." You have no idea how much it will help you if you will keep calm, and have a positive attitude and composure in front of the tailor, events organizer, cook, and especially in front of your husband.
Final Words
So how much does a wedding dress cost? When do you know a price is too much? These are questions that will have unique answers for each individual because it comes down to your budget and how much you're willing to spend. Two of the easiest ways to cut down prices and ensure you're sticking to your budget are renting and buying a used dress. Checking out sample sales might also work out when looking for a beautiful gown.
https://www.thepricer.org/wp-content/uploads/2014/11/wedding-dress-cost.jpg
380
610
Alec Pow
https://www.thepricer.org/wp-content/uploads/2023/04/thepricerlogobig.png
Alec Pow
2014-11-12 01:07:12
2023-03-29 21:47:42
How Much Does a Wedding Dress Cost?