If you have a car, you've probably asked yourself once or twice about how much does a car wheel alignment cost. 
As you find out from most of our articles, with alignment, as with many other services and products, there are a lot of things to take into account to get an idea regarding the final cost and if you want it to be cheap and within professional standards, you have to be very careful when making a choice.
After a good alignment, you will notice an improvement in the performance of your car and you will avoid many inconveniences and future costs that won't be covered by your car insurance.
Location
When trying to find out the cost of a car alignment, the first thing you need to consider is your location. As for many other things, some States will charge you a lot less than others and in some States, you could even end up spending $100 or more for this.
For example, in Louisiana, you will get this type of service done for you for around $50, but this price could double if you do it in Michigan.
The Type Of Alignment You Need
There isn't just one type of car wheel alignment, in fact, there are a few different types you can opt for, like a front or end-wheel alignment or an all four-wheel alignment.
This is What Other People Pay For Wheel Balancing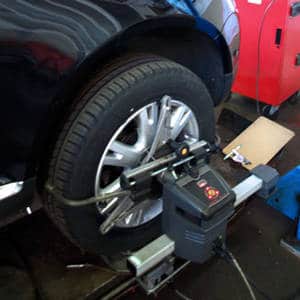 When you opt for the front/end-wheel alignment (you will get this service done for either the front wheels or the end ones) you will spend around $50, while an all four-wheel alignment will cost around double, so anywhere around $100.
Try to get your hands on coupons or discounts, but be sure to check if the alignment service is provided within the discount or promotion.
The Company You Choose
The price can greatly differ from one company to another, from one service to another, so if you look around carefully you could find a place with very low prices for this type of service.
If you opt for a regular service, you will spend less for the same facilities, but opting for a prime quality company, although more costly, could get this service done for you in a more professional way.
There will be companies charging $80-$100 for this service, but do expect to find places where you will be charged $40 to $70.
Discounts
A great tip that will bring the final cost of a car alignment to even lower numbers is to look for discounts, promotions, or coupons, provided by dealers, companies, or services.
For A Complete Car Tune-Up, You Will Spend This Much
A good coupon could bring the final cost below $50, while a great coupon could even give you a car alignment for free, so be sure to be thorough while checking for promotions.
Is This Something The Average Joe Could Afford?
As you already know from previous articles, the average salary in the US is around $6,206. This means that you can get a car alignment without this service affecting your budget too much.
Would we pay for these kinds of services? Of course! Getting a car alignment could greatly increase your safety while driving along with improving your vehicle's capabilities.
https://www.thepricer.org/wp-content/uploads/2014/07/wheel-alignment-cost.jpg
300
600
Alec Pow
https://www.thepricer.org/wp-content/uploads/2022/01/thePricer.png
Alec Pow
2014-07-12 21:54:06
2020-08-15 14:08:24
Wheel Alignment Cost