How Much Does Drone Light Show Cost?
Drones have already revolutionized many industries, and the entertainment industry is no exception. From live shows to movies, drones have brought new dimensions to the way we enjoy entertainment. The entertainment industry is on a new level with drone use, and this evolution continues.
With unique technology, the drone light show redefines the future of art-level entertainment. The light shows are made by groups of illuminated, synchronized, and choreographed drones that arrange themselves in different aerial columns controlled by a ground-based computer.
Each drone has its flight route to avoid collision with the other drones. The drone show can be recreated from moving silhouettes to characteristic images, portraits, personalized graphics, or a scriptural message, turning the moment into a unique and unforgettable one for everybody.
Using the sky as a canvas, where everything is possible, the providers will project an impressive story displayed through a diversity of colors and lights in the night light through the drone show.
It can be used for:
Small events like birthdays, weddings
Corporate events
Festivals
Product launch
Brand event
Sports events
Concerts
Film premieres
Business promotional events
Marketing campaigns
The fascinating spectacle of show light drones can give you a unique moment. Together with the team of experts, the client can set up a script and choreography with the desired images and complex effects.
The choreography of show light drones can be accompanied by live music or a sound design that will impact the audience. Surely the drone light show will turn the evening into one with emotional memories for everyone.
This show can now add an authentic touch of entertainment and magic to an event with a unique and personalized dance of hundreds of drones. The light show can be adapted to the theme of the event.
The magic and lighting moment of the drones can be synchronized with other differentiating elements and produce impact. Such as giant LED balls to throw into the crowd, illuminated bracelets, etc.
How much does a drone light show cost?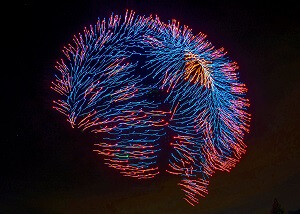 The average cost of a drone light show can start from around $10,000 and can go up to $1,000,000, and more depending on the complexity of the show, the performance time, and many other factors. The cost per drone for a drone light show can start from $250 and go up to $500.
For smaller events like birthdays, weddings, private parties, and corporate events, expect to pay on average as low as $1,000 to $5,000, and as high as $30,000 to $100,000, depending on your requirements, like the length of the show, type of music, number of drones, and so on.
For bigger events, the cost for such a show will definitely be higher, as it will last longer, and most of the time will have a large fleet of drones and will include special effects, unique drone choreography, and 3D figures. For these types of events, the possibilities are endless and the costs are the same. From big concerts to major sporting events, these drone light shows can cost from $100,000 to $500,000, and even $1,000,000 for the Olympics, for example.
At Lumasky, they offer both outdoor and indoor drone show lights, which you can fully customize. The cost includes rehearsals, aviation permits, and on-site operations.
| Package | Price | Number of Drones | Pattern/Animations | Target Audience |
| --- | --- | --- | --- | --- |
| Basic | $99,000 | 200 classic | Simple recognizable logo and shape designs | Small events/spaces |
| Intermediate | $149,000 | 300 classic | Dynamic animations, moving shapes, figures, text | Medium events/shows |
| Advanced | $199,000 | 300 premium | Creative or custom 3D animations | Large events/productions |
| Premium | $299,000 | 500 premium | Large detailed 3D animation | Major events/productions |
| Custom | Custom Pricing | More than 500 | Larger visuals and animations using thousands of drones | Extra-large scale events |
Factors that affect the cost of a drone light show cost
The cost of a drone light show is affected by many factors as follows:
The provider – prices may vary from company to company; as we mentioned above, the cost per drone for this type of show ranges between $250 to $500;
The number of drones is a very important factor in what type of show you're planning, whether it's a small birthday party or a large corporate event;
Custom show or one that's already in the provider's portfolio;
The length of the show you want to put up;
Location of the event – it depends on whether the event is outdoors or indoors, as the last one needs some special permission, and so it will cost you more.
Geographical location – if you want an outdoor show in a major city like San Francisco, you'll find many providers who can offer you their services at a reasonable price, but for rural areas or smaller cities you'll have some additional costs.
You might also like our articles on the cost of LILY drones, hover cameras, or a trip to Aurora Borealis.
Additional costs
You may have noticed that a drone light show has a really high price, and its price is influenced by many factors. However, you should also consider some of the following costs as additional costs:
Travel expenses
Permits and insurance
Setup and teardown
Advantages of a drone light show
3D animations – Realistic-looking animations, rotational movements that can illustrate more realistically the image outlined in the sky.
Personalized shows – Innovative and unique creations in the sky made up of drones and special effects for remarkable events.
Pyro drones – Some providers can also launch special pyrotechnic effects for an unforgettable experience.
Media impact – The many benefits of a drone show include increased brand awareness, engagement, and viral content creation for social media.
The sky tells stories – A drone show helps make your story visible on the world's biggest stage, the sky! Providers can create the concept of the event and respect the theme chosen by you. An experience that enriches your audience, regardless of age.
Safety for the environment – Speaking about the benefits of drones, Ollie Howitt says that they have no emissions, are reusable, and leave no debris behind. So, in this sense, they are a very good, sustainable option. They can also minimize the impact of fireworks on animals, from wild animals and water birds to cats and dogs.
Conclusion
The cost of a drone light show will definitely be determined by your budget and your requirements. First, you must set a budget, if you have one, then find a provider that meets all your needs at a reasonable price.
https://www.thepricer.org/wp-content/uploads/2023/04/drone-light-show-cost.png
380
610
Alec Pow
https://www.thepricer.org/wp-content/uploads/2023/04/thepricerlogobig.png
Alec Pow
2023-04-28 12:36:40
2023-04-28 06:04:56
How Much Does Drone Light Show Cost?