How Much Does it Cost to Build a House?
One of the most important and rewarding events in someone's life is building a house. Before starting the actual work, many people will ask themselves how much it costs to build a house.

When trying to estimate the total cost of your future house, there are some factors to be considered.
As you can imagine, not all houses will have the same price, and the actual cost can greatly differ, especially considering issues like the size of the building and the materials used.
You will also notice the full cost of the house change when you pick a different style for the building.
You can build a house for a total cost of less than $35,000, or you can build it and spend over $500,000 or more, it's all up to your standards.
Details on the cost of building a house
South: $110 per square foot
Midwest: $115 per square foot
West: $135 per square foot
Northeast: $160 per square foot
This means that a home of about 2,000 square feet built in the South will cost close to $210,000. You should also consider that these costs will only account for the construction itself, not including the price of the land you need.
Home building costs, broken down
The table below will consider several very important points in estimating the actual cost of building a new house. So check out an easy-to-understand breakdown of the costs involved in the construction budget. The prices are set for the construction of a 2,000-square-foot home.
| Construction phase | Average cost |
| --- | --- |
| Excavation | $3,000 |
| Foundation, slab and piers | $9,260 |
| Roofing | $13,760 |
| Rough lumber | $16,000 |
| Rough carpentry labor | $22,260 |
| Heating and ducting | $7,260 |
| Plumbing and sewer connections | $18,260 |
| Gypsum wallboard | $11,760 |
| Drive and walkway | $6,000 |
| Wiring | $8,000 |
| Painting | $9,000 |
| Flooring | $5,000 |
| Land | $3,000 – $150,000 |
Land to build your house
As you'd expect, you will need a place where you will put your new home. The costs associated with the land acquisition for new home construction will not only include the purchase price of the property itself, but also the land preparation, which involves everything from leveling to tree removal.
Like everything else associated with your new construction, the land costs will also vary quite a lot and will be influenced by factors like whether or not you have the utility services already connected, its location, as well as the size of the lot itself. These factors can cause the price to vary between a huge range of $3,000 to $150,000 or even more when it comes to land acquisition.
Pre-construction
Before you go ahead with the building, you will have to get the needed permits and pay any fees that the city or municipality. The plans for the custom home should be done with the help of engineers and architects. All of the costs will depend on your location, although you will usually spend close to $4,300 on the building permits alone, while the plans and specifications will cost an additional $1,000 to $2,000.
Foundation
A very important part of the whole home building process, which will also influence the final cost, will be the foundation you build for your new home. Although the foundation work will cost around $9,500, you should also consider excavation, which can easily cost $3,000 or more.
Exterior
The complete exterior of the home will include everything from doors to windows, siding, and a roof, after the frame of the house is in place. The cost of these items will depend on the materials you will want to use. As a general guideline, expect roofing averages of around $13,800 while sliding doors and windows will be close to $3,300. You should also add another $5,000 or so for the standard doors you will need inside the home.
Considering a stucco exterior? Be ready to pay an additional $16,500, while siding costs will be harder to figure out, as they tend to depend on the material type and the square footage of your home.
Home systems
Getting water and electricity, as well as heat inside your house is very important, which is why you will also have to consider the infrastructure for this. Electrical wiring will cost about $8,000, while plumbing and sewer will be more than $18,000, and heating and ductwork will typically cost close to $7,000.
Interior
One of the most expensive parts of your project will be finishing the interior of the home, which involves everything from flooring to cabinets, and even insulation of the walls. Adding gypsum wallboard to your new-built home will run you about $12,000.
Cabinets will have different styles, from the basic ones to more luxurious models, but will also vary considerably in price. Be prepared to spend $9,000, if not more, on cabinets alone. Also, flooring will also range in cost depending on what materials you will use, but usually, you should expect to pay about $5,000.
Outdoor
The average suburban house will come with a walkway and a driveway leading to the front door and some might even have some type of landscaping and a patio or deck. These are some of the features that can add up pretty quickly. You will spend around $6,000 on the sidewalk and the driveway. Front yard and backyard installation will average at about $3,500, according to recent studies.
Labor
One of the most important costs that should be considered when building a home, as well as one of the most difficult to figure out, is the labor price. Based on the actual amount of work that will be involved and the house plans, the final bill can vary quite significantly. And believe it or not, labor can sometimes reach 50% of the total construction cost of a new home.
There is usually a long list of specialized experts and subcontractors that will work together to build your home project, including, among others, flooring specialists, plumbers, electricians, and roofers. The pandemic led to an increase in the cost of labor, due to the considerable number of homeowners getting into remodeling projects.
Other factors influencing the cost
The materials needed
Some materials will take the cost up, others will lower it down, depending on what you will use to build your house. If you choose to use bricks, it will cost you less than if you go for a combination of glass and marble.
You can greatly decrease the final price of the house if you are building it using some types of materials.
If you want to build a cheaper house, use materials like red bricks and wood. they will decrease the average cost to build it, but in the long run, they won't be as durable as marble and stone and will decrease the quality and price estimation of your house.
Layout and Style
Need a Backhoe for Your Building Foundation? This is The Price You Should Expect
It is obvious that if you build a simple bungalow it will cost a lot less compared to an apartment block. This happens because bigger buildings need more materials to be used and a taller building will need a lot of reinforcement materials to be added to ensure its stability.
If you plan to use a lot of metal there could be extensive metalwork to be done and this usually tends to cost a lot. This is something you probably won't need when building a bungalow.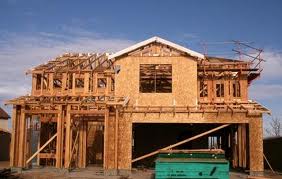 You can build it to sit on a larger space, making it cost less than adding an extra store to it. If you don't have a larger space and need to build a storied house, you will be able to have more room for more people to live in, but it will cost a lot more.
Location
Depending on where you live, you will have to look around to find the best materials in the area to build your house with. Also, some areas will have bigger costs for the plot of land than others.
It is obvious that if you live next to a stone mine, it's a lot cheaper to build your house using stone, than transporting bricks or any other materials from a long distance.
If instead, you live next to a forest, you'll want to use as much wood as you can in building your house and in making your furniture as well.
Social Class
For Green Energy, Think About Adding a Home Windmill
When you are building your house and figuring out the costs, your social class will also be of great importance. Before you start building the structure, you will have to spend some time to figure out what you want to have in your home and see if your funds allow you to buy everything.
If you spend most of your time at the office, you won't need a gazebo-like someone that spends a lot of time inside their home, entertaining important guests.
A grand foyer, a fireplace, a patio, think of all of them and if you really want them inside your house, add their costs to the full price of building a house.
Spend your time with careful planning and considering all of your resources to find out the most accurate price, before starting to build your house.
It will be very costly, but in the long run, it will be a very rewarding experience.
Is building a home cheaper than buying one?
Things are actually quite opposite: It will usually cost you slightly more to build a new home than it would to buy a house that is already built. Most buyers end up paying around 10 to 15% less than most builders.
You will get more value for your buck per square foot if you just buy an existing home and renovate it to your needs in general, although the amount you save will ultimately depend on many factors including the condition of the old home.
Home building financing options
If you consider that the price of construction is worth it for you, then the next thing you will have to do is figure out your financing options for the new-home construction. You will probably be able to pick between several options, each coming with attractive incentives and competitive interest rates.
Home construction loan
Home construction loans are the most common financing option when building a home, and by quite a lot, considering that they are designed for this exact reason. These loans come in two different forms:
Construction-only: This is also called a standalone construction loan. It will only be used to finance the actual construction of your home and requires you to get an additional mortgage, which means higher interest rates and higher fees. This loan type works best if you have a home already and want to sell it so that you can use the proceeds to pay off this loan for the newly constructed home.
Construction-to-permanent: The construction-to-permanent loan type will be just a signal loan designed to cover everything from land to construction, eventually working as a mortgage.
Home equity loan
If you're already a homeowner and want to build a new house, you can consider the home equity home on the first house to finance part of the second building or even the whole cost. You will be able to borrow an amount that will depend on how much equity your current home will bring. You will be able to finance a new home almost completely if you own your current house outright.
You will be able to use the money from the sale of the new home to pay the home equity loan as soon as the new construction is complete.
Personal loan
A personal loan will probably be far from what you'll need to finance an entire building of a house, as the loan amount will usually be capped for most individuals somewhere far from the cost of a house. But this can still be a method to pay for some of the projects.
One example of smart personal loan usage would be when you already have enough financing for the actual construction of the house and all you need is some additional funds for landscaping. Before you take out a personal loan, make sure you have your finances in check and you're not over-committing.
Home equity line of credit
Another great option is a home equity line of credit, or a HELOC when looking to finance the cost of building your new house. This will be possible if you have a significant amount of equity to leverage. You will borrow against your current house as equity, just like in the case of a home equity loan, to get financing for your new building. The main difference between the two is that the HELOC is designed to act as a credit card rather than a lump sum, which means that you will be able to get money from the line of credit as you move forward with the spending until you reach the approved limit.
The HELOC also offers more flexibility, as you will be able to pick how much you burrow and you will be able to pay back and borrow again as you are faced with new financial needs. This is a great way of getting financed when constructing your new house, as the costs can fluctuate and additional unforeseen expenses aren't so unusual with these kinds of projects.
Tips to save on building a house
Getting multiple quotes for each step of the project is a great way of ensuring you spend the least possible while building a house. Get a written estimate from multiple designers, builders, architects, and even real estate agents. Don't just go for the cheapest quote, as someone charging suspiciously cheaper might have issues you still don't know about. Going for the least expensive option will open the road to needing emergency repairs on a house poorly built.
https://www.thepricer.org/wp-content/uploads/2014/06/cost-to-build-a-house.jpg
380
610
Alec Pow
https://www.thepricer.org/wp-content/uploads/2023/04/thepricerlogobig.png
Alec Pow
2014-06-26 22:03:20
2023-02-16 09:26:44
How Much Does it Cost to Build a House?