How Much Does Montessori Academy Cost?
Most people think that Montessori Academy will cost well beyond their financial possibilities, considering that among its most popular students are Google's Sergei Brin and Larry Page, and Amazon's Jeff Bezos. What most people don't know is that Montessori isn't a specific school and is rather a style of teaching. In fact, Montessori schools fall within a pretty broad range when it comes to their costs.
The average annual cost of Montessori Academy is going to range between $7,000 and $35,000 for the tuition alone. This price will ultimately depend on factors like the type of school, as these can be charter, private, and even public, the location of the school, whether there is a half-day or a full-day program, and the age of your child.
Below you will find some very interesting information that will make you understand whether the Montessori education is for your child or not and whether it is in within the limits of your budget or not.
How Much Does Montessori Academy Cost?
Although people think that Montessori is a school intended for rich kids with famous parents, this is far from the truth. They don't have to be a chess grandmaster at 9 years old or have an IQ above 170 to attend this form of education.
Children with all kinds of abilities and from all types of backgrounds can attend the Montessori academy. It was Dr. Montessori that said they created the Montessori teaching methods to help impoverished, rowdy, and underserved children of her community.
Your geographical location will have a big impact on the Montessori education tuition cost.
Here are some interesting examples:
Mississippi, Arkansas, and other southern states will have the lowest average annual tuition costs, which are anywhere between $7,000 and $7,500.
In Chicago, you will be faced with annual Montessori education fees of $15,000 to $17,500.
If you're a New York City resident, then you will likely pay the biggest tuition fee, which can range between $29,000 and a whopping $35,000 for the same type of education.
If you live in California, then the expected tuition cost will be considerably lower than in the case of New York City residents, anywhere between $13,000 and $14,500 per year for kindergarten and preschool children, as well as toddlers.
Are Montessori Schools Private?
Although some Montessori schools are private, there are also some that are chartered or public, as stated above. What makes these schools similar is the fact that they have to adhere to the Montessori Method of teaching.
So although charter and public schools are known to have a larger number of students in each class, they will be cheaper while they will still have to keep the same high standards as private Montessori schools.
Are There Any Free Montessori Schools?
As you know, there are very few good things free under capitalism. This is also the case with good Montessori education.
You might also like our articles on the cost of Keiser University tuition, Aveda Institute tuition, or Lightbridge Academy tuition.
If you've ever tried to find a Montessori school at a reasonable price for your child, then you surely believe this thing doesn't exist by now. And finding one completely free is almost impossible, right?
It might come as good news to find out that there are some ways in which you can ensure the best type of education for your child by enrolling them in a school that uses Montessori teaching methods without going into bankruptcy.
You can find a few of them below:

First off, there are some public and private schools that have a teaching style similar to the Montessori method and abide by its philosophy even though they aren't officially a part of the Montessori network
You can also approach the Montessori method using homeschooling, which can be done almost for free.
Some Montessori schools that are publicly funded offer early literacy programs for children from underprivileged backgrounds. These types of schools can be found all throughout the US.
A popular financial assistance option is the Montessori school teaching staff. For people becoming part of the teaching staff, many schools will offer discounts and tuition at reduced prices.
Hundreds of Montessori schools, most of them publicly funded, and even some that are private, offer tuition assistance through low-income family tax credits, scholarships, and private donations. This is so all children can receive a quality education, regardless of their financial possibility, as Dr. Montessori always wanted.
Are Montessori Schools Expensive?
Depending on the school, yes, Montessori education can be expensive. But keep in mind that the education of your child is so important that money shouldn't be in its way. Some people believe that it is absurd to invest tens of thousands of dollars in their child and their education, but in the end, investing in your children is one of the best ways of spending your money.
Studies have shown that children that attend a Montessori school are more reading literate and better at math than non-Montessori children. The same studies have been able to prove that Montessori students from lower-income backgrounds have even higher scores at both literacy and math than non-Montessori students from low-income backgrounds.
Why is Montessori Academy Expensive?
The high price of the Montessori Academy will be due to these reasons:
The Montessori way requires extra training for the teachers. And not just the teachers; all Montessori staff will need to be trained to provide the methods in the most effective way. This, of course, will increase the costs, but the additional money will be seen in the very high level of education offered by Montessori institutions.
Paying higher salaries enables these schools to have higher-quality teachers. It's no surprise that teachers as a whole are very underpaid all across the US. Due to the high tuition fees, Montessori schools can offer higher salaries, which means that higher-quality teaching staff will get hired.
Montessori schools will usually choose their educators based on their individualism. Not only teachers but also assistants will have to have bachelor's degrees that are relevant to what they teach. They will also have to complete the two-year rigorous Montessori certification training.
The teaching material used for the Montessori method is another reason why these schools are more expensive than the average. Students will receive education in areas like science, math, and language, with the help of neurologically stimulating, sensory-aided, handcrafted materials that include phonics cards, moveable wooden alphabets, letters, and sandpaper.
Can Montessori Tuition be Written Off?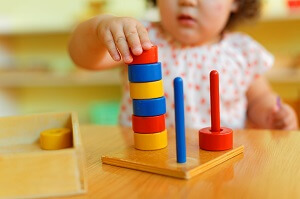 The bad news is that Montessori Academy tuition can't be deducted, according to the federal tax law in the United States. The only exception is if the child is in preschool or nursery school, or has incurred expenses for grades that are below kindergarten.
This makes it a childcare expense. Currently, Federal tax statutes will enable you to deduct $3,000 for childcare or a maximum of $6,000 for two or more children.
When it comes to state laws, Montessori tax deductions will depend on the laws that governate each of the US states. This basically means that you can claim childcare as an expense as long as the state has an income tax. Of course, you should talk to your state tax office or tax advisor to know exactly how much you can deduct.
The circumstances that must be fulfilled before you can claim the school tuition of your child as childcare will ultimately depend on your location.
Do Montessori Schools Offer Financial Aid?
There are funding programs and financial assistance options provided by Montessori schools but you will have to be eligible to be approved in these programs. You are encouraged to ask about the financial aid programs available at each school, even if you have a child that is already midway through the school year.
Here are some of the financial aid opportunities you might be able to take advantage of:
If you have a Special Needs child that needs an Individualized Education Program (IEP), they have to receive free public education, as required by the Federal Individuals with Disabilities Education Act.
Several states also allow you to pay for the children's education using your Education Savings Accounts (ESA) for private Montessori schooling, although the limit is $10,000.
There are also state-sponsored deduction programs and individual tax credits that will reimburse private school tuition in part. The amount to be reimbursed will differ from one state to another.
Some states also offer school voucher programs that can be used to offset at least parts of your children's education. To make sure you are eligible, consult with the Montessori school you want to enroll your child in and see the requirements.
There are also financial aid programs intended for needy families, that are offered by some private schools. Requirements are based on each school, so contact the school you want your child to go to, to see whether you are eligible or not.
How to Pick the Right Montessori School
There are certain things you need to consider to make sure you're going for the best Montessori school for your child. The most important factor should be whether the teachers are properly qualified. This can be done by sitting through a class session to make sure that the values in terms of child development that the school holds match yours as a parent.
Here are some other important factors:
How much parental attention and dedication will be required? Will you have the will and time to actively watch, listen and learn everything that is required to know about the school, the Montessori method, and your child?
Are children motivated properly? The way in which the school decides to reward students for their results is very important.
Class differences and demographics between children. Is the age range smaller or larger between students?
Proper daily schedule and activities. Will children receive enough pauses in a 3-hour work period?
Final words
A Montessori school might work great for your child if they are self-motivated and independent and they have no issues working in groups and alone. This teaching method also works for children that have anxiety related to chaos or noises.
In time, it is expected that more schools of all types to adopt the Montessori way. This is because this method has been shown to be a timeless way of teaching children how to be independent and take advantage of their creativity, improving their way of thinking and becoming more goal-oriented.
So although the Montessori experience isn't a cheap one, it is a small price to pay for your child's success in the future.
https://www.thepricer.org/wp-content/uploads/2023/03/Montessori-academy-cost.jpg
380
610
Alec Pow
https://www.thepricer.org/wp-content/uploads/2023/04/thepricerlogobig.png
Alec Pow
2023-03-08 09:39:03
2023-03-13 12:03:39
How Much Does Montessori Academy Cost?