How Much Does Prime Drink Cost?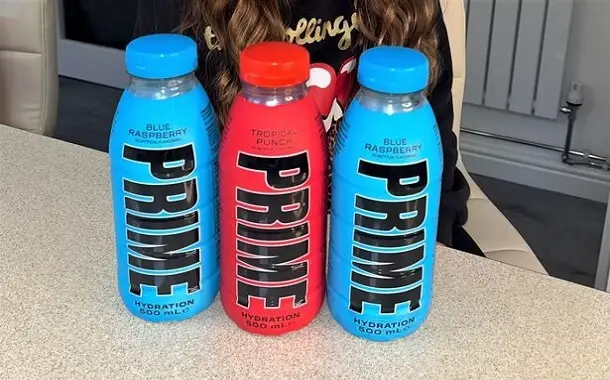 Prime Hydration has been designed by two strong names that most of us never thought would work together. It is a coconut water-based sports drink made through the collaboration of KSI and Logan Paul.
If you're the type to spend any time online, then you have surely seen their names pop up all around the internet. But not very long ago, they were ready to feud and straight-up fight on with the other. Nowadays things seem to be heading in a great direction for them. They are rivals that have turned into business partners and together, they managed to launch a drink that is known around the world.
Logan Paul and KSI only made the official announcement of their collaboration and the release of the drink on 4 January 2022, in an Instagram Livestream, which makes the project already one year old.
When the live started, most people believed they were going to see a new NFT or a third boxing match so they streamed it.
But the live stream turned out to be positively shocking for everyone. KSI and Logan went on to talk about the Prime Hydration drink, stating that its development took around 6 months. And now, after all the work, they have managed to release their drinks as well as the prices per drink or per pack.
Turns out that the Prime Hydration sports drink costs around $1.99 per bottle, while a pack of 12 bottles will cost $29.99. The prime drink is found both on their official website, and in big retail stores like Vitamin Shoppe, Ralph's, GNC, Kroger, Target, and Walmart. 
These drinks were finally released on 8 January 2022, and they come in a lot of different flavors, advertised as having many good qualities.
The drink will also be available in the UK probably in February. Do you want to know everything about the Prime Hydration drink by Logan Paul and KSI? Then, read on!
So How Much Does the Prime Hydration Drink By Logan Paul and KSI Cost?
Following its release in the US on 8 January 2022, the Prime Hydration drink can be found on its official website, as well as in some select stores.
Although very popular, this interesting hydration drink is in no way expensive. You can actually get a full crate of Prime Hydration sports drinks, regardless of their flavor, for just under $30. The crate will contain 12 bottles, each of about 16 fl. oz. (roughly 473 ml).

You can see this quantity written on the package as well. Below you will find a table that shows the price of Prime Hydration drinks per flavor.
Prime Hydration Drink Prices
| | | |
| --- | --- | --- |
| Flavors | Prices (6 bottles) | Prices ( 12 bottles) |
| Blue Raspberry | $13.99 | $29.99 |
| Grape | $13.99 | $29.99 |
| Ice Pop | $13.99 | $29.99 |
| Lemon Lime | $13.99 | $29.99 |
| Meta Moon | $13.99 | $29.99 |
| Orange | $13.99 | $29.99 |
| Strawberry Watermelon | $13.99 | $29.99 |
| Tropical Punch | $13.99 | $29.99 |
As you can see, the pricing is pretty straightforward, the only variable being the number of Prime Hydration drink bottles you're buying.
Prime Hydration Drink Overview
Obviously, Prime Hydration is a brand of sports hydration drinks. It comes with a lot of antioxidants, amino acids, and electrolytes, being a coconut water-based liquid.
And on top of that, this drink has been made to be both gluten-free and caffeine-free. This drink was designed to offer you a 'prime' type of hydration that won't give you that awful sugar rush.
The body will get its needed antioxidants and electrolytes and use them for rejuvenation and muscle hydration while you're doing your workouts. This drink is somewhat salty due to sodium, potassium, and other electrolytes.
You might also like our articles about the price of energy drinks, Balance of Nature, or the drinks from Smoothie King.
As a way of countering this taste which might be hard to swallow for some people, they added coconut water. The coconut water will give it a mildly sweetening touch while also balancing the salty flavor.
And of course, we can't ignore the drink's amazing, various flavors. You can get the Prime Hydration drink in one of its 8 fruity, delicious flavors:
Strawberry And Watermelon
Meta Moon
Ice Pop
Orange
Tropical Punch
Grape
Blue Raspberry
Lemon Lime
Prime Hydration Sports Drink Nutritional Values
Although this drink is made to be healthy, it is delicious but not in the usual sugar syrup way.
The recipe for Prime Hydration Drink sounds something like this: 825g electrolytes, 10% coconut water, 25 mg  BCAA, antioxidants, and Vitamin B.
So the Prime Hydration team talks a lot about the nutrition you would get from drinking just one bottle, but let's go over the exact formula and nutritional value of this sports drink.
| | |
| --- | --- |
| Calories | 25 |
| Vitamin A | 900 mcg |
| Potassium | 700 mg |
| Carbohydrates | 6 g |
| Vitamin B12 | 4.8 mcg |
| Vitamin B6 | 3.4 mg |
| Vitamin E | 15 mg |
| Magnesium | 123.9 mg |
| Zinc | 1.1 mg |
| Cholesterol | 0 mg |
| Calcium | 0 mg |
| Iron | 0 mg |
| Vitamin D | 0 mcg |
| Total Fat | 0 g |
| Sugar | 0 g |
| Protein | 0 g |
Where Can I Buy The Prime Hydration Drink?
You can buy the Prime Hydration drink from its official website, but also from stores like Vitamin Shoppe, Ralph's, GNC, Kroger, Target, and Walmart.
But if you want to go through an easy process, then ordering from their official site is a pretty straightforward process.
All you have to do is pick the number of bottles and your desired flavors, and then you can go ahead and pay. The website will then show you how much you are billed for the bottle and separately, for its shipping to your doorstep. Then, after you select the payment option, you're done.
When it comes to buying a drink from the grocery store, you should already know what you have to do.
This drink was so popular at its launch that it only took 4 hours when it was launched to be completely sold out. Many retail stores have the drink sold out as soon as it gets to them as well.
A lot of marketing professionals have said that the launch was one of the best they had seen in quite a while. If you can't see the Prime Hydration drink in the stores around you and the website has them sold out, then all you can do is wait for a restock, which is bound to happen very soon.
Reviews of Prime Hydration

Most of the reviews about the Prime Hydration drink are positive. Some people that tried the drink have gone so far as to say that it is better than Powerade and Gatorade, combined.
People say that although Prime is richer and sweeter than Gatorade, it is pretty close to it. When comparing differtent Prime flavors, people say that the Lemon Lime is the best, followed closely by the Tropical Punch and Orange.
If you want to find out more about the launch of the Prime Hydration drink, check out this video released by Logan Paul and KSI:
https://www.thepricer.org/wp-content/uploads/2023/01/prime-hydration-drink-cost.jpg
380
610
Alec Pow
https://www.thepricer.org/wp-content/uploads/2023/04/thepricerlogobig.png
Alec Pow
2023-01-24 12:51:01
2023-01-24 10:52:37
How Much Does Prime Drink Cost?