How Much Does Quality Red Wine Cost (Affordable Price)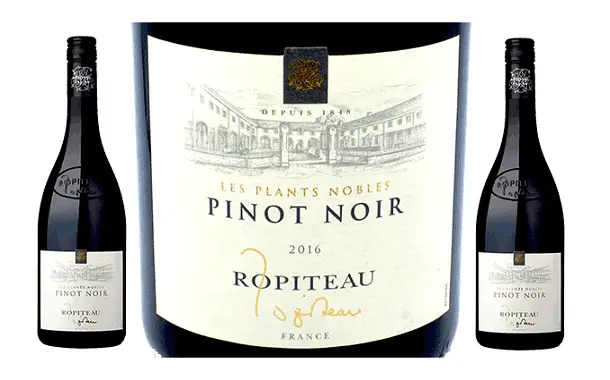 Finding a wine that is reasonable in price and merely satisfactory in taste is easy. However, finding good quality red wine that is still reasonably affordable takes a little more effort. The red wines featured in this article can be enjoyed alone or with food, and they are at such an affordable price, they will easily become a weekly custom. They are light-bodied to medium-bodied reds, which are not over-done with tannin and oak.
These red wines are available at all Total Wine stores and are approachably young, so you can indulge in them now!
A Friendly Pinot Noir – Ropiteau, Pinot Noir. $8.99
French Pinot Noirs are not to be taken lightly, mainly because these Burgundy wines are crafted to be well balanced. This particular Pinot Noir is a Vin de Pays d'Oc, which means "country wine" in French, a notch above "table wine." This specific bottle comes from the Ropiteau winery, one of the largest producers of oak matured Burgundy. While most Pinot Noirs are considered medium-bodied, the Ropiteau falls between light and medium-bodied.
Your palate will thank you for such a charming bottle of red. It has a fruit-forward nose of strawberries and cherries. This Pinot Noir is scarcely complex and the tannin level is barely detectable, therefore it can be paired with anything from roast to salmon. What makes this wine particularly appealing is its smooth innocence. It has a little vanilla spice, which will linger on your palate during the first several sips, yet soon after, this wine becomes smooth ride with every gulp. The finish will long after sit at the roof of your mouth, as a loyal Burgundy should.
Food to Pair with: Chicken, Pork, Hearty Cheeses, and Roasts
Sensationally Smooth Syrah – Coastline, Syrah. $8.99
This Syrah comes from the Central Coast of California, where the fertile hills are cooled by the steady ocean breeze. That constant attention from the ocean and the dedicated tradition of winemaking, make this Syrah a pleasurable red wine, at most. This particular Syrah is a solid deal for a diverse crowd of wine drinkers. Its balanced dark fruit accents are evenly set within the body, offering a fair amount of fruits and alcohol for the wine connoisseur.
As soon as you taste this Syrah, a balanced mix of black cherry and blackberry will soothe your palate. While there is a hint of spice notes, they are not over-powering. In fact, there is just enough kick to allow this wine a mistress. While the Coastline Syrah is best married to a light salmon dish and can sneak off to play with a red meaty sauce. This Syrah, like most, is easy to drink. The finish has a vanilla taste that subtlety flirts with your tongue. The vanilla comes from tannic acid and oak. The most attractive feature of the Coastline Syrah; while there is tannin, it is not overwhelming, therefore it ceases to be bitter.
Food to Pair with: Salmon, Light Cheeses, Pasta, and Pizza
The Perfect Pinot Noir – Kudos, Pinot Noir. $14.99
It's often said to save the best for last and in this case that is what we did. This Pinot Noir comes from Willamette Valley, Oregon, a region known for producing perfectly stylish Pinot Noirs. Oregon is eminently known for cool-climate grape varieties like Pinot Noir, Chardonnay, and Riesling. The dedication to maintaining the environment in which the Pinot Grape can grow is not overlooked in Willamette Valley. Not every Pinot Grape receives the attention it deserves, consequently, when you find one with results that reveal such devotion, snatch it up!
Kudos Pinot Noir offers a slightly bolder flavor than the Ropiteau. While it does have the comfortable characteristic of being drinkable with either a heavy pasta dish or a light fish meal, it offers a bit more complexity. Your palate will be enlightened by the ripe dark fruit structure this Pinot Noir offers. Kudos is so mysterious that you'll want to keep sipping it until discovering its potential. This medium-bodied Pinot Noir offers a fair amount of vanilla and spice, yet the well-rounded earthiness sets it apart from the other wines under $15. The finish leaves your tongue longing for me. Kudos is overall the most comforting, charismatic, and charming Pinot Noir for the price.
https://www.thepricer.org/wp-content/uploads/2020/02/rapiteau-pinoir.png
380
610
Alec Pow
https://www.thepricer.org/wp-content/uploads/2023/04/thepricerlogobig.png
Alec Pow
2021-02-02 12:23:47
2021-02-02 12:28:03
How Much Does Quality Red Wine Cost (Affordable Price)