How Much Does Speech Therapy Cost?
Speech therapy is the set of measures and techniques used by specialists to help children and adults recover from language and communication disorders. We are talking about sound articulation exercises, pronunciation exercises, and other intervention technics chosen depending on the type of speech or language disorder.
Speech therapy may be necessary for speech disorders that develop in childhood or for those that occur in adults as a result of trauma or conditions such as stroke. There are numerous studies showing that speech therapy is an effective method to help children and adults develop their communication skills.
For example, a study published in 2011 in PubMed, which was conducted on more than 700 children with speech or language difficulties, showed that a total of 6 speech therapy sessions over 6 months significantly improved communication performance. Another 2019 study, which looked at the effects of speech therapy on adults who had a stroke and developed aphasia, suggested that speech therapy is effective in treating these communication problems and improving communication skills.
This type of therapy is performed by a specialist in speech therapy, who first evaluates the patient with language disorder, then develops and implements methods, techniques, and objectives for speech recovery therapy.
What are speech disorders?
A speech disorder refers to a problem with understanding or expressing certain sounds or words, which often makes communication difficult or blocked. Speech disorders can result from nerve damage to the brain, muscle paralysis, structural abnormalities, or as a result of developmental disabilities.
How much does speech therapy cost?
Speech therapy sessions in the United States cost an average of $150 to $350 per hour. The price may vary depending on numerous factors, but for a speech-language evaluation expect to pay from $250 up to $800, while for ongoing sessions you will usually pay $150 to $300 per hour. Depending on the needs, financial possibilities, and therapist you can opt for half-hour therapy sessions which cost from $70 up to $180.
Factors that affect the cost of speech therapy
This price may vary greatly depending on the geographical location and expertise of the instructor. The number of sessions needed will depend on the individual's progress and response to treatment.
Insurance
One important factor that can definitely affect the final cost of speech therapy is whether your insurance policy covers it. In this regard you'll need a medical diagnosis for you or the child, depending on who needs it. For example, if your child has a language delay you won't necessarily have insurance coverage for speech therapy treatment. While for autism, or traumatic brain injury in adults most insurance plans would offer coverage. The best thing to do is to contact your insurer for more details.
You might also like our articles about the cost of feeding therapy, other types of therapy, or the cost to open a Hi-5 ABA franchise.
Number of therapy sessions
The number of speech therapy sessions isn't the same for everyone. This depends on one's personal needs and progression. So, the more frequent and longer the sessions, the higher the cost will be. Here's a tip: you can talk with the therapist or at the clinic to get a price adjustment if there are multiple sessions per week.
Location
Not only does the regional location have an impact on speech therapy sessions, but also the settings where they take place:
In a clinic
In school
Online
At home, where the therapist will come.
Additional costs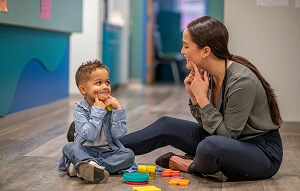 If you prefer speech therapy sessions to take place online or at home, you should expect some extra expenses.
In the case of online speech therapy, the therapist may require you to buy some tools, books, and activity sheets. The price for these materials ranges from $25 up to $120.
When speech therapy sessions take place at home, usually, you are the one to pay for traveling expenses.
What should be included
Firstly, it is necessary to take up a precise history, i.e., a collection of all the information that can contribute to a correct framing of the patient's linguistic and communication skills and fragilities (if any);
If factors indicating delay or risk to the patient's development are detected, further investigation is proposed through a specific assessment of linguistic and communicative aspects.
Strategies could include:
Language intervention activities: These activities develop skills in a variety of ways, including modeling and giving feedback to children. The therapist may use images and books or games-based therapy. He can also use language exercises to practice his skills.
Articulation therapy: The speech therapist shapes the sounds with which the patient has difficulty. This could include demonstrating how to move the tongue to create specific sounds.
Feeding and swallowing therapy: The speech therapist teaches the patient exercises to strengthen the muscles of the mouth. This could include facial massage and various exercises of the tongue, lips, and jaw. They may also use different food textures to encourage awareness during eating and swallowing.
How long does speech therapy last?
Speech therapy sessions may be needed for several months in typical children who have isolated difficulties in expressing sounds and may last for up to several years, for example, in adults with aphasia, a speech disorder that occurs as a result of impaired speech and understanding of language.
Benefits of speech therapy
It reduces or stops the formation of negative speech skills;
It increases the child's self-esteem, and confidence in their own strengths;
It reduces the appearance of inferiority complexes, as well as stigmatization by other children;
It prevents learning difficulties with long-term repercussions in the child's overall development;
Some speech disorders that occur in childhood may improve with age, while others may persist and worsen in adulthood without the necessary therapy.
Speech and language disorders can treat a wide range of speech and language delays and disorders in both children and adults. So, improving communication and increasing self-esteem and, implicitly, quality of life, may be worth the money in the long term.
https://www.thepricer.org/wp-content/uploads/2023/03/speech-therapy-cost.jpg
380
610
Alec Pow
https://www.thepricer.org/wp-content/uploads/2023/04/thepricerlogobig.png
Alec Pow
2023-03-01 12:32:27
2023-03-01 11:55:28
How Much Does Speech Therapy Cost?