Little Caesars Menu Prices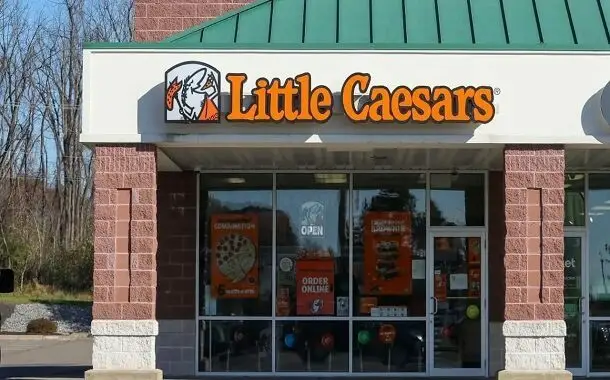 Little Caesars is the third-largest pizza restaurant chain in the United States after Pizza Hut and Domino's Pizza. Compared with its competitors, Little Caesars menu prices are lower and this makes this chain one of the customers' favorite restaurants. The secret behind these affordable prices is the reduced variety of options on the menu. Even though this restaurant offers delivery services as well, it focuses mainly on carryout.
Some of the clients' favorite food items include the Hot-N-Ready options such as the DEEP! DEEP! Dish, Pepperoni Pizza, or Sausage Pizza. Customers enjoy creating their own pizza, as well.
In the table below you will find the latest Little Caesars menu prices.
Food
Size
Price

Little Caesar's Specialty Pizzas

3 Meat Treat
Large
$8.00
Hula Hawaiian
Large
$8.00
Veggie
Large
$8.99
Ultimate Supreme
Large
$9.99

Hot-N-Ready Pizza Menu

Pepperoni Pizza
Large
$6.00
Cheese Pizza
Large
$6.00
Sausage Pizza
Large
$6.00
DEEP!DEEP! Dish
Large
$8.00
Bacon Wrapped Crust DEEP!DEEP! Dish
Large
$12.00
Pizza
Slice
$1.59

Combos

Combo Meal 1 – Pizza, Breadsticks & 2-Liter Pepsi
$9.99
Combo Meal 2 – Deep Dish Pizza, Breadsticks & 2-Liter Pepsi
$12.99
Combo Meal 3 – Pizza, Chicken Wings & 2-Liter Pepsi
$12.55
Combo Meal 4 – Deep Dish Pizza, Chicken Wings & 2-Liter Pepsi
$14.99

"Build Your Own" Pizzas

Put together your own pizza, just the way you like it.
Choose from these toppings: mushrooms, bacon, jalapeño peppers, banana pepper rings, green olives, black olives, beef topping, Canadian bacon, ham, Italian sausage, onions, green peppers, pepperoni, and pineapple.

1 Topping Pizza
Large
$6.50
Stuffed Crust
Large
$9.49
Extra Topping
$1.75

Little Caesar's Favorites

Crazy Combo – Bread & Sauce
8 Pc.
$3.99
Italian Cheese Bread
10 Pc.
$4.59
Zesty Cheese Bread
10 Pc.
$4.89
Pepperoni Cheese Bread
10 Pc.
$4.89
Caesar Wings
$6.00
Caesar Dip®
1 Pc.
$0.59
Caesar Dips®
2 Pc.
$1.00

Sides

Crazy Bread
$2.29
Stuffed Crazy Bread
4 Pc.
$3.00
Stuffed Crazy Bread
8 Pc.
$5.00
Cinnamon Bread
$2.99

Snacks

Jumbo Soft Pretzel
$1.99
Nachos with Cheese
$2.69
Mrs. Goodcookie
$0.89
Brand History
The history of the Little Caesars starts on 8 May 1959 in Garden City, Michigan when the first restaurant was opened by Mike Ilitch and his wife Marian.
The first Little Caesars franchise was opened in 1962 in Warren, Michigan, and this decision to start franchising paved the way to success for this restaurant. If we take into consideration the number of stores opened during 2008 and 2015, this is the fastest-growing pizza chain in the United States of America.
In 1967 the first location was opened in the city of Detroit.
The celebration of the 50th restaurant opening was realized in 1969. The same year Little Caesars went international and opened its first store in Canada.
In 1985 the Little Caesars Love Kitchen started to travel around the country and provide hot pizza for free to homeless and hungry people and to the disaster survivors, as well.
You might also like our articles about the prices of the items on the menus of Taco Bell, Olive Garden, or Wendy's.
Nowadays, there are more than 5,400 locations in all 50 states of America and in 18 other countries.
The headquarter of the company is in Downtown Detroit, Michigan.
Our review
The pizzas at Little Caesars are served hot and in a fast time. These are neatly topped and not too greasy. The staff here is friendly and prepares your order in less than 10 minutes.
Hot-N-Ready options are the best menu options offered by Little Caesars. Besides these, clients love the cheese and pepperoni options as well.
The atmosphere in these restaurants is similar to the ambiance of other fast-food restaurants. The locations are clean and the interior design is comfy.
FAQs
What are the opening hours of Little Caesars restaurants?
In general, Little Caesars restaurants open at 10:30 a.m. and close at 11:00 p.m. from Monday until Sunday, but it all depends on the location. So, make sure you visit their official website for this information before going to the location you want.
Does Little Caesars deliver pizzas at your door?
Yes, this restaurant chain provides delivery with online orders. You can place your order on their official website.
How many slices does have a Little Caesars large pizza?
There are eight slices of pizza into a large Little Caesars pizza. You probably noticed that they sell only one size, a 14 inches pizza, especially if you have ever been to one of their restaurants. The reason that stood behind the idea of serving only one size was to reduce the waiting time for the customers. Pizzas are premade and the clients don't have to wait for all that much after ordering.
Which is the healthiest thing to eat at Little Caesars?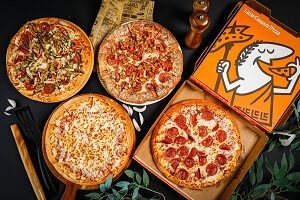 The Pizza is actually the healthiest thing to eat at Little Caesar. Even though this is not necessarily a nutritious meal, only one slice of pizza can offer you the lowest amount of sodium, fat, and calories.
Who is the owner of Little Caesar?
Ilitch Holdings is the company that owns this restaurant chain. This company was started by Mike Ilitch, who is one of the founders of the restaurant.
When was Little Caesar founded?
In 1959 the first Little Caesar restaurant was opened. In the beginning, this was just a one-shop operation, but it expanded into a global fast-food chain over time and nowadays has locations all over the world.
Where was the first Little Caesar restaurant opened?
The first restaurant was opened in Garden City, a suburb of Detroit, Michigan. Similar to the majority of today's locations, it was opened in a trip mall close to the residential areas. Unfortunately, this location closed its doors in 2018.
Who founded Little Caesar?
Little Caesar was started by the husband-and-wife team Mike and Marian Ilitch. They invested all their savings into opening their first store, and luckily for them the business was a success and they started to franchise and expand all over the United States after just three years of activity.
How many locations does this franchise have?
There are more than 5,400 Little Caesar restaurants all over the world. This pizza restaurant chain has become one of the largest companies in the industry and has plans to continue expanding worldwide.
How did Little Caesar get its name?
The "Little Caesar" name comes from the nickname of Marian Ilitch. This is how she was nicknamed when she was young. However, in the beginning, the restaurant was called "Little Caesar Pizza Treat" to please both Mike and Marian. Marian wanted it to be called "Little Caesars", while Mike fought for "Pizza Treat".
Can I get hired at Little Caesars?
If you want to become one of the members of the restaurant's team, you should visit their careers page and apply for a job.
https://www.thepricer.org/wp-content/uploads/2022/02/little-caesars-menu-prices.jpg
380
610
Alec Pow
https://www.thepricer.org/wp-content/uploads/2023/04/thepricerlogobig.png
Alec Pow
2022-02-08 11:48:35
2022-02-05 00:43:20
Little Caesars Menu Prices