Last Updated on September 9, 2021 | Written by CPA Alec Pow
First Published on September 9, 2021 | Content Reviewed by

CFA Alexander Popivker
Whether it's a cover band, an event band, a wedding band, a pop-rock band, a classical music orchestra, a choral band, etc., the expression "live band" refers to those musical formulas where all the instruments, including the voices, are of actual use, not prerecorded.
In addition to live bands, there are semi-live bands (bands that also use pre-recorded instruments – negative, but also live) and formulas that use playback (the lead singer or instrumentalist only mimics, the sound being recorded on a digital media storage device, CD, laptop, DJ console, etc. These formulas are usually used in outdoor concerts organized by people who do not provide the necessary sound equipment for live performance, in the case of TV shows where there are no possibilities for live performance, or in extreme cases when the lead singer/instrumentalist cannot play).
There are situations where live bands can use pre-recorded "tracks" – instruments that are pre-recorded, but only if the band does not own them.
How much does a live band cost?
According to local entertainment industry experts, smaller bands with four or five members charge around $550 for a 4-hour set. On the other side of things, more popular acts can end up costing upwards of $17,000 if they play for about 6 hours. For 5 hours worth of music playing time (which is standard), small and medium-sized groups should only expect to make somewhere between $1,700 and $2,800.
The price of a band varies from $800 to over $10,000. The exclusive party and dance bands can charge more than the jazz and acoustic bands which tend to cost between $750 and $1,700.
You might also like our articles about the cost of a DJ, stage rental, or a bachelorette party.
Performers often charge by the hour, with rates from $400 to as much as $2,500 per session. In addition to a minimum number of hours that most bands require for booking (usually 4), they'll also need an exact time and location where their services will be needed.
If you want a band at an event happening in a big city like Chicago or New York expect to pay as less at $1,800 to as high as $26,000 only for a six-hour set.
If you want to book a nationwide act, pretty much anything is possible. While Jason Mraz's prices can reach $110,000 and more for one performance, Foo Fighters charge between $300,000 and $360,000 per show and Hinder charges around $42,000.
Some couples are spending less than $2,000 on their wedding band while others have spent more than $16,000.
Live band details
Bands book their gigs for block times and usually require a 30-45 minute break. They will try to work around special events such as speeches or cake cutting, so plan accordingly when booking the band. Live bands need breaks every hour on average but this can differ depending on how many hours they've been playing.
Even a simple special event band can have some incredible features. For example, their lighting will be out of this world. They'll also set up and take down the stage equipment for your convenience.  However, they won't include decorations or a backdrop which you'll need to cover yourself in advance if needed.
It is important for bands to have all the equipment they need, but sometimes additional things may be necessary. A band might want an extra microphone or speaker if there are multiple singers in their group and one of them forgets theirs at home.
What are the extra costs?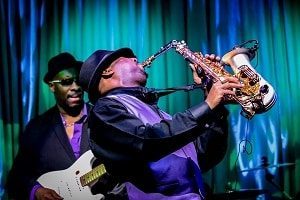 It is important to remember that bands typically need food at parties. You should provide plates for the band members attending, as well as their tech personnel if they're present. This will depend on how many people are in each group.
In case the band has to travel more than 100 miles they will probably need a hotel room, which can add up to the costs.
The band will cost you more money if they play longer than originally agreed upon. This will be mentioned in the contract that is signed at the beginning of their performance.
Bands have certain expectations for their venues, and if you have to provide them with equipment like microphones or speakers then you will need to rent it from a local music store. Special lighting may also be needed depending on the band's preferences so make sure that is available too.
If the band does not provide a sound guy, then you might need to hire one.
Important things you should ask before hiring a live band
What are the band's favorite songs?
Do you have a main playlist? Can you add more songs?
What is the composition of the band and what tools are available?
How many breaks will the band take and what musical background will they play during the break?
How many hours are included and what are the costs? Are there additional fees (eg transportation, accommodation, equipment)?
What sound and light equipment do you use?
Can anyone in the band play the role of presenter or MC?
What kind of outfit do you use for events?
Are there any special requirements for the band (menu, power supply)?
How can I save money?
Research local bands to make sure you get a band that meets your criteria. Look at the demo, website, or Facebook page for each of them so it's easier to compare which one best suits what you're looking for in an entertainment group.
To book a band for your wedding, start looking six to 12 months in advance. If you're on a tight budget and have time constraints, be sure to haggle with the bands. Most of them will lower their prices if you negotiate well enough.
ABC News says that hiring a DJ for your next event could save you more than $1,000. Bands will always be much more expensive and they can't provide as diverse music genres as DJs do.
https://www.thepricer.org/wp-content/uploads/2021/09/live-band-cost.jpg
380
610
Alec Pow
https://www.thepricer.org/wp-content/uploads/2023/04/thepricerlogobig.png
Alec Pow
2021-09-09 21:20:32
2021-09-09 21:20:32
Live Band Cost