Longhorn Steakhouse Menu Prices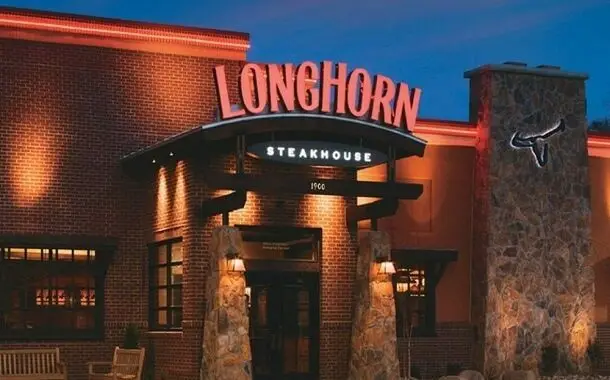 Longhorn Steakhouse is a restaurant chain founded in 1981 by George McKerrow and his son. The restaurant gained its place in the heart of the customers through the tasty premium steaks grilled in their original butter sauce and thanks to the affordable prices.
Longhorn restaurants are decorated with a Texan theme, with memorabilia, photos, and Western oil paintings that make you think about the Wild West.
Nowadays, the Longhorn Steakhouse restaurants are owned by Darden Restaurants, Inc., based in Orlando, Florida.
In the table below you will find the latest menu prices of Longhorn Steakhouse restaurants.
Food Items
Size
Prices

Longhorn Steakhouse Specials

Outlaw Ribeye®

$27.49

Baby Back Ribs

Starting at $17.49

7-Pepper-Crusted NY Strip

$21.99

USDA Prime Delmonico

$35.99

Texas Brisket Queso

$8.99

Wild West Shrimp®

$11.29

Strawberry & Pecan Salad

$5.99

Strawberries & Cream Shortcake

$7.49

Burgers & Sandwiches

Crispy Buttermilk Chicken Sandwich

$11.49

Shaved Prime Rib Sandwich

$13.99

Legendary Steaks

Renegade Sirloin
Starting at $12.99
Flo's Filet
Starting at $20.29
Ribeye
$20.29
USDA Prime Delmonico
$35.99
New York Strip
$20.29
Fire-Grilled T-Bone
$23.99
Outlaw Ribeye
$24.99
Nolan Ryan Beef Chicken Fried Steak
$12.49

Beyond Steak

Hand-Breaded Chicken Tenders
Starting at $11.49
Parmesan Crusted Chicken
Starting at $12.29
Baby Back Ribs
Starting at $14.49
LongHorn Salmon
Starting at $16.49
Chop Steak
$13.49
Chicken Fried Chicken
$11.49

Salads

Crispy Buttermilk Chicken Tenders Salad

$13.79

Grilled Chicken Strawberry Salad

$14.79
7-Pepper Sirloin Salad
$16.29

Sides

Steakhouse Mac & Cheese
$5.49
Fresh Steamed Asparagus
$5.49
Strawberry & Pecan Salad
$5.99
Loaded Idaho Baked Potato
$3.39
Sweet Potato with Cinnamon Sugar & Butter
$3.39
Mashed Potatoes
$3.39
Seasoned French Fries
$3.39
Seasoned Rice Pilaf
$3.39
Fresh Steamed Broccoli
$3.39
Mixed Greens Salad
$4.99
Caesar salad
$4.99
Parmesan Cheese Crust
Starting at $1.79
Sautéed Mushrooms
Starting at $1.79
Grilled Shrimp
4 ct.
Starting at $1.79
Grilled Lobster Tail
Starting at $1.79

Lunch Menu

Epic Beginnings

Fried Pickles
$4.49
Seasoned Steakhouse Wings
$10.49
Wild West Shrimp
$11.29
Texas Brisket Queso
$8.99
Texas Tonion
$8.59
Firecracker Chicken Wraps
$9.59
Spicy Chicken Bites
$8.49

Lunch Combinations

Loaded Potato Soup Combo
$7.99
Shrimp & Lobster Chowder Combo
$7.99
Grilled Chicken & Strawberry Salad Combo
$9.49
Crispy Buttermilk Chicken Sandwich
$8.49
Third-Pound Cheeseburger
$8.49
7-Pepper Sirloin Half Salad
$10.49

Dinner Menu

Epic Beginnings

Fried Pickles

$4.59

Seasoned Steakhouse Wings

$10.49

Wild West Shrimp®

$10.69

Texas Brisket Queso

$8.99

Texas Tonion®

$8.49

Firecracker Chicken Wraps

$9.59

Spicy Chicken Bites

$8.49

Renegade Sirloin

Starting at $13.29

Nolan Ryan Beef® Chicken Fried Steak

$15.49

Ribeye

$21.79

New York Strip

$21.79

Flo's Filet®

Starting at $21.79

Prime Rib

Starting at $22.79

Fire-Grilled T-Bone

$25.49

Outlaw Ribeye®

$26.49

The LongHorn® Porterhouse

$28.99

USDA Prime Delmonico

$36.99

Renegade Sirloin & Parmesan Crusted Chicken

Starting at $18.79

Renegade Sirloin & Redrock Grilled Shrimp

Starting at $19.49

Renegade Sirloin & Half-Rack Baby Back Ribs

Starting at $21.49

Flo's Filet® & Lobster Tail

Starting at $27.49

Hand-Breaded Chicken Tenders

Starting at $13.79

Parmesan Crusted Chicken

Starting at $15.59

Cowboy Pork Chops

$17.99

Baby Back Ribs

Starting at $17.29

Redrock Grilled Shrimp

$18.29

LongHorn® Salmon

Starting at $19.79

Chop Steak

$14.99

Chicken Fried Chicken

$15.99

Soups Menu

Loaded Potato Soup
$5.79

Drinks Menu

Texas Margarita
$6.39
The Perfect LongPour
$8.79
Strawberry Margarita
$8.79
Three Dons
$11.99

Beverages

Sprite
$3.29
Diet Coke
$3.29
Coke Zero Sugar
$3.29
Coke
$3.29
Strawberry Lemonade
$3.79
Minute Maid Lemonade
$3.29
Sweet Iced Tea
$3.29
Unsweetened Iced Tea
$3.29
Raspberry Iced Tea
$3.79
Peach Iced Tea
$3.79
Raspberry Lemonade
$3.79
Coffee
$3.29
Milk
$3.29
Chocolate Milk
$3.29
Cranberry Juice
$3.29
Orange Juice
$3.29

Chocolate Stampede
$9.79
Caramel Apple Goldrush
$8.49
Molten Lava Cake
$7.79
Strawberries & Cream Shortcake
$7.49

Kids Menu


Kid's Sirloin Steak
$8.49
Grilled Chicken Tenders
$6.49
Cheeseburger
$6.39
Kraft Macaroni & Cheese
$5.39
Brand History
The first Longhorn Steakhouse restaurant was opened in 1981, in Atlanta by George McKerrow Jr. and his father. Inspired by the movie Urban Cowboy, George McKerrow wanted to open a restaurant designed in a Texas style.
In the first year of activity, the restaurant didn't have all that much success and was struggling to stay on the line. But something that for some looks like a disaster, for Longhorn Steakhouse, was luck. In 1982 a strong snowstorm hit Atlanta for a few days and the people who got caught in this headed to McKerrow's restaurant for a hot drink and a meal. People were so impressed with all the steaks and spread the word around. So, in 1983 Longhorn Steakhouse opened its second location. By the end of the 1980s, there were 15 restaurants across the United States.
In 2007, the whole restaurant chain was bought by Darden Restaurants Inc., which also owns the Olive Garden restaurant chain.
Today, there are more than 500 Longhorn Steakhouse restaurants in four different countries.
Our review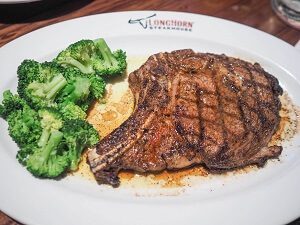 Longhorn Steakhouse menu includes a wide variety of steaks, such as sirloin, rib-eye, or filet mignon, that are served with different sides for a whole meal. The LongHorn Porterhouse is known as "the largest steak in the game". This is a 22 ounces slab of beef that mixes a bone-in strip and filet "into one thick cut".
Besides the ordinary meat cuts, Longhorn Steakhouse restaurants serve some special selections of meat cuts for special occasions. These cuts include the 6-ounce Flo's Fillet, a 12-ounce New York strip, and a 14-ounce Delmonico.
The secret behind these special steaks is their freshness. Longhorn Steakhouse restaurants never use frozen cuts of meat. Even though frozen meat is more cost-effective for restaurant owners, they will lose their customers in the long run due to the poor quality.
You might also like our articles about menu prices for Nusr-Et, Bubba's 33, or Culver's.
When enjoying dinner at Longhorn Steakhouse you can choose from different types of chicken, salmon, ribs, lobsters, shrimps, sides, and salads. The appetizers have some really original names, such as the Texas Tonion and Wild West Shrimp. Regarding the drinks, in general, there is a wide selection of bottled and draft beers, wines, and signature margaritas.
Their menu contains a wide range of non-steak food items as well, such as grilled lime shrimps, grilled vegetables, even a grilled Caesar salad.
One of the most popular desserts of the Longhorn Steakhouse restaurant is the Chocolate Stampede, which is enough for two people. This dessert is made of six different types of chocolate in layers and peaks which are served along with vanilla bean ice cream. Another favorite dessert is the grilled Bananas Foster.
Longhorn Steakhouse FAQs
How should I be dressed when going to the Longhorn Steakhouse restaurant?
It is recommended to be dressed at least in business casual if you don't have or don't want to wear a suit.
Which is the best steak served at Longhorn Steakhouse?
The best steak you can eat at Longhorn Steakhouse is the ribeye. According to the restaurant, this is the most flavorful and the juiciest steak and this is due to the fat marbling from the entire cut of meat.
What are the best meals to order at Longhorn Steakhouse?
Some of the best things you can order at Longhorn Steakhouse include the Porterhouse steak, the parmesan crusted chicken, the LongHorn salmon, the Flo's Filet with lobster tail, the grilled chicken and strawberry salad, the roasted white cheddar stuffed mushrooms, the shrimp and lobster dip, and even the mashed potatoes are a must here.
How can I get free appetizers at Longhorn Steakhouse?
If you sign up for the Longhorn Steakhouse eClub you will be able to get informed about any promotion and sales offered by the restaurant and besides that, you will get a coupon for a free appetizer.
Do I get anything from Longhorn Steakhouse restaurant on my birthday?
If you will purchase an adult entrée for your birthday then you will get a free dessert as well.
https://www.thepricer.org/wp-content/uploads/2022/02/Longhorn-Steakhouse-menu-prices.jpg
380
610
Alec Pow
https://www.thepricer.org/wp-content/uploads/2023/04/thepricerlogobig.png
Alec Pow
2022-02-02 10:53:22
2022-02-09 17:25:17
Longhorn Steakhouse Menu Prices