Mercedes Benz Illuminated Star Cost
Last Updated on November 12, 2020 | Written by CPA Alec Pow
First Published on November 12, 2020 | Content Reviewed by

CFA Alexander Popivker
The illuminated, seen as a fantastic accessory for your Mercedes-Benz, provides a distinct, very personal touch.
Utilizing LED and light-conductor innovation, the star will brighten in the front grille, making a subtle, yet appealing effect.
What does the Mercedes Benz illuminated star cost?
The expenses of a real Mercedes Benz illuminated star will actually depend upon the dealership/retailer you buy from and if you require it to be set up for you or you can manage it yourself. For just the part, be ready to spend around $350 to $425.
If you require it to be set up for you, then the expenses, according to our own research with local car dealerships, will be close to $600 to $1,100 for the labor and the illuminating star. This will all depend upon your local car dealership as they will all differ in prices.
We were able to find one member on a MercedesCLA.org forum thread that stated they were given a price quote of $1,140 for labor and parts at their regional dealer. On that exact same thread, another member answered and specified it was a swindle cost as they paid an overall of $480 for the star and another $130 for the labor, however, after all of the discount coupons they were able to apply, their grand total was $461 plus tax.
On Amazon, for instance, an authentic CLA Class illuminated star, a star that will fit the CLA class, retails for about $375, without any costs for professional installation.
If you wish to buy straight from Mercedes at a regional dealer, then you need to be prepared to spend about $700 for just the part.
Car and Driver argued the star will set purchasers back $480 before setup expenses at a dealership, while post-install systems can cost $550 but will come with no extra set up charges.
Tips to keep in mind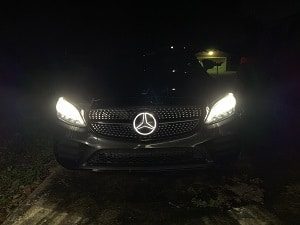 All illuminated stars are not produced in the same way, even if you're getting a genuine part. Prior to buying, ensure the star will fit as all parts will have slightly different measurements. Any trustworthy seller will be able to inform you if the part fits by just getting your car's VIN. The front-lit star, as of today, is just suitable with the C-, E-, GL-, GLK-, M- and CLS- classes.
Mercedes dealers mention the whole set up can use up to 2 hours to set up.
The star does not light up each time the vehicle will run. It will just illuminate when the vehicle unlocks or when a door is opened. When the vehicle is started, it will instantly shut off.
Utility
In terms of utility, this accessory will do nothing really. It will light up at night, maybe showing you where the car is located when you're drunk. Although truth be told, if you can't find your car because you're too drunk, then maybe it wouldn't be the best idea for you to drive.
Other than that, the only reason to get the illuminated star is purely for an aesthetic boost. Even so, there are a lot of people that what to change this little aspect of their Mercedes to make it stand out even more.
https://www.thepricer.org/wp-content/uploads/2020/11/Mercedes-illuminated-star.jpg
380
610
Alec Pow
https://www.thepricer.org/wp-content/uploads/2023/04/thepricerlogobig.png
Alec Pow
2020-11-12 13:14:48
2020-11-12 13:14:48
Mercedes Benz Illuminated Star Cost