Mickey Mouse ears are a product that fits perfectly at a Disney-themed party. Maybe you don't want to attract a lot of attention but still want to have something specific to the theme. You will attract attention with this accessory because it will make you look cute and comical. You can match them with whatever you want, as long as you feel good and comfortable. The ears will not cause you any discomfort, and at some point, you will forget that you are wearing them, due to how light they are.
How Much Do Mickey Mouse Ears Cost?
There is a wide range of Mickey Mouse ears on the market, so the costs will vary from one style to another. Depending on the style you choose, plan on spending anywhere between $18 and $30 for a set of Mickey Mouse ears purchased from Disneyland or Disney World.
Also, depending on the style you choose, some hats can be embroidered for a small fee, that is, in general, anywhere between $5 and $10.
According to a member of the Disney Parks Moms Panel online forum, you should expect to pay anywhere between $17 and $39 for a pair of such ears.
According to members of the Trip Advisor website, the cost of an authentic Mickey Mouse hat would be anywhere between $15 and $39.
The cost would be much lower if you buy it from a third-party retailer. For instance, you can find sets of 12 basic Mickey Mouse ears on Amazon, with costs of less than $25 per set, bringing the price to less than $2.08 per ear.
In the table below you will find the average costs of different types of Mickey Mouse ears sold by Disney.
| | |
| --- | --- |
| Type of Mickey Mouse Ears | Cost |
| Stitch Ear Hat | $25.29 |
| Sorcerer Mickey | $20.64 |
| Princess | $25.24 |
| Plain | $17.24 |
| Misc. Characters | $21.79 |
| Minnie Headband | $32.19 |
| Minnie | $20.64 |
| Mad Hatter | $20.64 |
| Light-Up Ear Hat | $32.2 |
| Happy Birthday | $35.59 |
| Grad Cap | $25.24 |
| Goofy | $29.84 |
| Golden Ear Hat with Sequined Bow | $28.69 |
| Baby/Kids | $17.24 |
| Alice in Wonderland | $22.99 |
Cost factors
Limited editions
Some Minnie or Mickey Mouse ears are available for a limited period of time, like the Year of the Ear edition. These editions may be more expensive because of their limited supply and highly-collectible features.
Personalization
You can personalize your ear hat for a small fee. This customization may refer to embroidering up to ten characters.
You might also like our articles about the costs of elf ear surgery, vampire fang implants, or wedding tiaras.
Material
Mickey Mouse ears may be made of various materials and with different quality levels, depending on the supplier you choose, especially if you buy outside of the official resorts.
Type of ear hat
The cost of Mickey Mouse ears depends on the type of years you want to purchase. For instance, a style-specific tuxedo groom Mickey Mouse ear hat for men will be more expensive than a basic Mouseketeer hat made for an infant, which is smaller. Also, a Mickey Mouse hat for girls may come in the form of a headband. An ear headband with basic frills will cost less than an ear headband with more materials and elaborate designs.
What are the additional costs?
As we mentioned above, you can personalize your Mickey Mouse ear hat for a small fee.
Important things to consider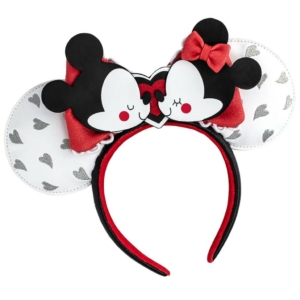 You can find some styles of Mickey Mouse ear hats only at certain Disney resorts. Research the inventory of a resort ahead of time, to make sure they have the particular set of ears you wish.
When you purchase online, make sure you get your order on time. You surely don't want to receive your Mickey Mouse ear hats after your trip to Disneyland.
Also, when you buy online, do your due diligence about the company's return and refund policy. There are companies that offer a full refund in case you don't receive your products in thirty days.
Disney World stores offer more choices than online retailers when it comes to Mickey Mouse ears. Also, they offer you the possibility to customize your own Mickey Mouse hat. Moreover, they have ear hats for different times of the year, which you won't find online every time.
Also, at Disney, you can find a wide variety of Mickey Mouse ears, that range from simple models with basic colors to more elaborate designs with embroideries and lights.
How can I save money?
In order to save money, Disney visitors recommend looking for these ears at outlet centers and local gift shops outside the resort.
Search for Mickey Mouse ears at online retailers as these have lower prices. Though, if you are going this route, read the reviews to make sure that you purchase a quality product.
https://www.thepricer.org/wp-content/uploads/2023/01/mickey-mouse-ears-cost.jpg
380
610
Alec Pow
https://www.thepricer.org/wp-content/uploads/2023/04/thepricerlogobig.png
Alec Pow
2023-01-13 06:16:50
2023-01-11 07:19:02
Mickey Mouse Ears Cost