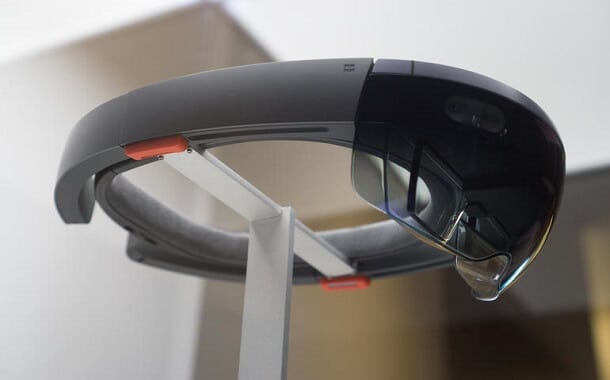 While the devices Oculus from Facebook and VR PlayStation from Sony focused on how virtual reality creates new opportunities for exploring games, the augmented reality from Microsoft demonstrates the concept of interaction and overlay on our reality.
Now, the Microsoft company unveiled the Development Edition. HoloLens devices start shipping in the US and Canada on March 30 and will be priced at $3,000. So far, the news about the Development Edition sparked pros and cons, but there is no doubt that these games that combine reality with video games are an extremely interesting experience.
Microsoft conducted a demonstration at the Microsoft Flagship Store in New York, where the scene was turned into a battlefield and the user was defending himself from the attacks of several virtual robots.  Spider robots and also the other robots generated by augmented reality are aware of the furniture around them and they can be as large as the entire room. They can be destroyed by players by using fire projectiles.
Unlike virtual reality kits, which require certain device support, HoloLens is an independent unit that does not need anything else to work.
HoloLens is a Windows 10 device, and the Microsoft company can provide information on how to create holographic applications in Windows 10 that can be used with this gadget. It is unclear what type of hardware the system uses, but from the information we have, it contains an x86 processor with a 60Hz refresh rate and 2GB RAM.
Although there are not many technical specifications revealed, it seems that HoloLens has its own internal hardware and does not require connection to another device, but it can also be connected to any type of device that has Wi-Fi or Bluetooth. Basically, the users have a computer able to connect to the Internet, to display 3D content and recognize gestures and voice commands.
HoloLens has an optimal holographic density of 2.5 radiants because the more light points and radiants are, the richer and brighter the holograms are.
There is some information that HoloLens uses a custom made processor Intel Cherry Trail, but if this information is correct or not we don't know for sure, because the future kit for developers is not an issue that the Redmond studios want to make public (at least not for now).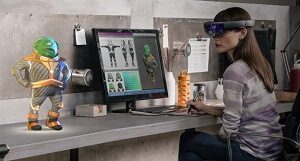 For better communication between two or more persons, the Development Edition adapted Skype so you can communicate by using holograms. With the new Skype on HoloLens, you can run Skype on any type of Windows device when you want to interact with someone through the holographic world.
Think about the importance of holographic interaction in the business world. It allows developers to share advice, different development methods, illustrate helpful techniques or development approaches. Skype on the Development Edition is the future of a holographic community that will allow us to stay connected and also to build our own holographic applications.
Should the average working Joe get the new HoloLens by Microsoft?
This is another gadget that is very eye-catching and expensive at the same time. Don't get in line to buy it right when it will be released if you're working on an average wage, because it might get you in financial difficulties. Our advice would be to wait until the price drops enough for you to afford it without putting your financial safety at risk.
https://www.thepricer.org/wp-content/uploads/2016/03/microsoft-hololens-cost.jpg
380
610
Alec Pow
https://www.thepricer.org/wp-content/uploads/2023/04/thepricerlogobig.png
Alec Pow
2016-03-20 03:30:56
2020-08-01 21:42:08
Microsoft HoloLens Cost