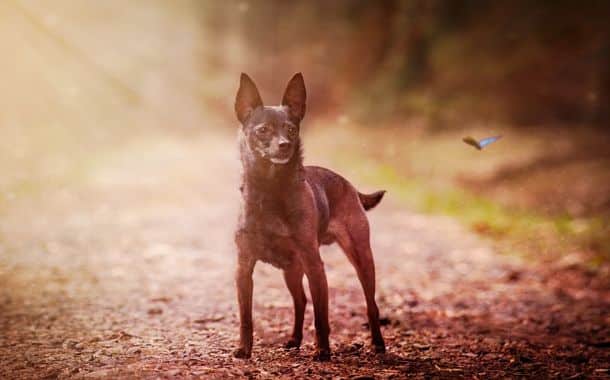 The Miniature Pinscher, frequently described as the King of the Toys, is a smaller-sized toy pet dog breed that came from Germany and is part of the International Kennel Club. This dog type is frequently mistaken with the miniature Doberman due to the numerous similarities. It has actually been noted that this breed is a crossbreed between the Dachshund and the Greyhound, and has been developed to closely look like the Doberman Pinscher, although it's a different breed.
With a pretty well-balanced, compact body, this Pinscher can grow as high as 10 inches and can weigh as much as 10 pounds.
You might also like our articles about the cost of a pet Cockapoo, a Coton de Tulear, or a Papillon Dog.
The price of a Mini Pinscher can fluctuate depending on the breeder that is selling it, the age of the dog, its quality, its heritage, any additions to the sale, and the breeder's geographical area.
Just how much does a Mini Pinscher cost?
Usually, a Mini Pinscher pup can cost anywhere from $650 to as much as $1,750. From what we could gather online, pet dogs that aren't registered with the AKC would be in the $400 to $950 price range, while pet dogs with AKC documents would be in the $1,400 to $1,700 range.
Older pet dogs, if adopted from a local shelter or rescue group, can cost less than $350.
At the time of this writing, there are close to 200 categorized listings on PuppyFind.com, an online pup classifieds site. On this website, the rates vary anywhere from just $600 to more than $1,300. The majority of the advertisements we were able to find also included in the sale registration documentation, up-to-date vaccinations, a vet test, health certificate, and health warranty.
On the many different listings on the main AKC Market, the expenses from certified AKC breeders are in the $1,500 range.
What should be included in the adoption fee?
A trusted breeder will include a health warranty, a health examination from a certified vet, up-to-date vaccinations and some might even add a microchip, spay/neuter, and a small starter kit with the basics to start looking after your brand-new puppy. If the pet is going to be delivered through an airline company, an airline authorized shipping dog crate with be needed.
Depending upon the breeder, tail docking might also be included in the price along with side dew claws removal, and the pin back of the ears.
Are there any additional expenses?
Delivering a pet dog through an airline company can usually cost $120 to $450 depending on the airline company. Nevertheless, considering that these pets are fairly easy to find throughout the United States, shipping will not be essential most of the time.
Microchipping a pet dog can cost $20 to $60.
Repeating expenses such as pet dog food, devices, toys, and routine/surprise veterinarian expenses will have to be allocated in your spending plan.
With any breed, obedience classes are extremely recommended to teach the pet dog the essential commands like sit, stay, and lie down. At a minimum, think about taking expert puppy classes to aid home and cage train your pup. Seen as a brilliant breed, the ideal amount of training can aid the young puppy to flourish.
Here are some tips to keep in mind: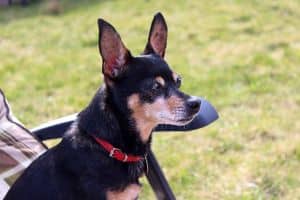 The Miniature Pinscher is pretty alert, faithful, and incredibly lively. At a young age, this pup will need a great deal of socializing in order to do well around kids and/or complete strangers.
Its character, according to Next Day Pets, is known to be curious, rather energetic, and extremely headstrong.
The coat's smooth hair will be short in size and will be found in either a clear red, stag red, black, rust, chocolate, or a mix of them. The most typically seen colors will be either red or a black and rust mix.
The Miniature Pinscher, weighing less than 10 pounds, will be compact in size with a muscular body. It will have darker eyes, upright ears and might be cropped, depending upon the breeder. The muzzle will be medium in length, and the tail will be docked, once again, depending upon the breeder's choice.
When it comes to grooming, it's known as a really low upkeep dog; nevertheless, it's recommended you wipe down its coat with a wet fabric to get rid of any excess hair.
Although the pet can do well in an apartment or a smaller sized setting, it will still need around a half hour or so of day-to-day exercise on the outside. A couple of short walks each day will typically suffice though.
This dog type is susceptible to normal illnesses such as progressive retinal atrophy, a typical condition that might trigger loss of sight and joint issues.
Any way to spend less?
As you might have noticed while reading this article, a pup can be a lot of money, to begin with. Think about going to a regional adoption center to see if you can find a pup that closely looks like this breed. For instance, you might find a popular mix such as a Miniature Pinscher Chihuahua or mini Pinscher Dachshund. While it might not be a Miniature Pinscher, it can still be just as loveable. Plus, you're helping the regional rescue centers, not the breeders that are in it for the money.
https://www.thepricer.org/wp-content/uploads/2021/03/miniature-pischer-cost.jpg
380
610
Alec Pow
https://www.thepricer.org/wp-content/uploads/2023/04/thepricerlogobig.png
Alec Pow
2021-03-29 10:30:10
2021-09-14 07:48:45
Miniature Pinscher Cost