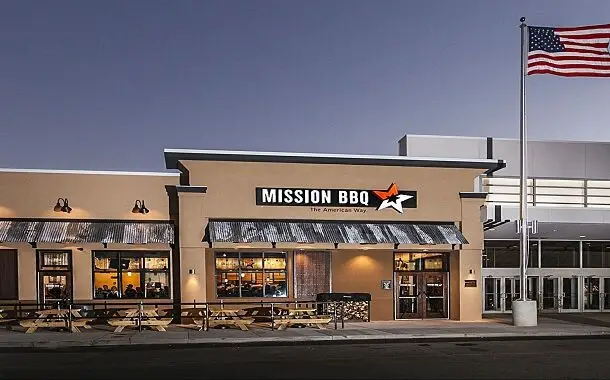 Mission BBQ is an American restaurant chain specialized in serving smoked meat such as sausages, pulled pork, pulled chicken, ribs, turkey, and brisket. This restaurant is famous for its Pick-Up Pack that you can use to carry out your favorite bakery items, sides, and BBQ.
Mission BBQ does not have such a long history, being on the market since 2011, but they became very appreciated by their customers and expanded very fast. People don't love this restaurant only for the tasty food, but also for its mission. It has been founded with the purpose to honor those who serve the country and fought in the war. Moreover, they advertise on their website that they are willing to hire veterans.
If you want to know how much you should budget for dining at Mission BBQ, you can take a look at the table below where you will find their latest menu prices.
Food
Size
Price

Meat Market

Brisket
$9.99
Pulled Pork
$8.49
Turkey
$8.69
Pulled Chicken
$8.19
Sausage
$7.99
Market Sampler
2 Meat
$10.19
Market Sampler
3 Meat
$15.79

Smokehouse Signatures

Chicken
$9.99
Salmon
$10.99
Ribs
By The Bone
$3.49
Ribs
5 Bone
$13.49
Ribs
10 Bone
$21.99
Spare Ribs
By The Bone
$3.29
Spare Ribs
5 Bone
$12.49
Spare Ribs
10 Bone
$20.99

Sandwiches

Brisket
$9.49
Chopped Brisket
$9.99
Pulled Pork
$8.99
Turkey
$9.19
Pulled Chicken
$8.69

Make It A Combo

Xl Combo
$4.39
Xxl Combo
$5.49

Salads

Plus Meat
$4.39
Garden Greens
Side
$3.39
Garden Greens
Entree
$5.99

Sides

Maggie's Mac N Cheese
Serving
$3.29
Maggie's Mac N Cheese
Pint
$7.89
Maggie's Mac N Cheese
Quart
$12.29
Baked Beans With Brisket
Serving
$3.29
Baked Beans With Brisket
Pint
$7.69
Baked Beans With Brisket
Quart
$10.99
Green Beans & Bacon
Serving
$3.19
Green Beans & Bacon
Pint
$7.59
Green Beans & Bacon
Quart
$10.79
Cold Slaw
Serving
$12.99
Cold Slaw
Pint
$6.99
Cold Slaw
Quart
$9.89
Fresh Cut Fries
$3.19

Kids Menu

Kid Mac
$5.39
Slider
$6.59
Jr Ribs
$7.89

Drinks

Iced Cold Bottled Soda
$3.79
Fountain Soda
$2.99
Kettle Brewed Iced Tea
$2.99
Summertime Lemonade
$2.99
Brand history
Mission BBQ was founded by the former executive of the restaurant Outback Steakhouse, Steve Newton, and the former executive of the apparel company Under Armour, Bill Kraus. The idea of this business came from their wish to support the military and public response forces. So, they opened their first location on September 11, 2011, on the tenth anniversary of the terror attacks from September 11, 2001. This first restaurant was located in Glen Burnie, Maryland.
You might also like out articles on the prices you can expect to find on the menus of Sonny's BBQ, Dickey's BBQ, or Chick-fil-A.
The next year, in 2012, another Mission BBQ restaurant was opened in Peery Hall, Maryland. In the following years, more restaurants were opened and now there are more than one hundred locations serving the East Coast and Midwestern areas of the United States.
Our review
Mission BBQ restaurants have a unique décor with photos of soldiers, service members, firefighters, and police officers all over the walls. These people are considered to be heroes of the nation.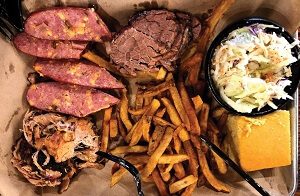 This restaurant is special thanks to the fact that they cook the chicken in the chicken broths in order to give it an extra flavor. Also, they offer dry-smoked meat alongside homemade sauce. The vegetables are perfectly crunchy and the briskets are tender and a little bit salty.
If you are going to Mission BBQ for the first time and you don't know what to order, it is recommended to try their Baby Back Ribs, which are marinated in Memphis Belle. Also, their Maggie's Mac-N-Cheese is a must-try meal. Be prepared to pay anywhere between $5 and $25 for their Baby Back Ribs, depending on the ordered size, while the Maggie's Mac-N-Cheese is priced between $4 and $12.
Some other tasty meat dishes include brisket, sausages, chicken, pulled pork, pulled chicken, and turkey. These cost anywhere between $8 and $15. As for the sides you can choose between fresh-cut fries, Cole slaw, baked beans, and green beans, and pay anywhere between $4 and $12.
There is also a Kids menu which includes items such as Kid Ma, slider, and Jr ribs. Each of these costs anywhere between $5 and $9.
Mission BBQ staff is friendly and always there to meet the customers' needs.
Mission BBQ FAQs
At what time does Mission BBQ open?
Mission BBQ opens Monday through Saturday at 11:00 a.m. and at 11:30 a.m. on Sundays. However, it may vary from one location to another. So, you should visit their official website to see which are the opening hours of the location you are interested in.
At what time does Mission BBQ close?
Mission BBQ closes at 09:00 p.m. Monday through Saturday and at 08:00 p.m. on Sundays. But again, it depends on the location and you should verify this information on the restaurant's official website.
What are the best dishes at Mission BBQ?
Some of the best dishes at Mission BBQ are Maggie's Mac-N-Cheese, pulled pork, sausages, beef brisket, sliders, ribs, turkey, chicken, cornbread muffins, and Coleslaw.
What is the white sauce at Mission BBQ?
The Alabama White Sauce from Mission BBQ is a creamy mayo-based sauce made with cayenne pepper and horseradish.
Can I purchase bottles of Mission BBQ sauce?
Yes, you can buy a bottle of Mission BBQ sauce for around $5.
What type of wood does Mission BBQ use to smoke with?
Mission BBQ uses real oak wood to smoke their meats.
Are Mission BBQ ribs pork or beef?
Mission BBQ ribs are beef smoked with oak wood.
https://www.thepricer.org/wp-content/uploads/2022/10/mission-bbq-menu-prices.jpg
380
610
Alec Pow
https://www.thepricer.org/wp-content/uploads/2023/04/thepricerlogobig.png
Alec Pow
2022-10-19 10:59:05
2022-10-17 20:39:56
Mission BBQ Menu Prices