Obituary in the Newspaper Cost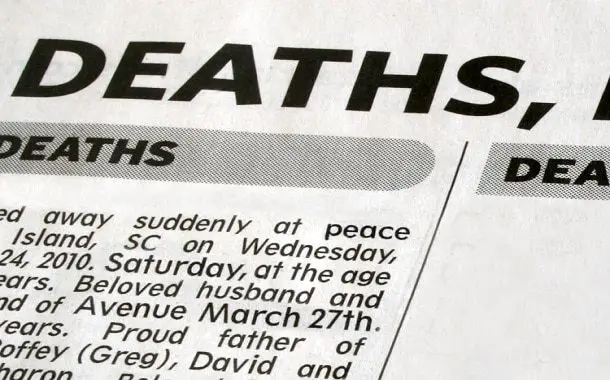 An obituary also referred to as a death notice or obituary notice, is a short notification of someone's death that is put in a regional newspaper. The obituary will normally consist of a little image, a brief bio, in addition to other bits such as who they left, when and where the funeral service is going to be held, and other somewhat important details. The expense of an obituary is going to depend upon the paper it's advertised in, the number of words, and the length of time it's going to be advertised for.
Just how much does an obituary in the newspaper cost?
Usually, an obituary can run anywhere from $0 to as much as $600 depending upon the features that will be put in the advertisement.
A smaller sized countryside town newspaper might put the advertisement free of charge as an act of courtesy. If the smaller sized paper does charge a fee, it will more than likely be less than $50.
Larger, cosmopolitan papers can charge anywhere from $55 to $220. Some papers might also charge per inch on page. For instance, The Seattle Times charges $88 to $100 per inch. Bigger city newspapers such as the ones in San Francisco and New York City, or the Hartford Courant, are going to charge a lot more than an urbane paper in Iowa.
You might also like our articles about the cost of gravestone engraving, cremation, and the price of a will.
Obituary summary
An obituary can either be written by a member of the family or somebody at the funeral home or a paper editor can help you. There are numerous examples of obituaries online that you can utilize to compose one. The majority of newspapers, like the Hartford Courant, will have links on their site where you can send a death notice or obituary request. If the newspaper does charge, at this time, you will send your payment by credit card. While some paper businesses handle their own obituary area, some publications do outsource their obituary services to third-party sites such as Legacy.com.
When the obituary is sent, the paper will offer a date on when it will be released. Usually, it will be released the next day. this will give adequate time to alert relatives and good friends in the area about the funeral preparations.
What are the additional expenses?
Premium days such as a Sunday might yield a greater cost. Normally, the weekdays are going to be less expensive than a Sunday.
Images and longer bios can cost more. Standard obituaries will just consist of a simple bio of a few words. For instance, if you want to include a photo, the rate might go upwards. Usually, a lot of papers will charge $100 to $150 or more for a photo to be added.
Some papers might charge an extra cost for an online or expedited listing.
Papers can also add little card hard copies that you can distribute to friends and family and to those at the funeral home. These newspapers can also make souvenirs such as the obituary in a special image frame, and so on.
To have an obituary expertly composed by somebody else besides yourself or the funeral home, these copywriters can charge upwards of $100+ to develop something that is genuinely unforgettable.
Funeral homes will be more than delighted to send obituaries in your place. Some might do it as a courtesy as part of your funeral payment, while others might charge an extra cost to do so.
Tips to keep in mind
If you have not composed the obituary yet, check out the paper standards as many have specific formats you will have to follow in order to have it accepted. Likewise, remember that the majority of newspapers will proofread your obit for spelling and grammar.
It's also crucial to understand essential deadlines, the costs policy, and for how long it will run. All papers will have their own guidelines.
How can you save some money?
Think about keeping the obituary simple. It is perfect to utilize the funeral home to list the funeral date free of charge on their site. Likewise, think about smaller sized, home town papers in the location instead of the bigger ones, like the Hartford Courant obit.
Ask the newspapers if they do obituaries free of charge. If they do, while it might be very simple, it is still a way to get the word out free of charge.
Obituaries are not all that essential. Word of mouth will naturally spread among individuals the departed knew.
https://www.thepricer.org/wp-content/uploads/2020/11/hartford-courant-newspaper-obituary-cost.jpg
380
610
Alec Pow
https://www.thepricer.org/wp-content/uploads/2023/04/thepricerlogobig.png
Alec Pow
2020-11-18 16:29:29
2020-11-18 16:29:29
Obituary in the Newspaper Cost