Office Trailer Rental Costs
Last Updated on January 27, 2021 | Written by CPA Alec Pow
First Published on October 16, 2020 | Content Reviewed by

CFA Alexander Popivker
Just how much does it cost to rent an office trailer? Well, the actual price will differ from one supplier to another based upon a variety of aspects.
As you might know, office trailer rentals are an affordable option for organizations that need a mobile or short-term office.
This is the case for motion picture sets, building and construction worksites, storage centers, portable classes, and more. Such systems generally come complete with restrooms, doors, windows, and electrical wiring.
This means that you will have a fairly simple way of setting the workplace up on the worksite. These devices are available in a selection of sizes and feature alternatives to fit various organization needs.
Generally, the expense of renting a mobile office will depend upon its size, setup, and the bundle of facilities it provides.
Throughout this guide, you will find out the numerous aspects that impact the rates of office trailer rentals and how each of them affects the final cost.
What Will Determine the Cost of Office Trailer Rentals?
There are a lot of elements that impact the fee for trailer rental. Its size, the functions, and facilities it includes, and even the rental company's location will all have a bearing on just how much the rental of a trailer will cost.
You might also like our articles about the cost to rent a porta potty, a semi-truck, or an excavator.
Usually, renting one will cost you anywhere between $100 and $1,000 monthly without transportation and setup expenses.
Here are a few of the primary aspects that will determine the price you have to pay for the office trailer rental.
Size and Office Setup
As you might know, office trailers can be found in a huge selection of sizes and setup alternatives. The rates of mobile office rentals will primarily depend upon their size and interior setup.
Much like other kinds of residential or commercial property, the expense of the trailer will partially be based upon the square footage of the trailer in addition to the number of partitions it has.
The larger trailer you choose, the more pricey it will be. Also, if the trailer has a big number of rooms or has a complicated design, it will be more pricey than a simpler trailer with only 4 walls.
The single-wide office trailers are the most common of all mobile office size alternatives. Such an office will provide you just enough space for one very small office and a basic living space that can be utilized for storage.
You might also have the living location space converted into an extra office, depending upon your particular requirements.
Even with the single-wide systems, you will have a range of size and setup alternatives to pick from, including:
Small 8′ X 20′ Trailers – the majority of the leading rental businesses will charge you somewhere between $100 and $200 per unit on such an office trailer.
Medium-sized 10′ X 40′ Office Trailers – for a basic single-wide office trailer of these measurements, you should be ready to pay somewhere between $150 and $300 monthly.
Big 12′ X 60′ Office railers – big mobile offices are priced at $300 to $500 monthly based upon your desired setup.
If you will need a bigger office area with your office trailer rental, you must choose the double-wide or even the bigger triple-wide office trailer alternatives.
The expense of these systems increases with each boost in their size.
Shipment and Pickup Charges
In addition to a regular month-to-month cost, you'll also need to spend for shipment, setup, and pickup.
The expense of shipment is typically linked to the distance it has to travel, from the shipping place to the shipment worksite. The farther it will have to go, the more you will be charged for shipping.
Additionally, the width of the trailer will affect the final cost too, so you will have to include that into your set budget.
Typically, a lot of rental businesses are known to charge anywhere between $1,000 and $1,500 for the shipment and setup of the office trailer on your worksite.
Others will also charge you an extra $300 to $1,000 to pick up the unit when you're done using it. Because of this, it is a good idea to talk to your favorite mobile office rental business about any extra expenses you might be needed to consider for shipment and pickup.
It is also worth keeping in mind that some service providers will offer a three-month minimum along with reduced rates for signing a 1-year agreement.
Amenities that should be included
Features that you decide to get with the mobile trailer also affect the rental fee of the trailer.
Designer interiors, stunning trims and awnings, contemporary kitchen area or pantry, and other functions will build up the expense of the trailer, and you will need to pay more if you go for some of these.
Another thing that can influence the general value of the mobile trailer you pick is the systems or home appliances that are set up. This means that components like an a/c system, main heating, and the hot water heater can also add to the final cost.
Required Devices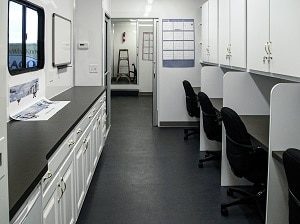 Some dealerships charge an additional fee for accessories, such as steps leading up to the trailer door or a skirt that will be utilized to conceal the wheels. Other suppliers will provide such devices as part of the month-to-month expense for the office trailer itself.
If the month-to-month charge for the office is not inclusive of the devices, you will wind up spending additionally anywhere from $20 to $50 a month for things like the steps alone.
With many mobile office rental suppliers, you must be ready to pay a flat cost of $500 to $800 for the skirts.
Furthermore, bigger trailers typically come geared up with restrooms, which is especially convenient if they will be placed in a remote worksite or the mobile office is a long walk from the primary structure.
You can link the restroom to the city water and sewage system, however, that will require employing a plumbing professional for an extra expense of about $200 to $400.
Prepared to Rent an Office Trailer?
A mobile office that costs $200 to $500 monthly to rent might retail for $20,000 to $30,000. The expense of renting that office for a year would be $3,600 to $4,500.
As you can see, it will be more cost-effective for you to lease or rent one, particularly if you just need it for a couple of months.
The final cost you wind up paying to lease a mobile office will depend upon its size and setup, shipping costs, installation, and pick up expenses in addition to accessory costs.
In any case, you will find office trailers to be an affordable alternative for your company. Lastly, if you run a company out of the trailer, think about setting up a monitoring system for security and comfort.
https://www.thepricer.org/wp-content/uploads/2020/10/mobile-office-trailer-cost.jpg
380
570
Alec Pow
https://www.thepricer.org/wp-content/uploads/2023/04/thepricerlogobig.png
Alec Pow
2020-10-16 07:29:49
2021-01-27 13:06:40
Office Trailer Rental Costs