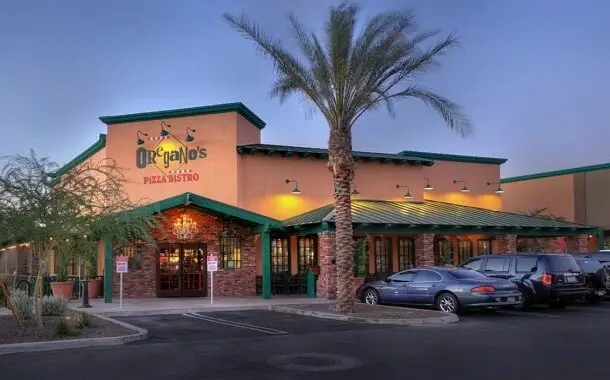 Oregano's is an American pizza restaurant chain with more than twenty locations throughout the Phoenix metro area, Flagstaff, and Tucson. Pizza served here is always prepared fresh and perfectly paired with one of their cold specialty beverages.
Customers keep coming back to Oregano's for the pleasant atmosphere and the delicious food. If you want to get an idea about how much you should budget for dining at Oregano's, you can take a look at the table below where you can find their latest menu prices.
Item
Size
Price

TO GO MENU

Appetizers

Garlic Bread
$5.59
Homemade Soup cup
$4.79
Homemade Soup bowl
$6.29
Calamair
$8.99
New Hot Artichoke-Spinach Dip
$8.99
Roasted garlic
$5.79
Flatbread
$5.79
Garlic Fries A plate full
$5.99
Onion Strings Enough for two
$5.79
Hot Wings
$8.59
New Bruschetta
$6.99

Wood Fired Pizzas

One Pizza will be enough for an individual's healthy appetite. They don't serve full and half pizzas; but all of their pizzas may be ordered without cheese.
Barbecued Chicken
$11.99
Chicken Pesto
$11.99
Hot Thai Chicken
$11.99
Chicken Fajita
$11.99
Chicken Brie Cheese
$11.99
Jambalaya
$11.99
Vegetarian Fantasy
$12.99
New Caremelized Pear
$11.79
Goat Cheese & Sun-dried Tomatoes
$11.99
Eggplant Parmesan
$10.99
Margherita
$10.29
Bacon & Gorgonzola Cheese
$11.99
Combination
$12.59
Hawaiian
$10.99
New Roman
$11.99
Pepperoni
$9.99
Italian Sausage
$10.99
Shrimp Pesto
$12.39
Four Cheese
$10.49
Classic Cheese
$9.49
Mushroom Pepporoni Sausage
$12.29

Wood Fired Calzones

Meat Calzone
$11.49
Vegetarian Calzone
$11.49
Roasted Chicken Calzone
$11.49

Pastas

Spaghetti In Mushroom Red Sauce
$9.99
With meat sauce
$11.99
With meatballs
$11.99
Angel Hair with Tomato, Garlic & Basil
$10.99
With goat cheese
$11.99
With chicken
$12.99
With Prawns
$14.99
Artichoke Lemon Chicken
$13.49
Fusilli & Goat Cheese
$12.99
Rosemary Chicken Penne
$13.49
Penne Prlmavera
$11.99
New Fettuccini Alfredo
$11.99
With chicken
$12.99
With prawns
$14.99
New Lasagna Classico
$12.59
Tequila Chicken fettuccini
$13.49
Oregano's
$13.49
Scampl
$14.99
Jambalaya
$13.99
With prawns
$15.99
Thai Angel Hair
$2.49
California Prawns
$14.99
Salmon Fettuccini
$15.99
New Cheese Ravioli
$10.99
Beef Ravioli
$11.99
Combo Ravioli
$11.49
New Chicken Parmigiana
$13.99

Lunch Specials

Sandwiches served with French fries or a cup of soup or green salad.
Oregano's Burger
$8.99
New BBQ Burger
$9.99
Chicken Breast Sandwich
$8.99
New BBQ Chicken Sandwich
$9.99
Turkey Club Sandwich
$8.99
New Italian Meatball
$8.99

Salads

Mixed Spring Greens Salad
With house Vinaigrette
$5.59 – $9.99
With Goat Cheese
$6.99 – $10.99
Classic Caesar Salad
$6.49 – $10.29
Chicken Caesar Salad
$8.95 – $11.99
Barbecue Chicken Chopped Salad
$11.79
Spinach Gorgonzola Salad
$6.99 – $10.99
New Oregano's Salad
$9.99
Add chicken Breast
$4.59
Add Rock Shrimp
$5.59
Chinese Chicken Salad
$8.99 – $11.99
Mediterranean Pasta Salad
$11.99

For Kids Under 12

Chicken Fingers
$6.99
Spaghetti Marinara
$6.99
Fusilli Pasta with butter and parmesan cheese
$6.99
Classic Cheese Pizza
$6.99
Pepperoni Pizza
$7.29
Barbeque Chicken
$7.29
Sundae Ice Cream
$2.49
Root Beer Float
$4.29
Milkshake
$4.99

Desserts

New Oregano's Banana Split
$7.99
Brownie
$5.79
Brownie with ice cream
$6.99
Apple Crisp
$6.99
Tiramisu
$6.99
Old Fashioned Sundae
$4.99
Root Beer Float
$4.29
Cheesecake
$5.99

Beverages

Paradise Tropical Iced Tea
$2.79
Lemonade
$2.79
Coca-Cola, Diet Coke, Sprite, Root Beer
$2.79
Pelligrino
$3.49
Apple Juice
$2.79
Cappuccino
$3.79 – $4.79
Cafe Latte
$4.79
Cafe Mocha
$4.99
Hot Chocolate
$3.99
Milk Regular or Non-Fat
$2.79
Hot Tea
$2.79
Coffee
$2.79
Brand History
Oregano's pizzeria was founded in 1993 by Mark S. Russell. The first restaurant was located in Arizona and the owner was motivated to open it by his father's love for food, great company, and good music, all in a single place.
You might also like our articles on the prices you will find on the menus of Grimaldi's Pizza, Pizza Inn, or Godfather's Pizza.
Over time the company has received many awards and recognitions for the great work it does. For example, Frommer's Travel Guides said about Oregano's that they have the Best Menu.
Since its opening, Oregano's has expanded and opened new locations across the Phoenix metro area, Tucson and Flagstaff. Nowadays, there are more than 20 Oregano's restaurants in the United States.
Our review
Oregano's pizzeria is the place where you can find tasty food in a welcoming ambiance, that feels like home. While dining here you will have the feeling that you are in your living room staying at the table with your family and friends.
The Oregano's pizza restaurant is all about large portions of pizza, pasta, but also wings, sandwiches, salads, tasty desserts, and house-specialty beverages.
Be prepared to pay anywhere between $10 and $15 for a wood-fired pizza at Oregano's. Some of the options include Barbecued Chicken, Chicken Fajita, Mushroom Pepperoni Sausages, Shrimp Pesto, Classic Cheese, Four Cheese, Margherita, Eggplant Parmesan, New Caramelized Pear, Vegetarian Fantasy, Chicken Brie Cheese, and many more.
Pastas are priced from $10 to $18 and include Spaghetti in Mushroom Red Sauce, Fusilli & Goat Cheese, Penne Primavera, New Fettuccini Alfredo, Tequila Chicken Fettuccini, Salmon Fettuccini, and New Chicken Parmigiana, to name a few.
Expect to pay around $12 for a wood-fired calzone such as Roasted Chicken Calzone, Meat Calzone, or Vegetarian Calzone.
If you like to eat something lighter, you can choose one of their salads that are priced between $5 and $12. Some of the options include the Mediterranean Pasta Salad, the Chinese Chicken Salad, the Spinach Gorgonzola Salad, the Classic Caesar Salad, and the Mixed Spring Greens Salad.
The Lunch Specials include a sandwich served along with a portion of French fries or green salad or a cup of soup. You can choose between the New Italian Meatball, the Oregano's Burger, the Chicken Breast Sandwich, or the New BBQ Burger, and pay anywhere between $10 and $12.
Be prepared to pay anywhere between $5 and $9 for a dessert at Oregano's, while the beverages are priced at $3 to $5.
Oregano's restaurant offers a menu for kids under 12 years old as well. The food items included in the Kid's menu are priced at $5 to $8 and include milkshakes, chicken fingers, classic cheese pizza, spaghetti marinara, barbecue chicken, fusilli pasta with parmesan cheese and butter, and some more.
This restaurant is also famous for its Original Pizza Cookie and its bestseller food items include the thin and hand-rolled pizzas made with fresh ingredients and toppings. Customers love their salads as well and a top recommendation is the Pablo Picasso salad.
The service here is exceptional, with a welcoming and friendly staff.
Oregano's FAQs
At what time does Oregano's open?
Oregano's opens every day at 11:00 a.m., but this may vary from one location to another. So, you should check their official website to see which are the opening hours of the location you are interested in.
At what time does Oregano's close?
Oregano's closes at 09:00 p.m. from Sunday through Thursday and at 10:00 p.m. on Friday and Saturday. But again, it depends on the location and the day of the week. So, you should verify this information on their official website.
Who founded Oregano's?
The Oregano's pizza restaurant was founded by Mark S. Russell.
Where was the first Oregano's restaurant opened?
The first Oregano's restaurant was opened in Arizona.
How many Oregano's locations are there?
There are more than 20 Oregano's restaurants located in the Phoenix metro area, Tucson and Flagstaff.
https://www.thepricer.org/wp-content/uploads/2022/08/Oreganos_menu-prices.jpg
380
610
Alec Pow
https://www.thepricer.org/wp-content/uploads/2023/04/thepricerlogobig.png
Alec Pow
2022-08-29 10:30:41
2022-08-29 10:32:16
Oregano's Menu Prices