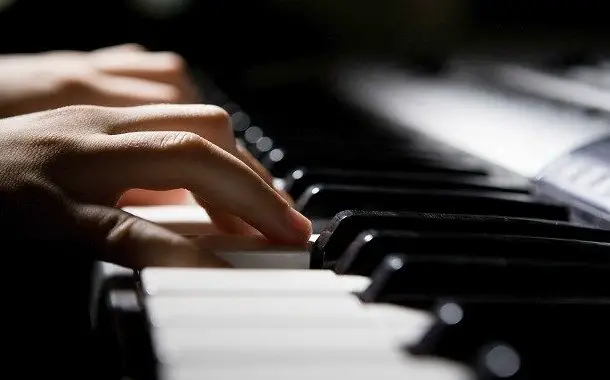 Even if they are called piano lessons, at the beginning they are not lessons in the strict sense but rather stories about songs, about the instrument, all taking place in the world of sounds. Children may be introduced to the seven notes like they are the seven dwarfs. If we talk about the piano, they want to know more about the white keys and play as soon as possible on the black keys. They are delighted to discover and sing songs that represent symbols from the music world and which they frequently hear around them, on their games, sometimes as ringtones, etc. The story, the keys' personification and sound association with known characters from their world, makes them more receptive.
It's a certain age required for beginning piano lessons?
They say the best age is 5 to 6 years and that is because, in piano learning, children should start learning the instrument at the same time as the musical notation. This is the "rule". Like everything related to children's education, the principles and rules represent the structure, but their accommodation according to each generation and especially to each type of personality is very important. The only Age "barrier" is given by their little fingers. When they are very young they cannot pass easily from one flap to another. Therefore, under the age of three, studying piano is quite difficult. Otherwise, imagination, play, and story are the leading elements in this journey of knowledge for the novice and the teacher.
Each element which represents the piano study basis is added step by step, beginning with a correct piano posture and attitude, to the exercises and songs that they learn by creating small stories.
Low cost: the price for a Group Lesson goes from $25 to $55 per month;
Average cost:  a Medium Price for a half an hour goes from $15 to $35;
High cost: a High price for a half an hour goes from $40 to $75 or maybe more.
Typical costs:
A typical private half an hour piano lesson costs around $15 – $35, while a half an hour with a teacher that has special qualifications like a master's degree or doctorate in music will cost you around $40 to $75. The costs are very different based on the teacher's experience and training, if the teacher offers different opportunities, like going to contests, if the lessons are at your home or at a center, and so on. In some rural areas, the costs are a little lower, somewhere between $10 and $15 per half an hour.
The cost of piano lessons per month for a small group goes from $25 to $55 or more, of course taking into account the teacher's experience and training and also the size and length of the class.
You should do some research because in some showrooms piano dealers also offer piano lessons, as a bonus if you buy a piano. Usually, these lessons are audio, made through headphones and you have an on-site as a teacher that monitors you.
If you chose a do-it-yourself piano lesson you will pay around $8 – $30 for basic audio tapes and books, while a package with play-along CDs, multiple DVDs, chord charts, finger charts, music books or other options will cost you around $50 to $350 or maybe more. In order to attract more customers, some sites will offer you some free beginner lessons.
Should the average working Joe buy piano lessons?
If you want to get piano lessons for your child, then an average piano teacher shouldn`t take you off your budget too much and it will be a great skill for him to have in the future. If you want to get piano lessons yourself, then just go for the do-it-yourself pack and see where that takes you. Adults usually have a lot of activities that make them unavailable for regular classes, so DIY packs will be the best option.
https://www.thepricer.org/wp-content/uploads/2014/12/cost-of-piano-lessons.jpg
380
615
Alec Pow
https://www.thepricer.org/wp-content/uploads/2023/04/thepricerlogobig.png
Alec Pow
2014-12-12 12:34:43
2020-08-15 14:56:36
Piano Lessons Cost